The Ending Of Sweet Girl Explained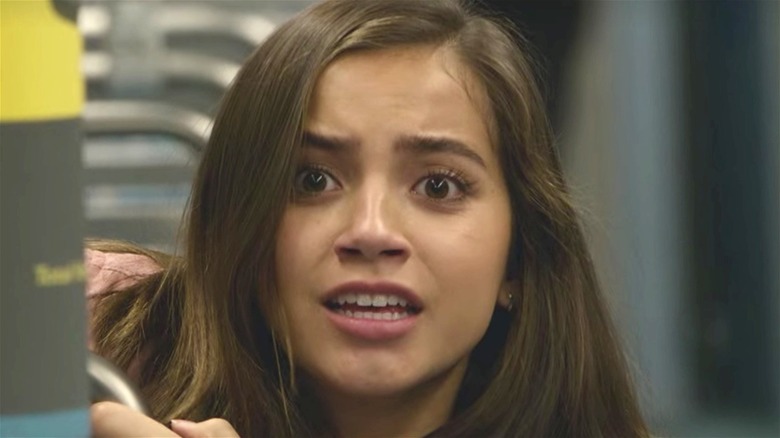 Netflix
Jason Momoa is known for playing the fierce Khal Drogo in "Game of Thrones" as well as one of DC's most recognizable superheroes, Aquaman. But in Netflix's new thriller "Sweet Girl," he plays an everyday father hell-bent on avenging his dead wife.
At the beginning of "Sweet Girl," we meet Ray Cooper (Momoa), his daughter Rachel (Isabela Merced), and his wife Amanda (Adria Arjona), who has cancer. When a life-changing medication is soon to be available on the market, Big Pharma strikes — the CEO of BioPrime, a competing medical manufacturing company, pays the new drug's manufacturer off to ensure BioPrime continues making money. During a live televised press conference, Ray calls BioPrime's CEO Simon Keeley (Justin Bartha) and threatens to kill him if his wife dies, since that new medication was essentially their last hope at a cure.
Sadly, Amanda indeed dies, and Ray keeps true to his word — he sets off on a mission to expose BioPrime's injustices and get revenge for his wife. However, there are even more sinister forces at play, and Ray and Rachel find themselves in a conspiracy that gets more wild at every turn. And at the end of the film, there's a major twist that changes the meaning of the movie entirely.
Here's the ending of "Sweet Girl" explained — with major spoilers included.
The big twist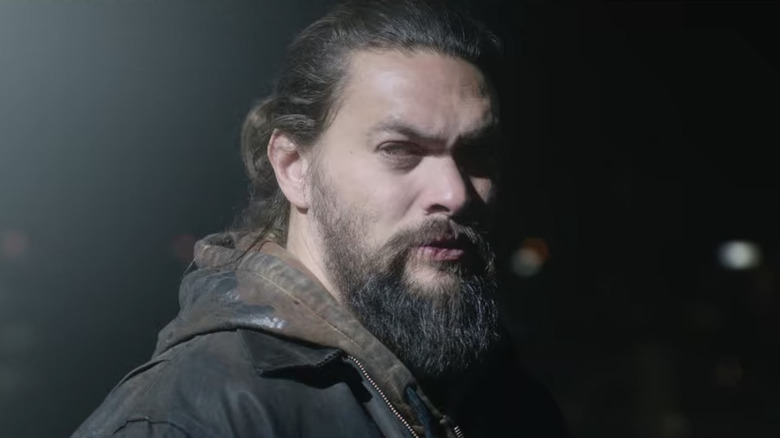 Netflix
Throughout the entirety of "Sweet Girl," we watch Ray and Rachel as they try to uncover the truth about BioPrime's internal corruption. The first pivotal moment of the action takes place on a subway, where Ray meets with a reporter named Martin Bennett (Nelson Franklin) who claims to have information that will help him get justice for Amanda's death. The two meet, and right after Bennett explains that BioPrime bribes people into covering their dirty work, he's killed by a hitman named Amos Santos (Manuel Garcia-Rulfo). Santos then attacks Ray and Rachel, leaving them severely injured on a subway platform.
Two years later, we catch up with Ray and Rachel as they continue their investigation into BioPrime's shady business practices. As the duo kicks butt all over town, uncovering the deep conspiracy, they're led to different people: Chairman Vinod Shah (Raza Jaffrey) who ordered the hit on Bennett; FBI agent Sarah Meeker (Lex Scott Davis) who Rachel secretly communicates with; and eventually Diana Morgan (Amy Brenneman), the senator who's behind it all.
When Ray and Rachel make it to Pittsburgh to confront Morgan, they're followed by the FBI, who chase Ray to the roof of a stadium. Aside from the fact that Rachel's suddenly not there, we get another shocking piece of information when Agent Meeker reveals it actually isn't Ray up on the roof at all — it's Rachel, who's been the one hunting down the bad guys all alone ever since Ray died.
What happened to Ray?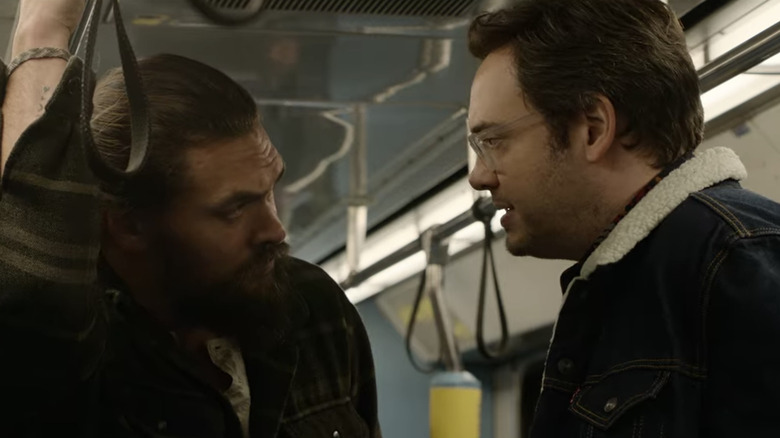 Netflix
If you had to pause "Sweet Girl" after that major plot twist to collect your thoughts, you're not alone. Remember the fight toward the beginning of the movie, where Ray and Rachel were left for dead on the subway platform? As it turns out, Ray did actually succumb to his injuries that day. Devastated by his death, Rachel uses her knowledge of martial arts and gymnastics to finish her father's mission herself while imagining the whole time that Ray is by her side.
Although everyone else sees Rachel as herself, she views her actions through the lens of her father, imagining that he's alive and killing the bad guys himself. When Agent Meeker reveals the truth, we're shown the clips that were originally portrayed as Ray's actions, now with Rachel in his place — in the same outfits, taking bad guys out one by one.
It's a huge shock that makes the tragedy at the center of "Sweet Girl" all the more devastating.
Sweet Girl is about family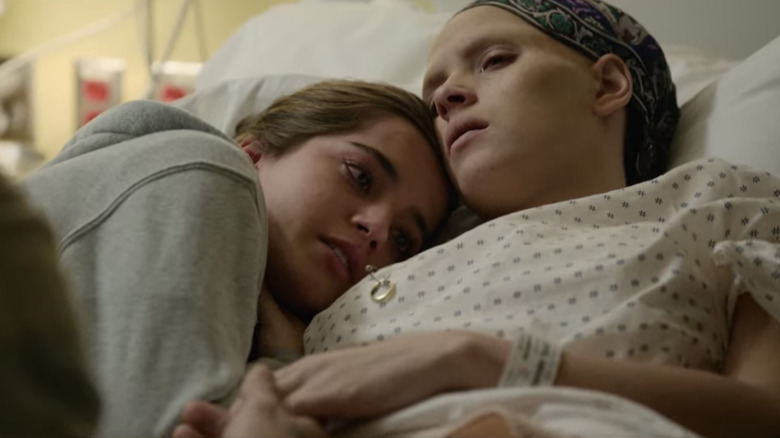 Netflix
Aside from the plentiful action and butt-kicking sequences, "Sweet Girl" exemplifies the strength of a familial bond. Amanda's passing serves as a catalyst for Ray and Rachel, who are so devastated by her death that their lives are drastically changed in multiple ways — they become almost obsessed with dedicating their lives to avenging her, and their trauma is obvious throughout the film.
Rachel's traumatized state of mind from losing her parents is also shown in the way that she imagines her father is still with her. When we realize that it's actually Rachel who's been kicking butt and taking names the whole time, you also realize that she's an orphan who's dealing with the horrible deaths of both her parents the only way she knows how — by channeling her anger and fear into action.
The bond between the Coopers isn't over just because their lives are forever altered by violence and death. Rather, their love continues on in a new way, as Rachel tries to finish the job her dad started.
Will there be a sequel?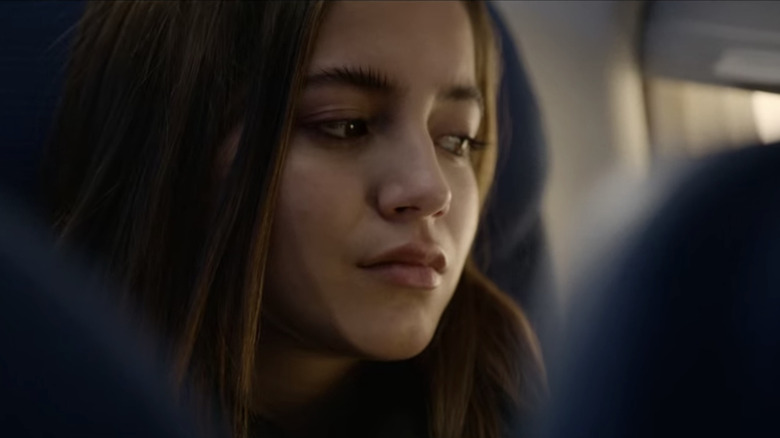 Netflix
The ending of "Sweet Girl" is left fairly open, as Rachel boards a plane and heads out into the world, leaving her painful memories behind. Although both Ray and Amanda are dead, it's unknown if Rachel has any remaining family she's able to live with for the foreseeable future, or what's in store for her next. There definitely seems to be plenty of room for a "Sweet Girl" sequel, exploring Rachel's life as an adult or following her journey as she carves out a new life for herself.
Merced also recently spoke to Screen Rant about her role in "Sweet Girl," and mentioned her own thoughts on a possible sequel. "What I love about Rachel is that she's equally as flawed and strong as Ray, her counterpart," she said. "And there is nothing that I love more than a flawed hero. I think it creates an amazing story, and it has potential for having a sequel be about the backstory. How did she get to this point where she's so psychologically messed up from the trauma that she's endured that she has to pretend to be [something else]? I think it's great to be able to portray a character that is so psychologically [dark]. It's a challenging role, and I love that. I want to do more of that dark stuff."
Here's hoping we'll get to learn more about Rachel in a future "Sweet Girl" project.