Netflix September 2021 - The Best New Movies And TV Shows To Watch
As summer starts giving way to fall, it's high time to curl up on the couch and watch a great movie or show ... or six. In other words, Netflix season is on its way, and fortunately, the streaming network is all too aware of the remote you're already reaching for. As such, its September 2021 catalog is full of all sorts of awesomeness, set to serve whichever mood might strike you.
Of course, the cornucopia of Netflix's new offerings for the first autumn month is so full of interesting things that you might find it difficult to figure out just what to watch. What's more, a number of shows and movies are on their way out, so there's also the matter of finally catching up with all those titles that you've been putting off during the summer before they leave the platform. To help you schedule the upcoming stream of complex heists, deadly game shows and other delights, here's a handy guide of the new and departing Netflix titles for September 2021.
A brand new bunch of Netflix movies is heading your way in September
Once again, Netflix is out to make sure that your movie nights will be diverse and plentiful, as the streamer drops no less than 16 original films over the month of September. The movie month starts on September 2 with "Afterlife of the Party," in which Cassie (Victoria Justice) dies in her own birthday party, but can't move on before her spirit fixes a few past mistakes. The month wraps up with a bang on September 29 with a whole trio of films, including the chilling horror movie, "No One Gets Out Alive." Speaking of frightful stuff, there's also "Nightbooks," which is out on September 15, and features none other than Krysten Ritter ("Jessica Jones") as an evil witch. You might also want to check out the paranoia-inducing home invasion thriller "Intrusion," which drops on September 22.
One of the most interesting Netflix movies on September 2021 is without doubt "The Starling." The movie is based on a script which, as Deadline notes, has been on the pipeline for a number of years, and made its name as one of the best unproduced things in the land. Melissa McCarthy plays a grieving woman whose life becomes oddly intertwined with an antagonistic bird in this drama-comedy, which also features Kevin Kline, Chris O'Dowd, and Timothy Olyphant. "The Starling" will premiere at the Toronto International Film Festival before its Netflix debut on September 24 (via Deadline), and who knows? It might just turn out to be the must-watch of the month.  
September 2
Afterlife of the Party
September 3
Worth
September 8
JJ+E
September 10
Kate
Prey
September 15
Nightbooks
September 17
The Father Who Moves Mountains
Ankahi Kahaniya
The Stronghold
September 22
Confessions of an Invisible Girl
Intrusion
September 23
Je Suis Karl
September 24
The Starling
September 29
Friendzone
No One Gets Out Alive
Sounds Like Love
Ease into September with a host of Netflix original TV series
To say that Netflix's slate of original shows for the coming September is packed with greatness is an understatement. Apart from returning favorites like "Dear White People" Season 4, there's a cool bunch of new arrivals, like Gabe Liedman's eagerly awaited adult animated comedy, Q-Force, about a group of LGBTQ+ spies. There's also the star-studded comedy-drama "On the Verge," and the fascinating South Korean thriller series about a deadly game show, "Squid Game." In fact, pretty much anything on this list is worth a shot, seeing as any new original show the streaming service drops has a chance to become a full-blown phenomenon. "Stranger Things" or "Bojack Horseman," anyone? 
When it comes to the longer-running series on the menu, one of the standouts is without doubt the sixth and final season of "Lucifer," which will finally reveal the ultimate fate of Tom Ellis' dapper devil. Another extremely interesting September arrival is "Money Heist" Part 5: Volume 1. This intricate Spanish crime drama has taken the world by storm, and will likely continue to do so on September 3 ... that is, if the heist crew can survive the challenges the new season throws at them. 
September 1
How to Be a Cowboy
September 2
Q-Force
September 3
Money Heist Part 5: Volume 1
September 7
On the Verge
September 8 
The Circle: Season 3
Into the Night: Season 2
September 10
Lucifer: The Final Season
Metal Shop Masters
September 14
The World's Most Amazing Vacation Rentals: Season 2
Jack Whitehall: Travels with My Father: Season 5
September 15
Too Hot To Handle Latino (New episodes weekly)
Nailed It!: Season 6
September 17
Squid Game
Chicago Party Aunt
Sex Education: Season 3
September 21
Love on the Spectrum: Season 2
September 22
Dear White People: Volume 4
Jaguar
September 24
Jailbirds New Orleans
Blood & Water: Season 2
Midnight Mass
Ganglands (Braqueurs)
September 29
The Chestnut Man
MeatEater: Season 10 Part A
September 30
Love 101: Season 2
Luna Park
Coming soon
Baki Hanma
Bangkok Breaking
Kota Factory: Season 2
All sorts of classic movies and shows are coming to Netflix in September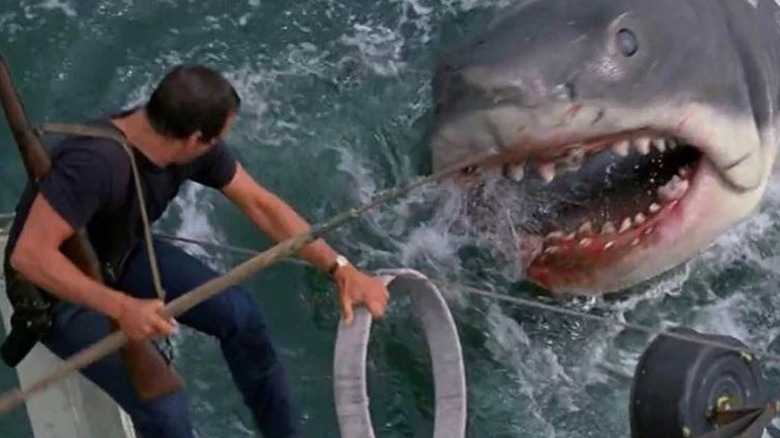 Universal Pictures
As summer starts giving way to fall, movie nights should see an exponential rise — and fortunately, Netflix is stocking up with a brand new bunch of classic movies and cool shows. September 1 alone ushers in dozens of quality movies, which range from zany offerings from Jack Black ("School of Rock") and Eddie Murphy ("The Nutty Professor" and its sequel, "The Klumps") to Ridley Scott's bleak sci-fi classic, "Blade Runner: The Final Cut." Armchair travellers will be happy to witness the arrival of the granddaddy of all survival romances, "The Blue Lagoon," on the streaming platform, while fans of an even wider emotional spectrum can enjoy Sergio Leone's classic gangster epic, "Once Upon A Time in America," starring Robert De Niro.
Fans of fine shark-themed cinema will have a field day on September 16, when Steven Spielberg's classic man-eater thriller "Jaws" swims to Netflix waters. Incidentally, fans of shark movies of the "entertaining but cheesy" variety also have a reason to rejoice, because the three "Jaws" sequels follow suite. 
September 1
A Cinderella Story
Agatha Christie's Crooked House
Barbie Big City Big Dreams
Blade Runner: The Final Cut (1982)
Chappie
Clear and Present Danger
Cliffhanger
Cold Mountain
Crocodile Dundee in Los Angeles
Dear John
Do the Right Thing
Freedom Writers
Green Lantern
House Party
House Party 2
House Party 3
Kid-E-Cats: Season 2
Labyrinth
Letters to Juliet
Love Don't Cost a Thing (2003)
Mars Attacks!
Marshall
Mystery Men
Once Upon a Time in America
Open Season 2
Rhyme & Reason
School of Rock
Tears of the Sun
The Blue Lagoon (1980)
The Interview
The Nutty Professor
The Nutty Professor II: The Klumps
Welcome Home Roscoe Jenkins
September 2 
Final Account
September 10
Yowamushi Pedal
Yowamushi Pedal Grande Road
September 15
Saved by the Bell: Seasons 1-9
September 16
Jaws
Jaws 2
Jaws 3
Jaws: The Revenge
September 19
Dark Skies
September 20
Grown Ups
September 29
Polly Pocket Season 3 Part 1
September 30
The Phantom
All the Netflix comedy specials and documentaries in August
Netflix wouldn't be Netflix if it wouldn't offer viewers a spread of quality documentaries and comedy specials. September 2021 is no exception, and the month is especially stacked on the documentary front. September 1 opens with "Turning Point: 9/11 and the War on Terror." On September 6, the streaming service drops the first two episodes of the ambitious "Countdown: Inspiration4 Mission to Space," which documents the first all-civilian space flight, set to take place on September 15 (via Deadline). The project's third and fourth episode arrive on September 13, and a feature-length final episode comes in late September. 
Other highlights include "Blood Brothers: Malcolm X & Muhammad Ali," a look at the relationship between the famous pair, as well as "Schumacher," a look at the life and times of Formula 1 champion Michael Schumacher. On the comedy special front, September 28 brings you "The Attack of the Hollywood Clichés!" in which host Rob Lowe takes you to an expert tour to some of the finest clichés in all land, from the Wilhelm Scream to protagonists who insist on walking away from explosions.  
September 1
Turning Point: 9/11 and the War on Terror
September 6
Countdown: Inspiration4 Mission to Space, Episodes 1-2
September 7
Untold: Breaking Point
September 9
The Women and the Murderer
Blood Brothers: Malcolm X & Muhammad Ali
September 13
Countdown: Inspiration4 Mission to Space, Episodes 3-4
September 15
Schumacher
September 16
My Heroes Were Cowboys
September 22
Monsters Inside: The 24 Faces of Billy Milligan
September 24
Vendetta: Truth, Lies and The Mafia
September 28
Attack of the Hollywood Clichés!
September 29
Convergence: Courage in Crisis
Available late September
Countdown: Inspiration4 Mission to Space, feature length finale
Coming soon
Crime Stories: India Detectives

Fun for the whole Netflix Family in September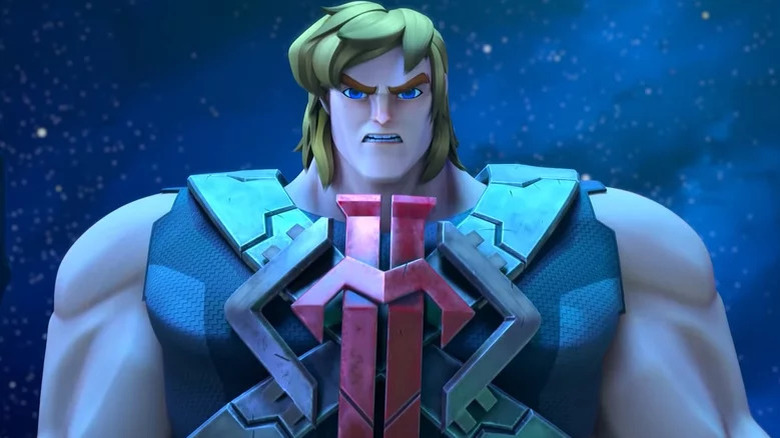 Netflix
Netflix Family titles for this September are many and varied. September 3 brings you "Dive Club," a look into the mystery-solving teenage divers of Cape Mercy, as well as "Sharkdog" — everyone's favorite pet that just so happens to be exactly what it says on the tin. 
If you're planning to watch Netflix's major documentary project for September — "Countdown: Inspiration4 Mission to Space" — as a family, you'll also definitely want to check out the Netflix Family companion piece to the space mission, "A StoryBots Space Adventure," in September 14. It pairs the Inspiration4 crew with the educational StoryBots for a learning experience of a lifetime, and looks into some pretty fascinating questions about space.
On September 16, it's time for one of the most interesting releases for the whole month, when the newest buzzy Netflix take on the "Masters of the Universe" lore arrives. "He-Man and the Masters of the Universe" is a heavily reimagined, computer-animated show, and its first trailer certainly got fans talking. There's every reason to believe that the actual show will have friends of the franchise watching.   
September 3
Dive Club
Sharkdog
September 7
Kid Cosmic: Season 2
Octonauts: Above & Beyond
September 10
Firedrake the Silver Dragon
Pokémon Master Journeys: The Series
September 14
A StoryBots Space Adventure
You vs. Wild: Out Cold
September 16
He-Man and the Masters of the Universe
September 21
Go! Go! Cory Carson: Chrissy Takes the Wheel
September 24
My Little Pony: A New Generation
September 28
Ada Twist, Scientist
Last call to catch up on these movies and shows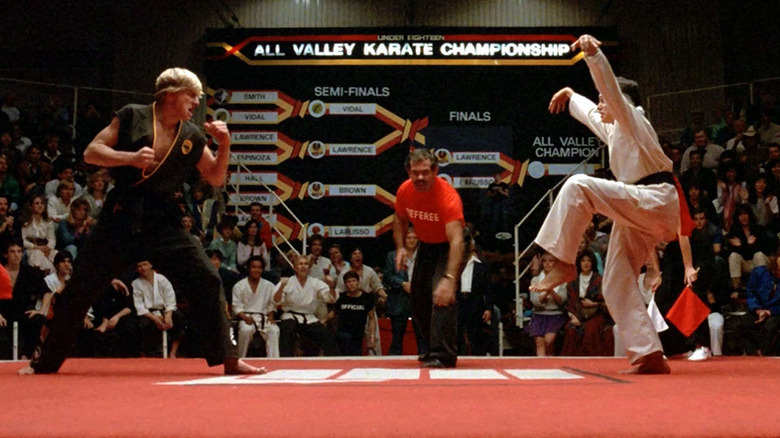 Columbia Pictures
While Netflix's September is full of greatness, a number of titles are also heading out through the revolving door. The good news is that you'll have all month to catch up on most of them, since the biggest exit rush will be at the very end of September. Even so, fans of "The Karate Kid" and "Star Trek" franchises should probably make some space in their calendar. All three films in the original "The Karate Kid" trilogy are crane-kicking their way out on September 30, and "Star Trek," "Star Trek: Enterprise," and "Star Trek: Voyager" are about to boldly go, as well. 
If you like horror, you might want to put some time aside to check out the three seasons of "Penny Dreadful" leaving Netflix on September 16. Fans of time-displaced British spies from the Swinging Sixties should also make sure to check out the three "Austin Powers" movies, which will all be grooving toward the general direction of away at the end of the month.
Leaving September 3
Kicking and Screaming 
Leaving September 6
Midnight Special 
Leaving September 7
Ripper Street: Series 1-5
Leaving September 11
Turbo 
Leaving September 12
I'm Sorry: Seasons 1-2
Leaving September 14
Pawn Stars: Season 2
Leaving September 15
Angry Birds: Seasons 1-2
As Above, So Below
Scott Pilgrim vs. the World 
Leaving September 16
Penny Dreadful: Seasons 1-3
Leaving September 18
Beauty & the Beast: Seasons 1-4
Leaving September 26
The Grandmaster
Leaving September 30
Air Force One 
Austin Powers: International Man of Mystery
Austin Powers: The Spy Who Shagged Me
Austin Powers in Goldmember
Boogie Nights 
Cradle 2 the Grave 
Evil: Season 1
Fools Rush In
Insidious 
Kung Fu Panda 
Kung Fu Panda 2 
No Strings Attached 
Prom Night 
Star Trek 
Star Trek: Enterprise: Seasons 1-4
Star Trek: Seasons 1-3
Star Trek: Voyager: Seasons 1-7 
The Karate Kid 
The Karate Kid Part II 
The Karate Kid Part III 
The Pianist
The Queen 
The Unicorn: Season 1 
Why Do Fools Fall in Love