Q-Force Season 1 - What We Know So Far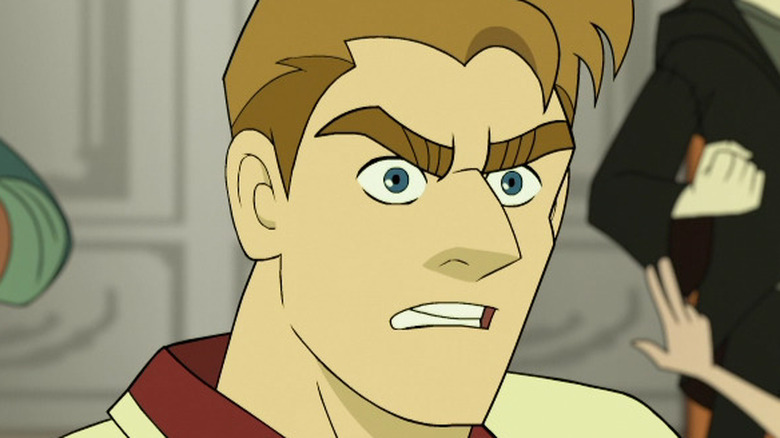 Netflix
Netflix has seen varied success with its animated comedies aimed at adult audiences. Perhaps most notably, "BoJack Horseman" ran for six seasons and was beloved by both critics and fans throughout its entire run on the streaming service. Nick Kroll and Andrew Goldberg's "Big Mouth" has received similar attention from the masses and has been renewed through Season 6. But then there are shows like "F Is For Family," which will have five seasons under its belt when it eventually signs off, that have flown under the radar of most subscribers.
It's difficult to tell what will take off and what will be more low-key successful, but nevertheless, the push into adult animation continues at Netflix with the upcoming arrival of "Q-Force." Anticipation for the new animated comedy about a team of queer super-spies is actually pretty high, so as we wait for the show's first season to debut, we're gathering up everything we know about it. Here's what we know so far.
What is the release date for Q-Force Season 1?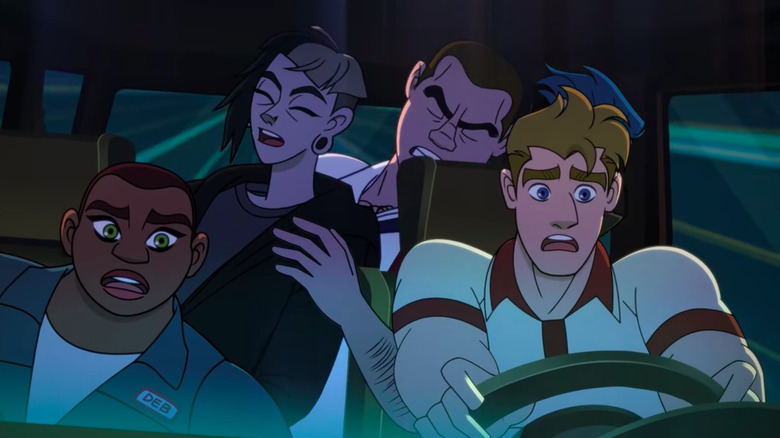 Netflix
Netflix announced way back in April 2019 that it had ordered 10 episodes of "Q-Force," an adult animated comedy from creator and executive producer Gabe Liedman about a group of LGBTQ+ superspies. Not much was heard after that. But now, more than two years since news first broke, we finally know when the show, which is also executive produced by Mike Schur ("The Good Place") and Sean Hayes ("Will & Grace"), will make its long-awaited and highly anticipated debut on the streaming service. Netflix announced on June 23, 2021, that the series will launch with all 10 episodes in the fall. So mark your calendars for September 2, folks.
However, that's not all that was revealed at the time: Netflix also released a couple of first look images and a 40-second teaser trailer for the show, which offered viewers their first real glimpse of what will happen in the upcoming episodes.
Who is in the cast of Q-Force Season 1?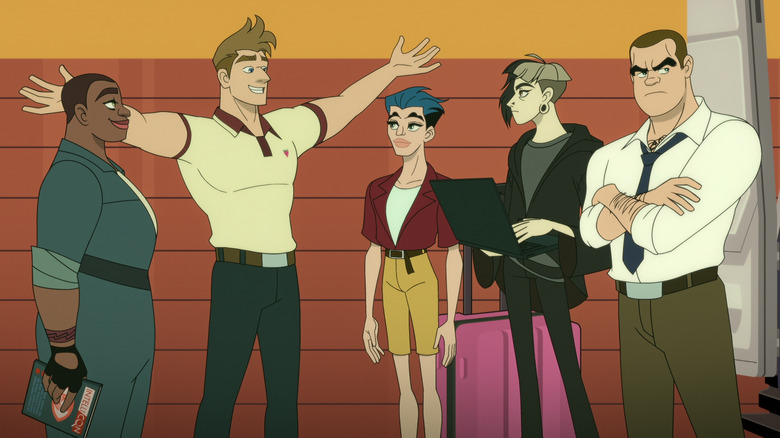 Netflix
Alongside the premiere date announcement, Netflix also revealed the voice cast for the series. Sean Hayes will portray the series' de facto lead, Agent Steve Maryweather, aka Agent Mary. Once ostracized for being gay, he's a truly gifted agent working for the American Intelligence Agency and now the leader of Q-Force.
Gary Cole portrays Director Dirk Chunley, the straight head of the AIA, while "Stranger Things" star David Harbour voices Agent Rick Buck, the longtime rival of Agent Mary who is assigned to the team with the goal of keeping it in check. Rounding out the rest of the cast are Wanda Sykes as Deb, a gifted mechanic and the team's go-to person for gadgets, as well as Patti Harrison as Stat, a skilled hacker who is harboring a secret, and Laurie Metcalf as V, the Deputy Director of the AIA and its highest-ranking woman. There is also Matt Rogers as Twink, a master of disguise and drag queen, and Gabe Liedman as Benji, the love interest of Agent Mary.
What is the plot of Q-Force Season 1?
Netflix
"Q-Force" tells the story of a team of LGBTQ+ superspies. The first season of the show will follow Steve Maryweather's Agent Mary, a one-time star agent of the American Intelligence Agency who was spurned by his employer after he came out as gay. Because his bosses couldn't fire him for his sexual orientation, they sent him to West Hollywood, hoping he would disappear amongst the palm trees. Instead, Steve formed his own team of LGBTQ+ individuals who had been undervalued as well, calling it Q-Force.
After waiting for years for the team to be given their first mission, Steve decided to go rogue, finding and solving a case with his team. This finally got the attention of the higher ups at the AIA, who reluctantly made Q-Force active agents and assigned them cases. However, this upgrade came at a cost: They have to put up with an agency-approved new member — the straight man Agent Buck (David Harbour) — which is no doubt going to cause some issues within the team.