The Surprising Emotional Reaction Simu Liu Had When He Was Cast As Shang-Chi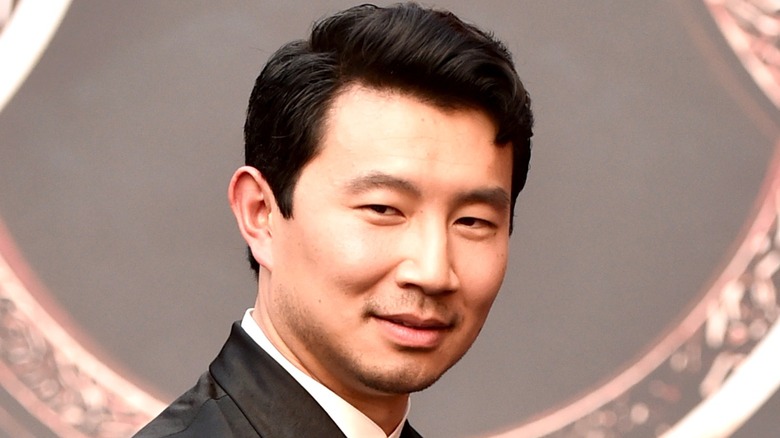 Alberto E. Rodriguez/Getty Images for Disney
The Marvel Cinematic Universe continues to grow by adding a new hero to its roster: Shang-Chi. Simu Liu stars as the titular hero in "Shang-Chi and the Legend of the Ten Rings" who faces his past when his father Wenwu/The Mandarin (Tony Leung) pulls him back into his old life. Marvel fans will no doubt recognize the Ten Rings referenced in the title because it's also the terrorist group who kidnapped Tony Stark (Robert Downey Jr.) in "Iron Man." Aldrich Killian (Guy Pearce) also used the Ten Rings group for his own villainous ends in "Iron Man 3," even using failed actor Trevor Slattery (Ben Kingsley) as a fake version of the Mandarin.
However, Tony Leung's Mandarin is anything but a puppet. Wenwu wears the ten rings on his arms, and they grant him immense power over the elements. The Mandarin's abilities can briefly be seen in the trailers, where he controls a body of water and also uses the rings' energy as weapons to blast at his opponents. Simu Liu's hero definitely has his work cut out for him in taking his father down — although it's not clear if the villain has a bigger, evil plan in the works.
As much as "Shang-Chi and the Legend of the Ten Rings" is an exciting new chapter in the MCU, it's also an important step in diversity for the franchise. Typically, most comic book movies star Caucasian leads, but "Shang-Chi" is Marvel Studios' first film led by an actor of Asian descent, something of which Simu Liu is incredibly proud. The star recently opened up about what the character means to him, as well as explaining his emotional reaction when he got the news that he'd won the role.
Simu Liu was hysterical when he got the news
Simu Liu recently spoke to Total Film about working on "Shang-Chi" and confessed that he had a surprising emotional reaction when he was offered the role. "I reacted by crying hysterically into my pillow," he said. The "Kim's Convenience" star went on to note that there's "certainly quite a bit of pressure" that comes with playing a character like this on the big screen. Liu expanded on this by saying he knew superheroes didn't look like him when he was younger: "I loved superhero movies growing up. I loved Spider-Man, Superman, Batman, but I was always keenly aware that people who looked like me could not look like that."
It's a sad truth that comic book movies have never been the most inclusive adventures on the big screen — but Marvel is at least taking steps to change this. 2018's "Black Panther" had a predominantly Black cast and crew while also basing Wakanda's culture on the African country of Lesotho (via Skratch). There's still plenty of work to be done, but "Shang-Chi" is another step in the right direction. According to Simu Liu, "It's a beautiful and exciting new origin story for this character that a lot of the world hasn't heard of before."
Liu continued to say that the film will allow younger audiences to finally see themselves on the big screen in a new way that he didn't have. "It means that kids growing up today will have what I didn't," he said, "which are characters that are aspirational, that also reflect their lived experience."
Luckily, there isn't long to wait, as "Shang-Chi and the Legend of the Ten Rings" arrives in theaters on September 3, 2021.