Will Shang-Chi And The Legend Of The Ten Rings Have A Post-Credits Scene?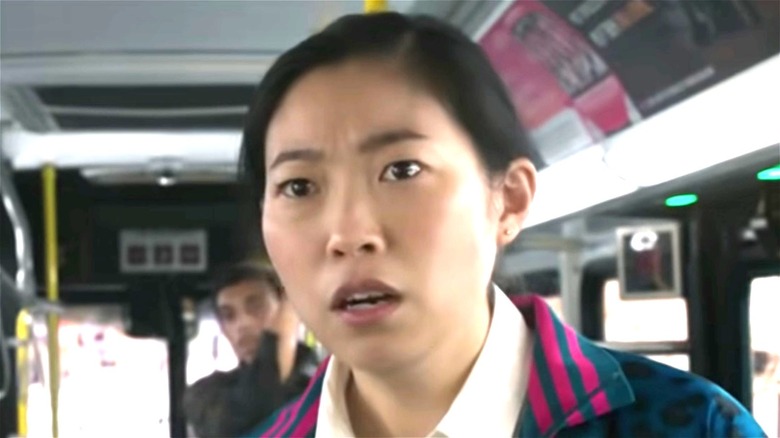 Marvel Studios/Disney
For decades, filmmakers have used post-credits scenes as a way of hiding one last joke or surprising moment as an Easter egg for the audience members who don't just walk out of the theater as soon as the credits roll. Sometimes they're purely funny or have some kind of self-aware joke — like Ferris Bueller (Matthew Broderick) telling audiences to leave at the end of "Ferris Bueller's Day Off." However, post-credits scenes aren't much of a secret anymore, as they're commonly used in most huge franchises, or in ambitious blockbusters hoping to get the sequel treatment. Marvel Studios, for instance, has long used post-credits scenes as both a way to tease what's ahead in its future films and help weaves its numerous, interconnected storylines together. 
Now, the Marvel Cinematic Universe is about to get bigger with the upcoming release of "Shang-Chi and the Legend of the Ten Rings," the new film that'll introduce audiences to actor Simu Liu as its titular hero, who is forced to go to battle in it against his father, Wenwu/The Mandarin (Tony Leung). Although the film promises to further expand the MCU, "Shang-Chi" is also bringing back characters from previous Marvel movies, like "Doctor Strange" hero Wong (Benedict Wong) and Abomination, who was last played by Tim Roth in "The Incredible Hulk." All of which is to say that it's clear the film will still tie into the MCU in some big ways.
During a recent interview, "Shang-Chi" director Destin Daniel Cretton teased more of what to expect from the highly-anticipated martial arts adventure and even revealed whether the film has a post-credits scene or not.
Shang-Chi audiences should stay after the credits
A recent clip from "Shang-Chi and the Legend of the Ten Rings" sees the film's titular hero fighting a horde of goons on a skyscraper's bamboo scaffolding, and it makes the movie's connections to the martial arts genre very clear. When speaking to Fandango, director Destin Daniel Cretton noted that the movie was inspired by some brilliant kung fu movies, saying, "There's a big inspiration from Jet Li's 'Tai-Chi Master,' and, of course, 'Crouching Tiger, Hidden Dragon.'" He also added, "I cannot give enough props to 'Kung Fu Hustle,' which is one of my favorites."
During the interview, Fandango's Erik Davis also took the opportunity to ask the "Shang-Chi" director if there is a post-credits scene at the end of the film, and Cretton briefly teased that, "Audiences should most definitely stick around!" Meanwhile, critics who were lucky enough to attend the recent "Shang-Chi" premiere revealed a little more after the film's screening, with Coy Jandreau confirming that "there are post-credit scenes." 
In the interview with Fandango, Destin Daniel Cretton also revealed that "Shang-Chi" is a "cross between a classic kung fu film and a family drama, but it's also really funny," so it's possible that one of the film's post-credits scenes could be a comedic moment, while another could be a heavier tease for a future MCU title. The recent "Black Widow" post-credits scene saw Contessa Valentina Allegra de Fontaine (Julia Louis-Dreyfus) put Yelena Belova (Florence Pugh) on a mission to kill Hawkeye (Jeremy Renner), but whether or not Pugh or Louis-Dreyfus will also show up during the "Shang-Chi" credits remains to be seen.
Thankfully, Marvel fans don't have to wait much longer before finding out the answer to that question, since "Shang-Chi and the Legend of the Ten Rings" is set to hit theaters on September 3, 2021.