This Is When Shang-Chi Takes Place In The MCU Timeline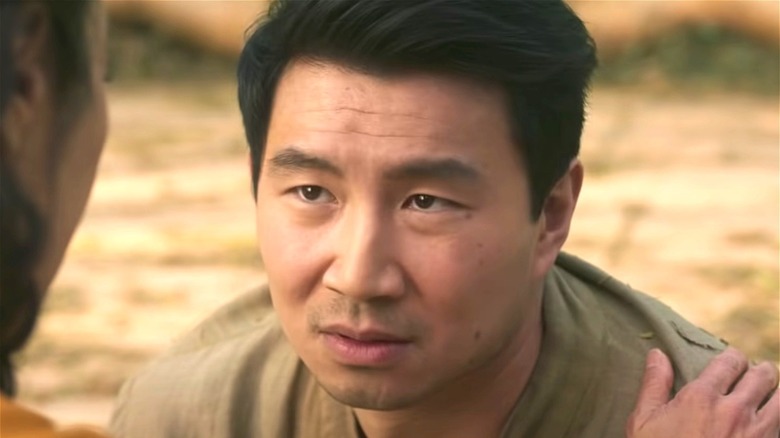 Marvel Studios/Disney
If you're now setting your sights on the next Marvel film, "Shang-Chi and the Legend of the Ten Rings," you're probably eagerly awaiting its release in three weeks. Advance tickets have already gone on sale for the Phase Four Marvel Cinematic Universe film, which releases officially on Sept. 3 with previews beginning the day before. There's been a lot of anticipation about this one, which is coming to theaters exclusively for 45 days before arriving on Disney+, unlike "Black Widow." That's partly because its been part of Marvel head Kevin Feige's MCU master plan for 20 years or so, according to an Empire interview (via SyFy). Adding diversity to the ranks, "Shang-Chi" features a cast almost entirely made up of actors of Asian descent. 
Given Shang-Chi's long history within Marvel (he made his debut in 1973's "Special Marvel Edition #15"), the origin of the alien-sourced Ten Rings of power and the Ten Rings terrorist organization, and the inclusion of traditional Chinese mythology (via Murphy's Multiverse) you may be wondering exactly when this film takes place, especially since the official synopsis of the movie says, "Marvel Studios' 'Shang-Chi and The Legend of The Ten Rings' stars Simu Liu as Shang-Chi, who must confront the past he thought he left behind when he is drawn into the web of the mysterious Ten Rings organization." Furthermore, everyone always wants to know where Marvel events happened in relation to "the blip," which was kind of a big deal given that half the population disappeared for five years.
A new interview with director Destin Daniel Cretton has clarified some details regarding the story's timeline, and we have some answers now — although we won't know all until the movie debuts.
Shang-Chi will be set in the present-day, post-blip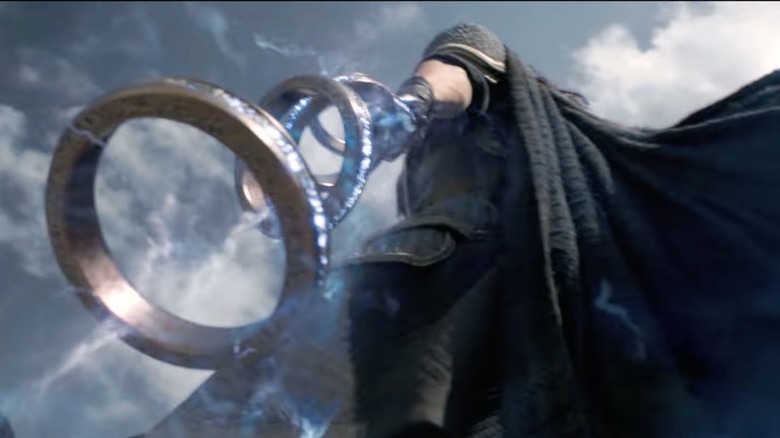 Marvel Studios/Disney
Naturally, there's only so much anyone involved in a Marvel movie can say directly prior to the film's release. However, Destin Daniel Cretton was pretty clear when asked about the setting of "Shang-Chi and the Legend of the Ten Rings." When responding to a question from Fandango, Cretton said, "'Shang-Chi' is set in the present day in the MCU timeline," clarifying that yes, this movie covers a post-"blip" series of events. 
Calling the new film "a cross between a classic kung fu film and a family drama," Cretton also elaborated on character and plot details. Specifically, he spoke about the relatability of Shang-Chi: "He is somebody who has a lot of pain in his past," the director noted. "He is a lot like me and a lot of people that we all know, where we have a tendency to cover up our trauma and pain with humor and act like everything's fine when it's not."
Additionally, Cretton talked about the way the actual Ten Rings and the organization Ten Rings will be incorporated into the story. "I mean, that's going to be the fun of watching this movie — understanding who the Ten Rings are finally and seeing how they are. I don't want to say too much before people watch it, but it was really fun to dig into the Ten Rings and answer a lot of questions that were posed early on, before we were ever even imagining we'd be a part of telling the MCU story," Cretton said.
There will also be a focus on family dynamics, including the relationship between the titular protagonist and his father Wenwu, and more of an emphasis on action design and choreography, Cretton says. As for the rest of it, fans will just have to wait until next month to experience the film for real.