New Shang-Chi Trailer Gives Us The Closest Look Yet At The Abomination
A new trailer for "Shang-Chi and the Legend of the Ten Rings" has landed, only further amping us up for when this film finally lands in theaters. It's been a long time coming for the flick, which has been pushed back numerous times due to the COVID-19 pandemic, but it's finally time for Shang-Chi (Simu Liu) to shine. Most of the new trailer contains a hefty amount of regurgitated footage from the first teaser and first official trailer, in addition to some of the same clips we've seen in other sneak peeks.
Nevertheless, this brand new trailer — titled "Rise Up" — is getting fans of the famous Marvel hero excited all over again as he's set to take center stage once and for all. We're again shown a handful of impressive action sequences and the different adversaries Shang-Chi will face. However, one of the biggest takeaways is our second — and much better — look at the Abomination.
The Abomination looks terrifying in the new Shang-Chi trailer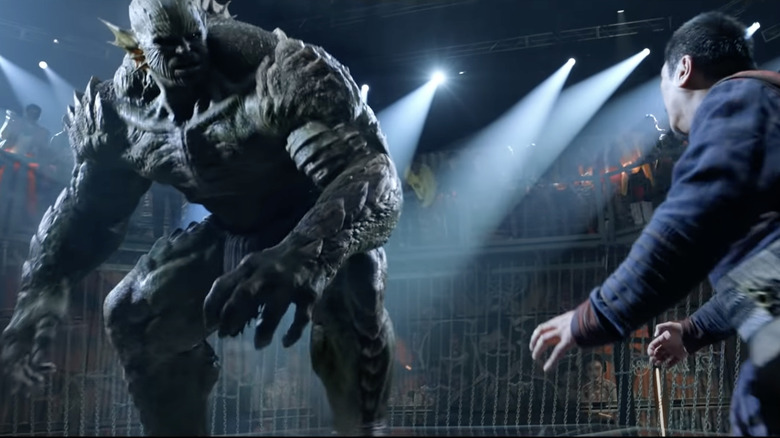 Disney/Marvel Studios
The new "Rise Up" trailer is made up almost entirely of content we've already seen, but the latest sneak peek at the Abomination is brand spanking new. MCU fans were shocked to see the character show up in the first official trailer for "Shang-Chi and the Legend of the Ten Rings," where he's fighting Wong (Benedict Wong) in a cage match. The new trailer takes a deeper dive into that one-on-one battle, where we get a better look at the Abomination in all his jacked-up glory.
The green baddie, who we first met in "The Incredible Hulk," has a different look than the last time we saw him. This time, he's much more comic book-accurate with winged ears and a more green skin tone. In the "Rise Up" trailer, we can see just how strong the Abomination is these days with a better head-on view where he looks absolutely ripped and more lethal than ever. He delivers some pretty severe blows to Wong, but the "Doctor Strange" star seems capable of handling his own in the cage match.
It'll be fascinating to see how this all plays out — and why the Abomination is around in the first place — when "Shang-Chi and the Legend of the Ten Rings" lands in theaters on September 3.