Here's Where You Can Watch Brooklyn Nine-Nine Season 8 Online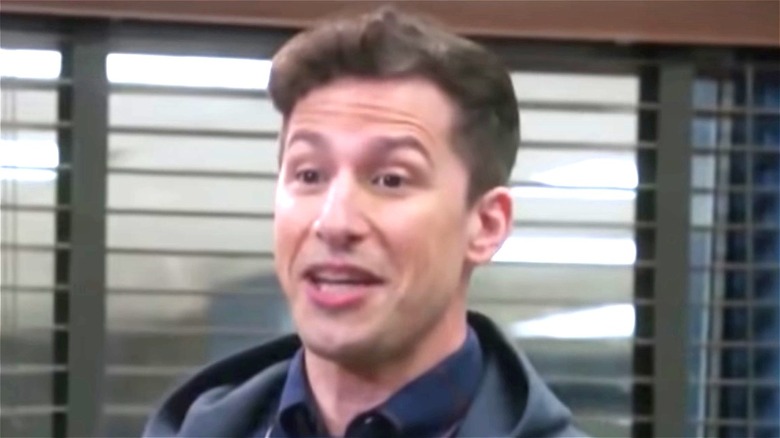 NBC
All good things must come to an end, including beloved underdog comedy series like "Brooklyn Nine-Nine." (Pause for a moment of silence.) The show launched its eighth and final season yesterday evening, August 12, with back-to-back episodes beginning at 8 p.m. Eastern on NBC. Now that the former Fox comedy that audiences and NBC helped to resuscitate is giving fans one last hurrah, here's everything you need to know about where you can watch the series online — and a few new things to expect when you do. 
Although the episodes will become available to stream on both Hulu and Peacock Premium the day after they air live on NBC, there are a number of options for watching NBC programming live (with or without cable) from your computer, including Hulu With Live TV, YouTubeTV, and Sling TV. If you do decide to wait until the day after the episodes air, you might want to steer clear of any "Brooklyn Nine-Nine" social media chatter, unless you're not bothered by spoilers. While the show has always garnered an immediate and enthusiastic response from fans, Season 8 promises to bring the conversation to a whole new level.
Season 8 brings a shift in tone to Brooklyn Nine-Nine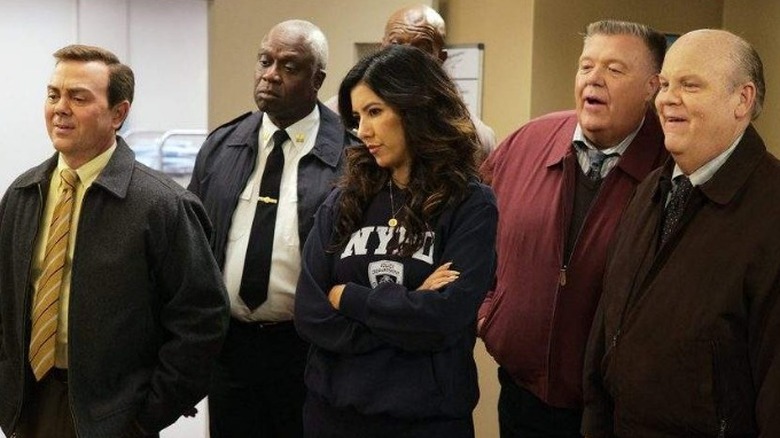 NBC
Along with numerous other television shows of its kind, the popular comedy's final season saw the writers and stars grapple with how to adjust the show's tone and subject matter for audiences in 2021. In addition to addressing the characters' experience with the COVID-19 pandemic, the series' premiere ("The Good Ones") didn't shy away from acknowledging both the history of police brutality and systemic racism in America or its more recent reckoning. 
Fans of the show may be surprised at first by the shift in tone, but neither the actors nor the writers of "Brooklyn Nine-Nine" made any secret of the fact that they knew work had to be done. "I do believe that our characters need to examine their roles in the world," Andy Samberg told USA Today last year. "They're going to be forced to look in the mirror and see who they're complicit with."
Samberg isn't the only "Brooklyn Nine-Nine" star to share his thoughts about the show's desire to adapt and adjust in the wake of 2020. Actor Terry Crews (aka Sergeant Terry Jeffords) spoke at length with Access about the ways in which the cast and writers of the show have worked to address issues of social and racial injustice. "We have an opportunity" he told the media outlet, "and we plan to use it in the best way possible."
Tune in live on NBC or the day after on Hulu or Peacock.