The Real Reason Ethan Hawke Joined Moon Knight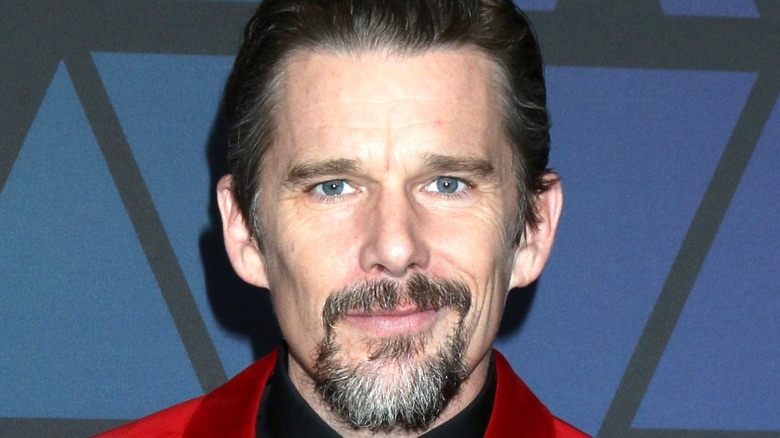 Shutterstock
Moon Knight is one of the most fascinating costumed characters in the Marvel pantheon of heroes. Which is why it's so exciting that Oscar Isaac is set to play the complicated vigilante in his own Disney+ solo series. Marvel Studios is keeping the plot under wraps for the moment, but many comic book fans are excited to see Isaac as Marc Spector in "Moon Knight" whenever the show eventually debuts on the streaming service.
For anyone not familiar with "Moon Knight," Marc Spector is an ex-CIA operative and mercenary who was left for dead in Egypt by his employer. Luckily he was saved by the Egyptian god, Khonshu, who tasked him with becoming his avatar on Earth. Marc Spector also has a form of dissociative identity disorder, and has created several different personalities that he uses as part of his crime-fighting career. Spector used the money he made as a mercenary to fund his vigilante antics as millionaire playboy Steven Grant, while maintaining a normal identity in the form of cab driver Jake Lockley. In 2014, he even develops a unique version of his alter-ego called Mr. Knight — as he dons an all-white three-piece suit alongside a unique mask. He's a suave detective rather than a white knight in the dark.
Basically, the "Moon Knight" show could go to some very, very strange places. But one of the most surprising aspects of the project is Ethan Hawke's involvement. The critically acclaimed star isn't typically one for picking comic book roles, although he flirted with the "Doctor Strange" role in the past. But Hawke recently revealed the specific reason behind why he signed on for "Moon Knight"
Oscar Isaac brought him onboard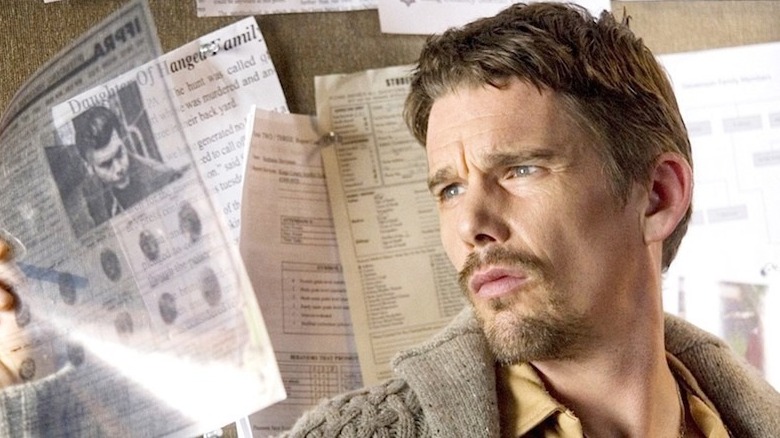 Lionsgate
When appearing on Late Night with Seth Meyers, Ethan Hawke opened up about how he got involved. As he pointed out, though, he's signed "10,000 NDAs" about the project and can't really talk about it. Hawke revealed that Isaac is the person who brought him onboard for "Moon Knight," telling Seth Meyers "I heard about it from Oscar Isaac, who lives like, you know, three blocks down from me in Brooklyn."
The actor went on to say that the mutual respect they had for each other got the conversation started: "He's like 'Hey, I really liked The Good Lord Bird.' I was like 'Hey, cool, I really like your work. You're amazing' He's like 'Wanna be in Moon Knight with me!?'" Hawke added, "It happened the right way." The star was obviously cautious not to reveal too much but he did say "these are the best sets I've ever been on in my life," before also calling the costumes and the cinematography "mind-boggling." 
Ethan Hawke's character still hasn't been revealed in the series, although initial casting reports claimed he's playing one of the villains. So it's possible he could play Raoul Bushman, Marc Spector's employer who leaves him for dead in the desert. But when pressed by Seth Meyers about his new look, Hawke confessed "I've based my character on David Koresh!" He also joked "I guess it's working. You're good, Seth. Or maybe I'm not out of character yet." Hopefully, Marvel releases an official look at "Moon Knight" sooner rather than later.