Why Wasn't LeVar Burton Offered The Jeopardy! Hosting Job?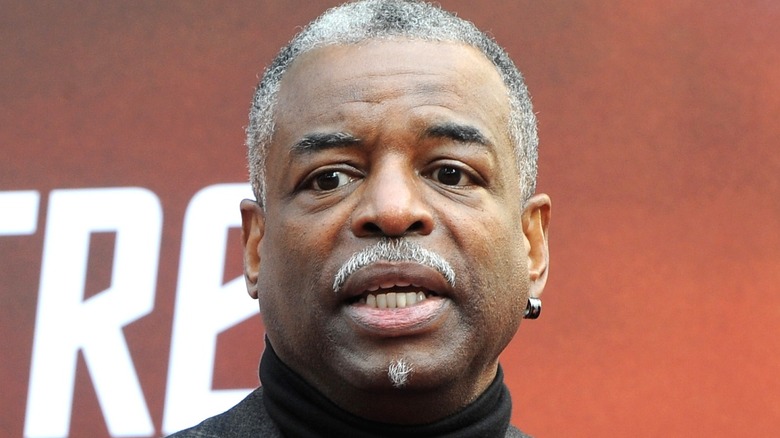 Albert L. Ortega/Getty Images
After Alex Trebek's death, there were many questions concerning the future of "Jeopardy!" For decades, the game show was a TV staple, and Trebek left some massive shoes to fill. It wouldn't be easy to determine who could take his place, but it made sense when the studio behind the show announced a slew of guest hosts would take the reins for a while. There were plenty of optimal choices to take over the hosting gig permanently. Still, as anyone who spends a chronic amount of time online can attest, one name stood above the rest regarding who fans wanted to be the new "Jeopardy!" host full-time — LeVar Burton.
The actor, best known for his work on "Star Trek" and "Reading Rainbow," is known to a generation of fans for educating the masses and teaching us all how fun it can be to read. He seemed like a natural pick, but it appears CBS Media Ventures went in a different direction. On August 11, The New York Times reported how Mike Richards and "The Big Bang Theory" star Mayim Bialik would share co-hosting duties.
It begs the question: Why didn't Burton get the job? No official explanation has come out yet, but we have an idea.
LeVar Burton didn't have as good of ratings guest-hosting Jeopardy! as Richards and Bialik
We can only speculate as to why LeVar Burton didn't land the "Jeopardy!" job. However, one factor that could've played a role was his ratings. Each guest host had a week or two where they had the show's reins, and after a ton of fanfare on social media, the producers finally let LeVar Burton have a chance to host during the week of July 26 to July 30, 2021. He had the lowest ratings out of any of the guest hosts, with an average of 4.4 million viewers tuning in to see him talk about science-fiction and great works of literature with contestants (via MSN).
Meanwhile, the people who landed the gig — Mike Richards and Mayim Bialik — got averages of 5.9 and 5.1 million viewers, respectively. It appears fan petitions and memes didn't translate to people watching Burton when he finally hosted. The "Star Trek" actor was also at a disadvantage because his shows lined up with the Olympics, which is some stiff competition to go up against. It's possible more people would've watched Burton if his episodes came at a more opportune time.
Of course, this is only a theory. We have no idea of knowing what went on behind the scenes to inform the decision. It appears Burton doesn't mind losing out on the job, as he tweeted on August 5: "I've won. The outpouring of love and support from family, friends, and fans alike has been incredible! If love is the ultimate blessing and I believe that it is, I am truly blessed beyond measure." For a brief period, at least the internet came together to celebrate the singular talent of the one and only LeVar Burton.