Does Chris Evans Voice Steve Rogers In What If?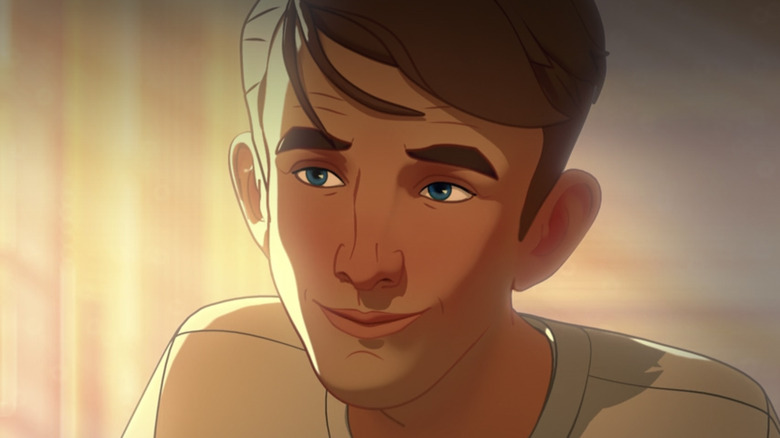 Marvel Studios
"What If...?" looks at what would happen to the Marvel Cinematic Universe if one thing changes in the timeline. Much like "The Butterfly Effect," one small decision or deviation from the usual events can have huge ramifications. 
The premiere episode focuses on what would happen if someone else were given the Super Soldier Serum instead of Steve Rogers in 1941 — with Peggy Carter (Hayley Atwell) stepping in after Steve is shot by Heinz Kruger (Richard Armitage). She winds up becoming Captain Carter with a little help from Howard Stark (Dominic Cooper) and taking the fight to Vienna to free Bucky Barns and the 107th regiment from Hydra's clutches.
Because Peggy is the hero of this particular story, she's rightfully given more of the spotlight than Steve. That's not to say his heroic nature is negated; he also gets by with a little help from his friend Howard — who puts him in a militarized Iron Man suit called the Hydra Stomper. Pretty cool, right? It's a thrilling episode that gives Marvel fans a new sandbox to play in.
What's equally impressive is that Marvel Studios has brought back many of the actors to voice the characters they play in live action. Hayley Atwell returned to voice Peggy Carter alongside Sebastian Stan as Bucky Barnes, and Dominic Cooper also voices Howard Stark. Heck, even Neal McDonough comes back as Dum Dum Dugan! But one of the biggest questions many fans might have is whether Chris Evans voices Steve Rogers in "What If...?"
That doesn't sound like the Steve Rogers fans know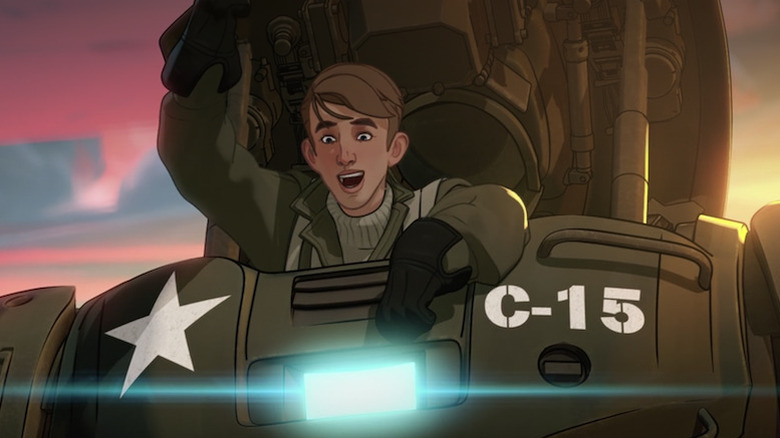 Marvel Studios/Disney+
Although Marvel Studios clearly spent a lot of money on "What If...?" by bringing back a number of actors for their MCU roles in the animated series, it looks like some stars might've been too expensive. As soon as Skinny Steve (as he's called in the credits) starts talking, it's immediately obvious that he isn't voiced by Chris Evans. Although the episode is action-packed and incredibly exciting to watch, it feels somewhat jarring to hear someone other than Evans as Steve — especially when there are other familiar voices like Hayley Atwell and Sebastian Stan.
Steve is voiced by Josh Keaton, who's also voiced Spider-Man/Peter Parker in a number of video games like "Spider-Man: Shattered Dimensions" and "Spider-Man: Edge of Time" as well as "The Spectacular Spider-Man" animated series. Keaton's a brilliant voice actor, and he perfectly captures Steve's resolute sense of right and wrong. But not hearing Evans in the role might throw off some in the audience.
Evans' future with Marvel is currently up in the air, as Deadline reported in January 2021 that he'll suit up as Captain America again in a new project. However, the star himself tweeted "News to me" in response to the report. Granted, actors involved with MCU projects are notoriously quick to deny their roles. (Hello, Tatiana Maslany!) But even if Evans does return, it's still not clear why Marvel didn't get him on board for "What If...?" Maybe he was just too busy working on "The Gray Man" with Ryan Gosling and the Russo Brothers.