Why Tynan From Beckett Looks So Familiar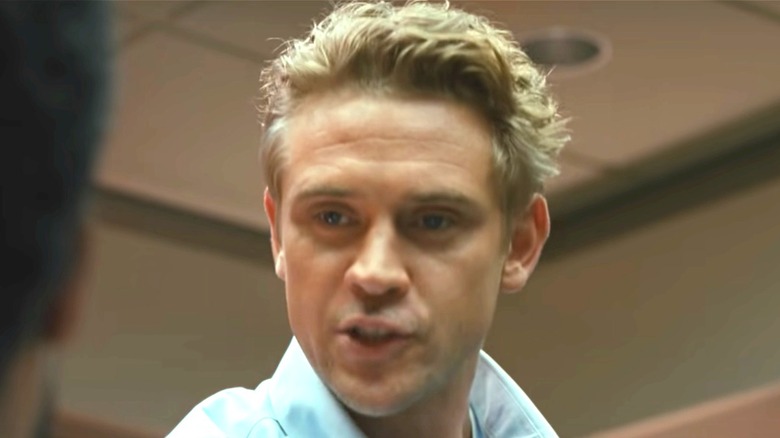 Netflix
Netflix is gearing up to bring audiences a brand new thriller with the upcoming release of "Beckett," which drops on August 13. Focusing on "Tenet" star John David Washington as a character named Beckett, the movie finds him at the center of a bizarre political conspiracy and follows him as he attempts to unravel it and clear his name for a crime he did not commit. However, in addition to Washington as the titular lead, the upcoming Netflix film has an absolutely stacked cast of supporting characters.
One such character is Tynan, who only gets a brief standout moment in the trailer for "Beckett" as a United States Embassy official who appears to know more than he lets on. Tynan may seem incredibly familiar to movie and television fans. For those who recognize him but cannot put a name to the face, Tynan is portrayed by none other than actor Boyd Holbrook. An actor with no shortage of notable IMDb credits, the 39-year-old Holbrook has been wowing audiences in roles for well over a decade. With that in mind, let's dive in and look at some of the performances you may recognize him from in recent years.
Boyd Holbrook played William 'Cap' Hatfield in Hatfields & McCoys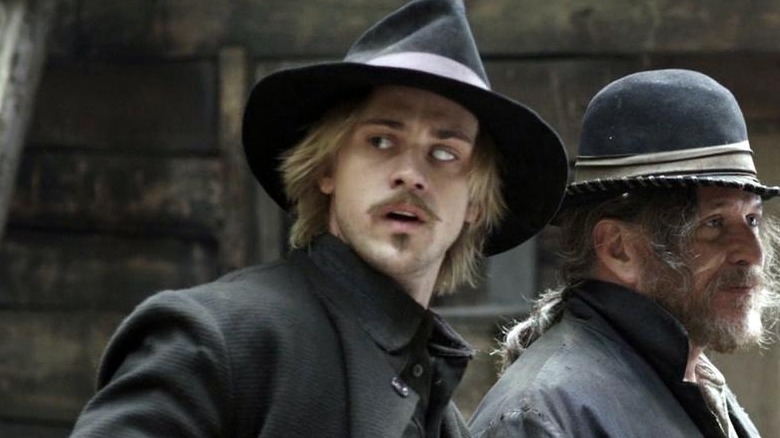 History Channel
One of Boyd Holbrook's earliest significant roles came with the release of "Hatfields & McCoys" back in 2012. Directed by Kevin Costner, the miniseries told the legendary tale of the feud between the titular Hatfield and McCoy families in the American South during the 1800s. As a Kentucky native himself, Holbrook likely felt right at home while telling the story of one of America's most brutal blood feuds. In the miniseries, Holbrook portrayed William "Cap" Hatfield -– a member of the Hatfield clan who finds himself embroiled in the bitter feud against the McCoys. In addition to Holbrook and Costner, the miniseries also starred Bill Paxton, Powers Boothe, and Tom Berenger, among others.
In total, "Hatfields & McCoys" ran for three episodes during its run on the History Channel. Receiving fairly positive critical reviews upon release, it holds the distinction as the network's first-ever scripted drama (via The Hollywood Reporter). Moreover, despite its short run on the network, it perfectly displayed many of the qualities that Boyd Holbrook would eventually go on to embody in many other projects.
Boyd Holbrook played Kristo in A Walk Among The Tombstones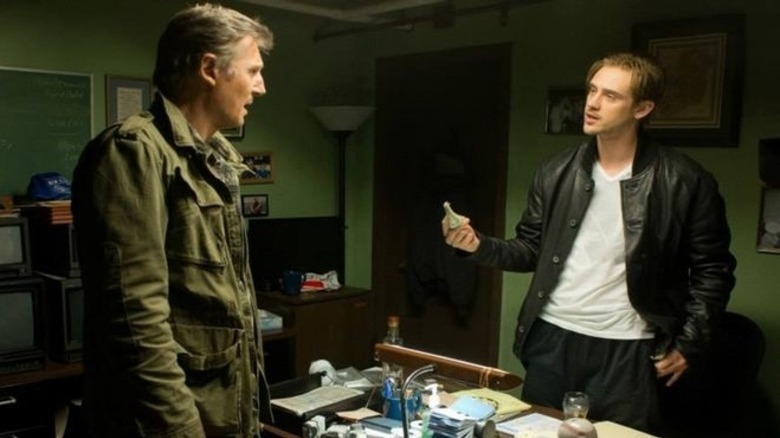 Universal Pictures
It's no secret that after the release of "Taken," Liam Neeson's career dramatically shifted gears. Once primarily known for dramatic roles, Neeson became a go-to Hollywood action star. One of the best action films of his career is 2014's "A Walk Among the Tombstones," and much of the film's quality is due in no small part to Holbrook's portrayal of Peter Kristo. The film centers on Neeson as a retired cop-turned-private detective enlisted by a drug dealer to uncover the truth about who kidnapped and murdered the dealer's wife.
Holbrook's performance in the film not only allowed him to stretch his action chops; it also afforded him an opportunity to explore darker elements common within the noir genre, such as adultery and addiction. "A Walk Among the Tombstones" was directed by Scott Frank and was based on a novel of the same name by Lawrence Block. In addition to Neeson and Holbrook, the film's supporting cast includes notable actors such as Dan Stevens and David Harbour.
Boyd Holbrook played Steve Murphy in Narcos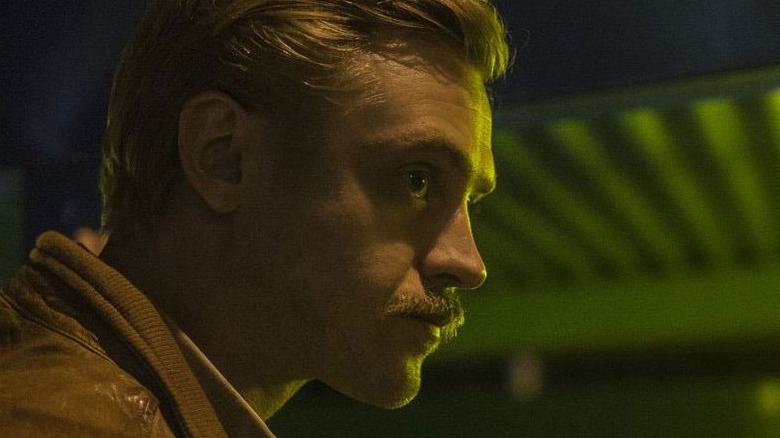 Netflix
Holbrook's role as Tynan in "Beckett" is not the actor's first time working under the Netflix banner. In fact, one of his most prominent roles to date is that of Steve Murphy in the hit series "Narcos." As Murphy, Holbrook served as the central narrator of the first two seasons, telling the real-life story of the Drug Enforcement Administration's mission to take down South American cocaine kingpin Pablo Escobar in Colombia during the ever-escalating drug wars of the 1980s.
"Narcos" received many accolades upon its debut on the streaming service. However, despite his pivotal role in the series, Holbrook did not stick around for the duration. He eventually departed from his role as Steve Murphy entirely, and the focus of the show pivoted to Pedro Pascal's portrayal of DEA Agent Javier Pena in "Narcos" Season 3. Following the shift in perspective, Pascal also took over the narration duties that Holbrook left behind when he departed the show.
Boyd Holbrook played Donald Pierce in Logan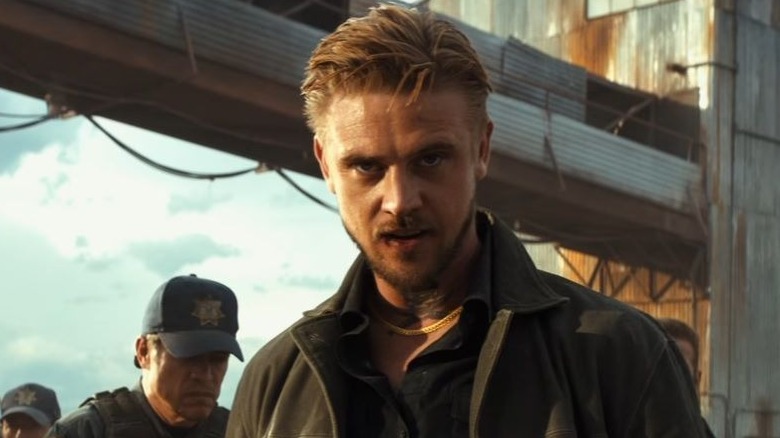 20th Century Fox
At the end of Hugh Jackman's tenure as Wolverine, "Logan" took the "X-Men" franchise into a bleak future where no character was safe. Those high stakes were due in no small part to the deadly, cybernetic mutant hunter, Donald Pierce. In the film, Holbrook portrayed Blake as an unrelenting and cold-blooded killer willing to do anything necessary in order to track down Dafne Keene's X-23, who found herself in the care of Jackman's clawed mutant hero.
Though lacking the sheer brute force of some of the film's other characters, Donald Pierce made an impression on audiences in "Logan" for his delicate balance between menace and charm. Unfortunately for Pierce, his skills were not able to save him when a group of young mutants cornered him in a forest and unleashed their abilities in a brutal fashion. That being said, even with his abrupt end, Holbrook managed to make a strong impression during his one outing in Marvel's "X-Men" universe.
Boyd Holbrook played Quinn McKenna in The Predator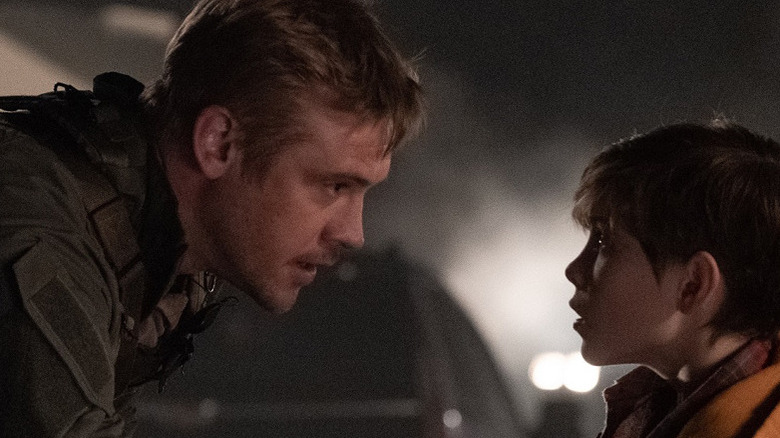 20th Century Fox
After taking on many supporting roles in popular franchises, Boyd Holbrook finally got a chance to lead a major action series in 2018 with "The Predator." A soft reboot of the beloved "Predator" franchise, the film saw Holbrook take on the role of Quinn McKenna, an Army sniper tasked with taking on the series' legendary hunters from outer space when his son becomes a target. The film marked a return to the franchise for director Shane Black (one of the stars of John McTiernan's original 1987 film) and featured a supporting cast consisting of Keegan-Michael Key, Trevante Rhodes, Thomas Jane, and Jacob Tremblay, among others.
"The Predator" ended with a tease for future films focusing on McKenna. However, the film did not receive widespread praise from critics, and a modest box office take led the franchise to go on ice once again. Now, yet another "Predator" reboot is in the works from director Dan Trachtenberg, but there's no indication that Holbrook will return.
That's just a sampling of the many roles that have helped Holbrook become an increasingly common sight in pop culture. He's acted in action films, dramas, and sci-fi epics, and he will likely continue to expand his genre repertoire for years to come. Audiences will get a chance to check out Holbrook as Tynan in "Beckett" when the film hits Netflix on August 13.