How Much Money Mike Wolfe Makes From American Pickers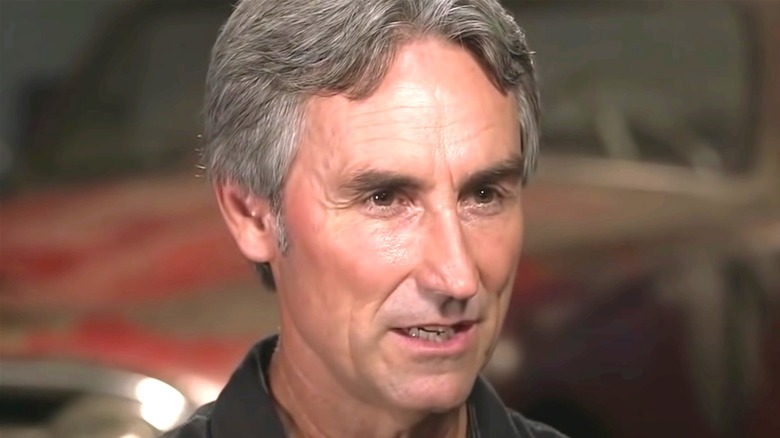 Over the course of 22 seasons, the "American Pickers" co-hosts have traveled all across the United States while searching for vintage items and pieces they can resell or keep for their own collections. The voiceover at the start of every episode says it all: "We make a living telling the history of America...one piece at a time."
While fans of vintage items and memorabilia were drawn to "American Pickers" from the start, the reality series was really built around the easygoing chemistry between co-hosts Frank Fritz and Mike Wolfe as they drove around various backroads. This did change recently when Fritz left the show after he and Wolfe fell out, though co-host Danielle Colby will apparently stay on the series.
Fans may be curious, however, as to the amount of money one can make as a reality TV star on a long-running History series. Here's how much Mike Wolfe actually makes off of "American Pickers."
Mike Wolfe makes around 500 grand a season
As it turns out, you can draw a considerable salary from a popular reality show like "American Pickers." Co-host Mike Wolfe is the one who currently makes the most money off the show. According to Celebrity Net Worth Reporter, Wolfe gets $500,000 per season of "Pickers." Fritz, in comparison, received $300,000 for every season he appeared in.
Wolfe, like Fritz, also has substantial business endeavors as well, including his antique business, Antique Archaeology. He also operates Two Lane Guesthouse, a Main Street vacation rental in Tennessee. In total, Mike Wolfe's real net worth from all of his income and businesses is estimated to be around $7 million (via Celebrity Net Worth).
Wolfe has claimed the secret of his success is really surrounding himself with bright, energetic people. "All my ideas are organic, but they come from the same places that my passions are, and I'm smart enough to surround myself with people that understand how those processes need to work," he told Fast Company.
If you'd like to see what first made Mike a success, you can currently watch the first four seasons of "American Pickers" on Hulu.