Kevin Smith Wants To Release A Snyder Cut Of This Flop Of His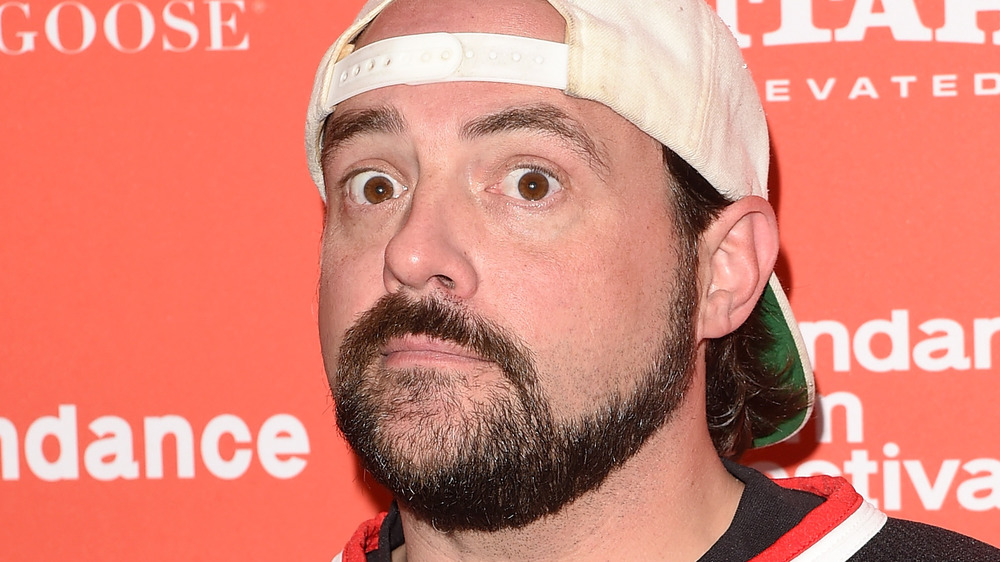 Jason Merritt/Getty Images
It's no secret that director Kevin Smith is a huge fan of comic books. The man behind Mallrats and Jay and Silent Bob Strike Back fills his movies with references to them. His eponymous characters, Jay and Silent Bob, have their own superhero personas with their own comics named Bluntman and Chronic. The main character of Smith's movie Chasing Amy is the artist behind said comic books. Likewise, the first Jay and Silent Bob movie follows the two on their journey to get paid for their likenesses when the comic receives a movie adaptation.
Smith's offscreen life is also extremely comic-centric. He owns his very own comic shop in his home state of New Jersey called "Jay and Silent Bob's Secret Stash." The shop provided the location for Smith's long-running reality show, Comic Book Men. It's no surprise, then, that Smith has his own ideas about the upcoming "Snyder Cut" of the Justice League movie. In fact, he wants to take inspiration from it.
Why Kevin Smith wants a Snyder Cut for Jersey Girl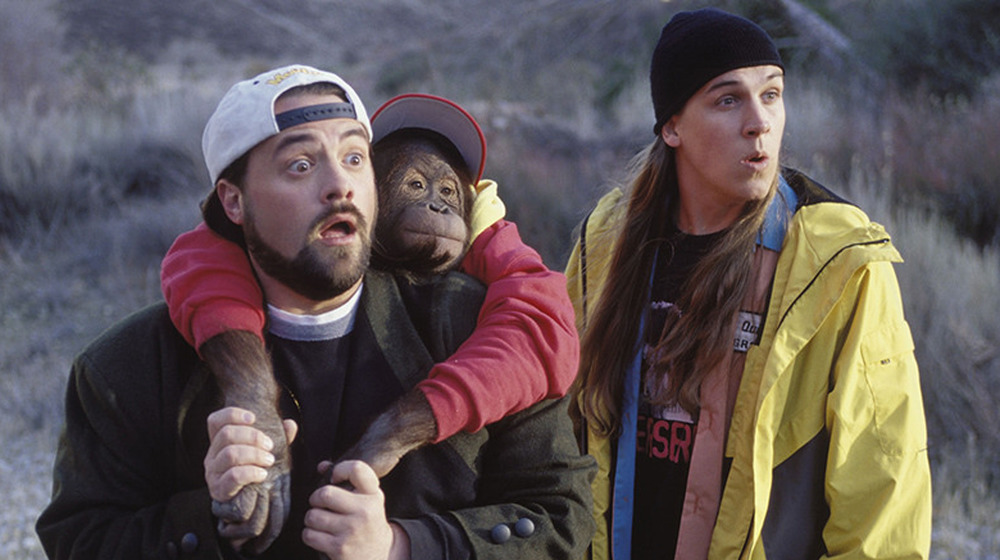 View Askew Productions
In a recent episode of his comic-centric podcast Fatman Beyond, Kevin Smith revealed that there is an extended version of his flop film Jersey Girl that he has always wanted to release. "[Paramount was] talking about 'Hey we want to put out Jersey Girl this year,'" said Smith. "I was like, 'Well I have the extended cut, which I've shown at Vulgarthon,' and if they allow me to, I wanna call that 'Jersey Girl: The Snyder Cut'" (via CBR).
Smith also said that he is excited for the actual Snyder Cut of Justice League. "It's a big moment for [Snyder] but it's also a big moment for filmmakers in general. Particularly filmmakers like myself, and not Zach Snyder, who have experienced a lack of success... to get a second bite at the apple like this and to do it exactly the way you want... it's cool."
This statement resonates heavily with Jersey Girl in many ways. Despite Smith's other successes as a cult filmmaker, Jersey Girl was poorly received by audiences and critics alike. The film, which stars Ben Affleck as a struggling single father, boasts meager scores on Rotten Tomatoes.
Unfortunately, the chances of Jersey Girl: The Snyder Cut actually releasing are low. Smith himself says that he doesn't "think there's any Snyder Cuts in [his] future."