Small Details You Missed In The Jay And Silent Bob Reboot Trailer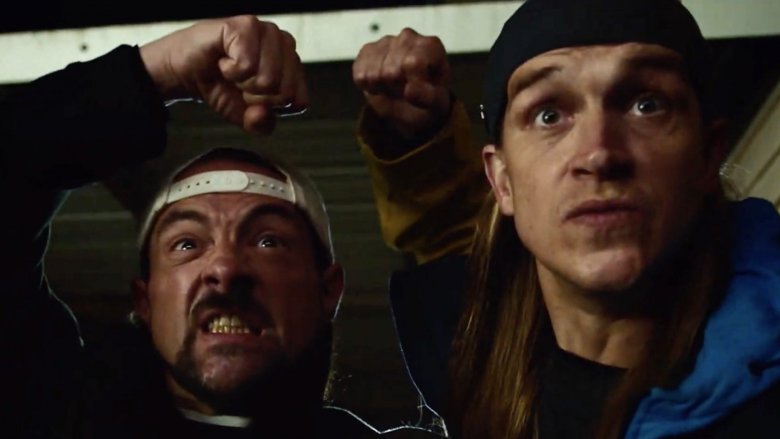 It's a near guarantee that if Kevin Smith wrote and directed a movie, the characters of Jay and Silent Bob are going to show up. Portrayed by Jason Mewes and Smith himself, respectively, the duo appeared as drug dealers in 1994's Clerks, and then a number of other movies and shows set in Smith's interconnected "View Askewniverse," including Mallrats, Chasing Amy, Dogma, and Jay and Silent Bob Strike Back. That last one concerned the motor-mouthed miscreant and his trenchcoat-sporting "heterosexual lifemate" attempting to stop a film version of Bluntman and Chronic, a comic book based on them. Amusingly, that's also the premise of Jay and Silent Bob Reboot, which hits theaters in October 2019. 
On July 18, 2019, Saban Films released the first trailer — and a red-band, extremely not-safe-for-work one at that — for Jay and Silent Bob Reboot. Here's everything you might have missed in the brief clip, and what we can determine goes down in the movie proper. Snootchie bootchies!
How the Jay and Silent Bob Reboot trailer sets up the story
The title of Jay and Silent Bob Reboot tells audiences exactly what it is — a reboot of Jay and Silent Bob Strike Back. But it's also a sequel, and kind of a remake, too. The trailer lays out that this new movie replicates the plot of the old one, thereby sending up Hollywood's tendency to reboot, sequel-ize, and remake every bankable property it can. 
In Jay and Silent Bob Strike Back, our dim-witted stoner protagonists traveled to Hollywood to shut down a movie version of Bluntman and Chronic, a comic book that imagines Jay and Silent Bob as marijuana-themed superheroes. The trailer for Jay and Silent Bob Reboot shows that this new film will tell a similar story: a Hollywood studio is rebooting the Bluntman and Chronic film series, with new actors, and Jay and Silent Bob have three days to prevent that from happening. That's just a taste of what looks to be a movie full of self-referential humor and plot developments and fourth-wall busting. (Another example: At one point in the trailer, an actor makes fun of a writer-director by the name of "Kevin Smith.")
Old friends reunited in the Jay and Silent Bob Reboot trailer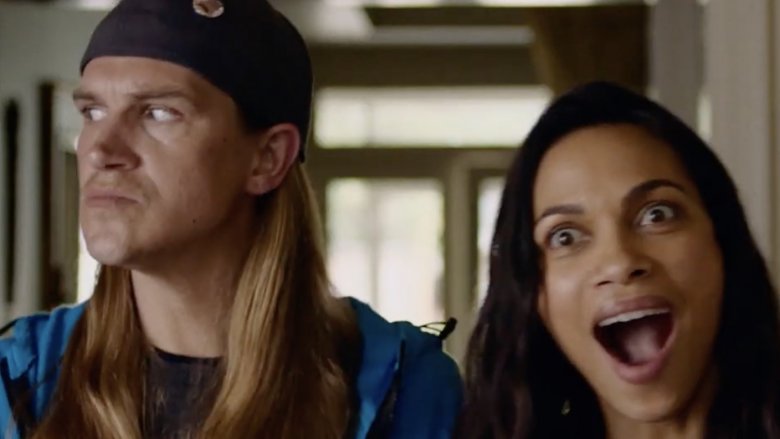 Jay and Silent Bob Reboot looks to be a franchise-capping movie, pulling characters from two decades' worth of interconnected Kevin Smith movies. Rosario Dawson appears in the trailer, likely reprising her role as Becky from Clerks II. Matt Damon found one of his earliest major roles in Smith's Dogma, and in Jay and Silent Bob Reboot, he returns as Loki, the avenging angel he played in the latter. (He's shown sitting in a church pew.) Damon's Good Will Hunting partner Ben Affleck is also a Smith veteran, and he appears in the trailer as Holden McNeil, his comic book-creating character from Chasing Amy and Jay and Silent Bob Strike Back. After all, it's Holden who made the original Bluntman and Chronic comic adapted into a movie in Jay and Silent Bob Strike Back, and now he's promoting Bluntman Beyond at a Comic-Con-like event called ChronicCon. Also on hand at that convention: Jason Biggs and James Van Der Beek, the original Bluntman and Chronic from the movie-inside-of-a-movie in Jay and Silent Bob Strike Back. And in this film as in the last Jay and Silent Bob movie, the heroes find out about the movie version from comics lover Brodie Bruce, still portrayed by Jason Lee.
Also, there's Brian Quinn from Impractical Jokers playing a ChronicCon attendee. That's a nod to his work as a moderator at Comic-Con events, as well as to his history with Smith. He had bit parts in Dogma and Jay and Silent Bob's Super Groovy Cartoon Movie and regularly appears on the Smith-adjacent podcast Tell 'Em Steve-Dave.
New faces in the Jay and Silent Bob Reboot trailer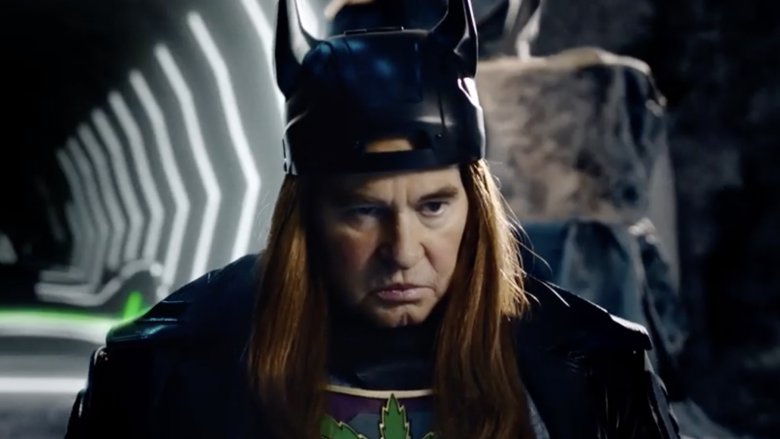 The clips from the movie whip by so quickly that it's hard to notice everyone who's in it. In addition to the steadfast stable of Kevin Smith players reprising their roles from years ago, there are lots of familiar faces joining the View Askewniverse for the first time. In a cheeky bit of self-referential humor, former Batman Val Kilmer plays himself playing Bluntman, with Supergirl's Melissa Benoist acting as Chronic. In other cameos from new cast members, Donnell Rawlings (from Chappelle's Show) heads up a SWAT team, Craig Robinson (The Office) plays a judge, Joe Manganiello (Magic Mike) is a bailiff, and Fred Armisen (Portlandia) shows up as an unlucky Uber-type driver. Even some other famous screen stoners make an appearance: Tommy Chong (from Cheech and Chong) and rappers Method Man and Redman (from How High).
Another established character making a comeback: Justice (Shannon Elizabeth), an animal liberation activist and love interest for Jay from Jay and Silent Bob Strike Back. She's here for the Reboot to set another major element of the plot in motion: Her daughters desperately want to go to Hollywood, threatening Jay and Silent Bob at knifepoint to take them, since they're going there to stop the new Bluntman and Chronic movie anyway. Oh, and Jay is the father of the one named Millennium Falcon (played by Kevin Smith's daughter, Harley Quinn Smith).
The Jay and Silent Bob Reboot trailer continues Kevin Smith's comics love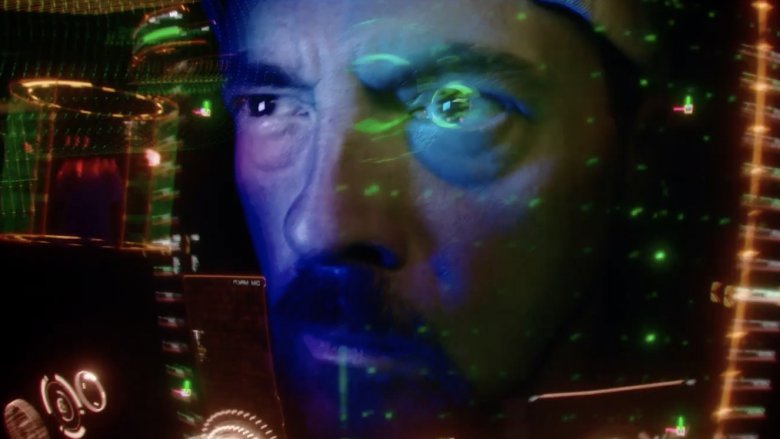 As evidenced by the many comic book references in his films, Kevin Smith is a huge comics fan — he was into superheroes long before the Marvel Cinematic Universe made them a mainstream cash magnet. Jay and Silent Bob Reboot continues this tradition, as references to the MCU are all over the trailer. Chris Hemsworth, Thor in the MCU, shows up briefly in what seems to be some kind of transparent, holographic form. Kevin Smith, as Silent Bob, gets involved in some kind of action sequence that finds him inside of a high-tech suit, not unlike one Tony Stark would create to fight crime as Iron Man. David Dastmalchian, who portrayed Russian hacker Kurt in the Ant-Man movies, makes an appearance as a high-strung SWAT team member. And just like in an actual Marvel movie, there's even a Stan Lee appearance (of sorts) — Jason Lee can be seen wearing a T-shirt bearing the face of the dearly departed Marvel master and cameo king.
Jersey boys forever in the Jay and Silent Bob Reboot trailer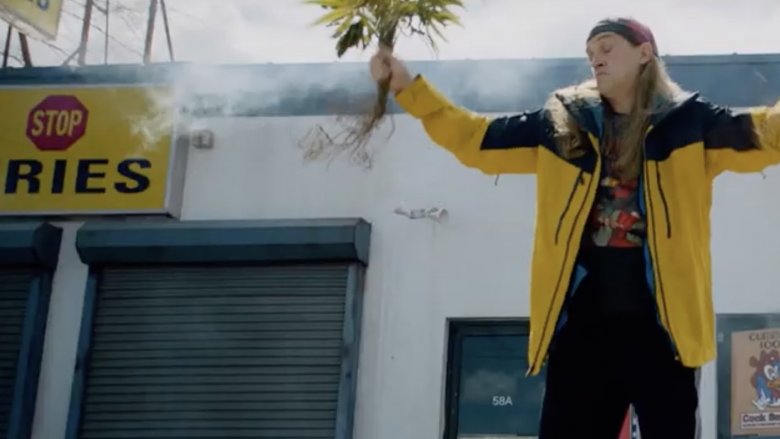 It almost wouldn't be a Kevin Smith movie without a lot of unabashedly puerile drug and sex humor, as well as a shoutout to Smith's home state of New Jersey. Well, by those metrics, Jay and Silent Bob Reboot is most definitely a Kevin Smith movie, and the trailer checks off all those boxes almost immediately. The preview starts with a cold open of a SWAT team forcing Jay and Silent Bob out of the future home of a profanely named "baked chicken sandwich" restaurant. Jay then drops his pants for a filthy, nude homage to Buffalo Bill from The Silence of the Lambs, all while holding a couple of marijuana plants. That's not all: A close look at the background during this sequence reveals a glimpse of the Quick Stop's sign, which means the new chicken place is located a couple doors down from the convenience store that served as the central location of Clerks.