Matt Damon Confirms What We Suspected About Thor: Love And Thunder All Along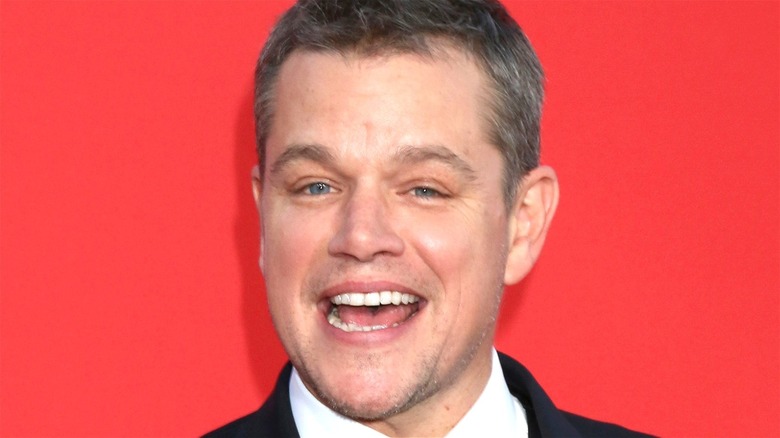 Shutterstock
One of the best jokes from 2017's "Thor: Ragnarok" will be reprised in next year's "Thor: Love and Thunder." 
The joke in question involved several notable real-life actors participating in an Asgardian play put on by Loki (Tom Hiddleston), who was secretly masquerading at the time as Odin (Anthony Hopkins), the king of Asgard. The play itself was a quasi-recreation of the events of 2013's "Thor: The Dark World" — one that featured more than its fair share of major creative liberties. It was a hilarious moment, and was only made all the funnier by the fact that the characters in the play were all portrayed by famous actors who had previously not appeared in any Marvel Cinematic Universe films, including Matt Damon as Loki, Sam Neill as Odin, and Luke Hemsworth as Thor.
Damon's brief cameo in the film was one of the biggest surprises of "Thor: Ragnarok," which is saying a lot for a film that also culminated with the destruction of Asgard and Thor (Chris Hemsworth) losing his eye. Thanks to some set photos that leaked online earlier this year as well, Marvel fans have known for a while now that Damon, Neill, and Hemsworth had all returned to reprise their "Ragnarok" roles in writer-director Taika Waititi's highly-anticipated follow-up, "Thor: Love and Thunder." However, despite the trio's known presence on the film's set, neither Marvel nor anyone else involved in "Love and Thunder" have explicitly confirmed that the actors will be appearing in the film. Until now, that is.
Matt Damon just confirmed his role in next year's Thor: Love and Thunder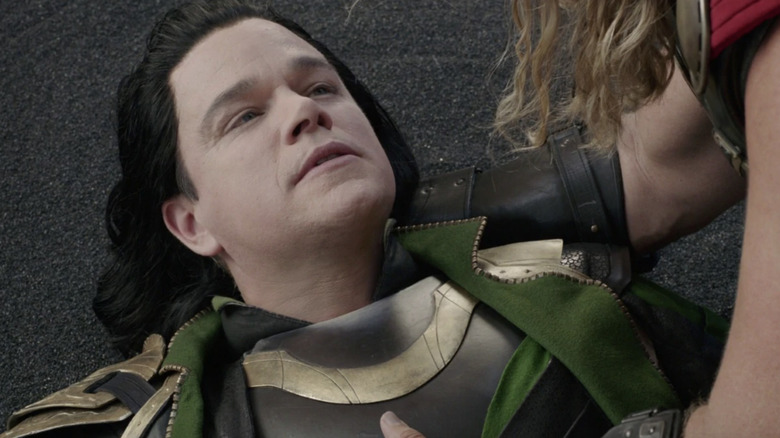 Marvel Studios/Disney
During a recent interview on "The Jess Cagle Show," Matt Damon confirmed that he does, indeed, have a role in "Thor: Love and Thunder." Asked by the show's host about the numerous reports surrounding his MCU return, Damon said, "I don't, I don't know if it's secret or not though everybody knows. I went down there to shoot. And, uh, I think they sussed out, cause paparazzi took pictures of us so that they sussed out what we were doing. We were kind of reprising a cameo that we, that Luke Hemsworth and I did in the last one." 
The actor went on to tease that the upcoming film will provide fans with an even funnier version of the play scene from "Thor: Ragnarok," saying, "Taika [Waititi] had us back again to kind of, to kind of run that joke back [...] and upgraded a little bit."
Building off of Damon's comments from there, there is good reason to believe that the "Love and Thunder" scenes with him, Luke Hemsworth, and Sam Neill will be even funnier and zanier than their brief play sequence in "Thor: Ragnarok" was. The same set photos that confirmed their returns not only revealed that the group would be reprising their roles as unnamed Asgardian actors in "Love and Thunder," but also that they'd be doing so in an in-universe play that depicts the events of "Thor: Ragnarok." The leaked images even revealed the famous actress who will be appearing as Hela in the play.
All of which is to say that "Thor: Love and Thunder" is already shaping up to be even weirder, funnier, and wackier than its predecessor was. That's not all that surprising, though. After all, it is the second MCU film written and directed by Taika Waititi, who just so happens to be one of the most eccentric and singular filmmakers working in Hollywood right now.
"Thor: Love and Thunder" will hit theaters on May 6, 2022.