The Best Horror Movie Directorial Debuts According To Rotten Tomatoes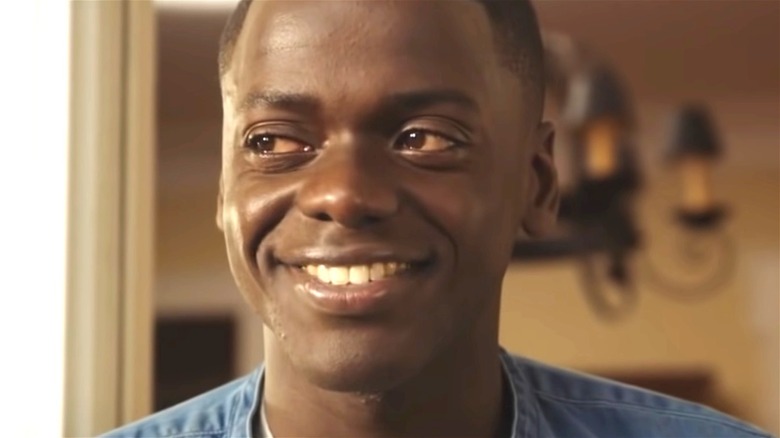 Universal Pictures
As a filmmaker, one of the trickiest feats to pull off is to make an eminently watchable feature film debut. You want to make a movie that will announce who you are as a director, but you also want to film one that will do well critically and commercially so that you can, well, keep making movies. One of the trickiest genres to make a solid debut feature within is the horror genre. Why? Well, in addition to fulfilling the previously outlined criteria — commercial and critical success, extremely watchable — you also must strive to find a way into this well-worn genre that feels fresh, exciting, thematically rich, visually enticing, and, of course, scary. Making a compelling horror debut that sticks with audiences is no mean feat.
Recently, we looked to Rotten Tomatoes to figure out which horror directorial debuts were the most successful. To do this, we looked at the official Tomatometer scores, audience scores, and in some instances, the total domestic box office gross to deduce which debuts were at the top of the list. The results were interesting, especially when thinking about all of the exciting horror directorial debuts that could make the list. Featured in lower positions on this ranking were horror classics including "The Blair Witch Project" with an 86%, Ari Aster's stunningly unsettling "Hereditary" with 89%, and David Lynch's black-and-white chillfest "Eraserhead" with 90%. While these are all excellent horror movies and debut feature films, the movie that sits in the top spot of this list has more than earned its ranking. 
Get Out and The Babadook are tied for the best horror directorial debut crown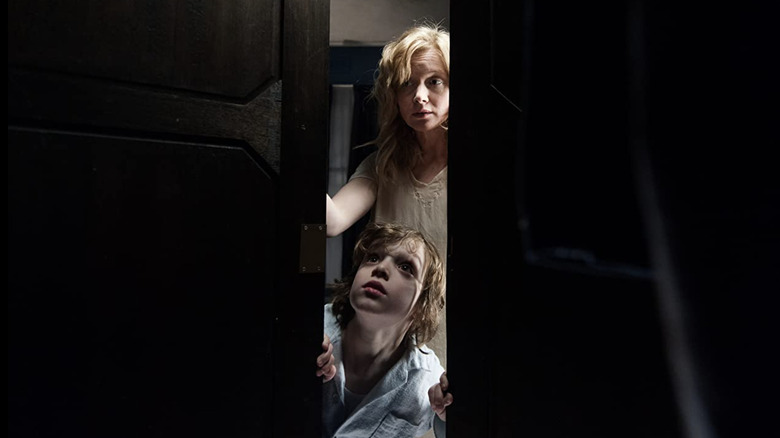 Sundance Selects
It shouldn't come as too much of a surprise that Jordan Peele's directorial debut, "Get Out," has the top spot. Peele's 2017 feature currently holds a 98% Tomatometer score and an 86% audience score. While those Rotten Tomatoes stats are impressive, the litany of other key features around this movie makes it clear just how successful a debut it was. Following its release in the fall of 2017, "Get Out" racked up over $176 million at the domestic box office and over $252 million worldwide (via The Numbers). The Daniel Kaluuya-led flick was also a hit at the 2018 Oscars, earning four nominations including Best Original Screenplay, Best Actor, Best Director, and Best Picture (via LA Times). For someone whose pivot from sketch comedy into horror was considered a curious, if not slightly risky, endeavor, Peele came out on top in every way possible with "Get Out," a movie which put a terrifyingly tactile spin on the Cronenberg-style subgenre through its examination of the manifestations of racism in present-day America.
Interestingly, "Get Out" is tied with another jaw-dropping directorial debut: 2014's "The Babadook," directed by Jennifer Kent and starring Essie Davis. Over on Rotten Tomatoes, "The Babadook" also has a 98% Tomatometer score but a slightly lower, yet still admirable, 72% audience score. Additionally, Kent's directorial debut, which was released through a smaller distributor and thus had a smaller reach than "Get Out" when it opened stateside, earned $950.8K at the domestic box office and grossed $7.5 million worldwide (via The Numbers). When it comes to vying for the top spot in this particular ranking, Kent's haunting tale about a paranoid mother working through personal tragedy is a worthy competitor for Peele's "Get Out."