Tatiana Maslany's She-Hulk Co-Star Is Raving About Her Performance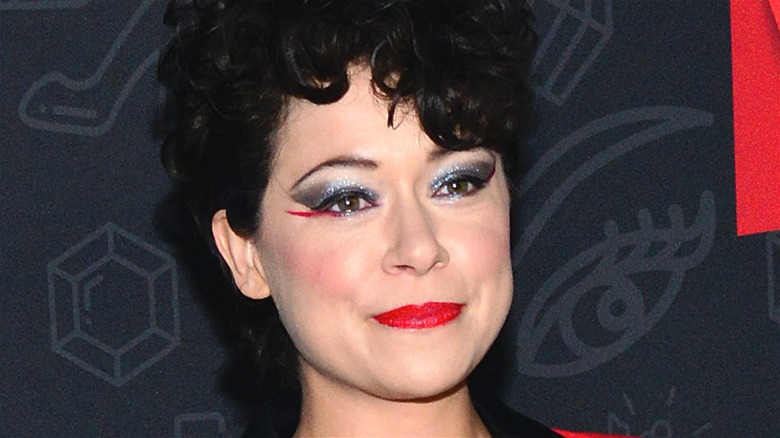 Chelsea Guglielmino/Getty Images
The Marvel Cinematic Universe has spent much of 2021 making up for lost time and no more so than they have through Disney+. In addition to "Black Widow" being made available through the streaming platform's premiere service (causing no small amount of controversy and lawsuits in the process), the MCU has expanded its television output in a way that finally connects the small screen to the big screen in an appreciable way. However, if you thought 2021 was a big year for Marvel television, it's worth gazing a little farther to the future.
One of the biggest upcoming shows is "She-Hulk," which stars Tatiana Maslany in the title role. Jennifer Walters aka She-Hulk is far more than Bruce Banner's distaff counterpart. Did you know that the "Sensational She-Hulk" comics crafted by John Byrne back in the '80s made She-Hulk not just strong, but even as self-aware as someone like Deadpool? And in more recent years, she's risen to the challenge of being both a public defender and a superhero at the same time thanks to the comics written by Charles Soule.
All of which is to say — being She-Hulk ain't easy. Thank goodness people are already singing Maslany's praises for her work bringing She-Hulk to life.
Ginger Gonzaga says Maslany is doing a smashing job
Kevin Wada/Marvel Comics
There's a lot we don't know about "She-Hulk" just yet. We know Mark Ruffalo will reprise his role as Bruce Banner, we know Tim Roth is expected to return as Abomination (a role he hasn't revisited since 2008's The Incredible Hulk"), and that Jameela Jamil is also playing a villain in the form of Titania.
And one other bit of casting we know about is Ginger Gonzaga, but we don't know who she is playing specifically. Word on the street is that she may be playing Walters' longtime friend Jill Stevens. If that's the case, the pair will be sharing a lot of screen time together — and Gonzaga has a lot to say about Maslany's work on the project so far.
"Nobody could play She Hulk as wonderfully as #TatianaMaslany," Gonzaga tweeted. "She's truly a #Marvel. I can't wait for everyone to see her crush it...or SMASH it...or Whichever is preferred by the Hulk family. So lucky to have her, in addition to the rest of our dope cast!"
Since production is clearly moving along, we'll hopefully start seeing Maslany in superheroic action soon. "She-Hulk" arrives on Disney+ in 2022.