Jameela Jamil's Video From The She-Hulk Set Has Marvel Fans Losing It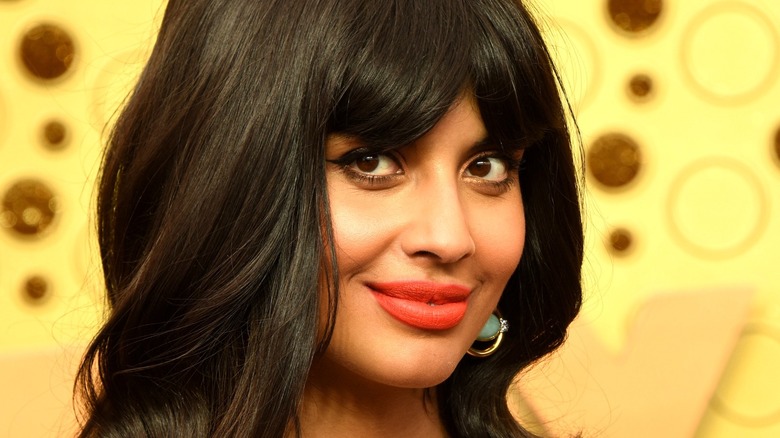 Shutterstock
Jameela Jamil has wasted no time bringing fans into her world as she prepares to film the upcoming Marvel Disney+ show "She-Hulk." It's been a month since we first learned Jamil was joining "She-Hulk" to play Titania, the longtime nemesis of She-Hulk with similarly enhanced stamina, strength, and endurance. "She-Hulk" will star Tatiana Maslany as Jennifer Walters, an excellent lawyer who gains the look and abilities of Hulk thanks to a blood transfusion from her cousin, Bruce Banner. (Is now a good time to mention Mark Ruffalo will appear in "She-Hulk" too?) The upcoming TV show will be part of the second wave of Marvel's Disney+ slate, arriving in the same year as "Doctor Strange in the Multiverse of Madness." The 10-episode series will be directed by Kat Coiro ("Girls5eva") and Anu Valia ("Brooklyn Love Stories"), with Jessica Gao ("Silicon Valley") serving as head writer.
While there is a lot to love about the team assembled to bring "She-Hulk" to life, for now all we can think about is the exciting video Jamil shared from the set this week. The "Good Place" alum uploaded the set video to her Twitter and Instagram. The clip opens with a title card that reads: "I can't believe I get to say this, but..." before revealing Jamil in the middle of combat training with professional stuntmen or possibly fight coordinators. Everyone is moving at half-speed, which tells viewers Jamil is still learning the moves for what looks like a big fight sequence. She also shows off her athleticism in the clip, using all of her limbs to stun her opponent. The camera then cuts back to another title card that reads, "Fighting my way through the MCU, coming to you in 2022," before cutting to a fun throwback photo of Jamil as a toddler.
Jameela Jamil's set video has fans feeling hyped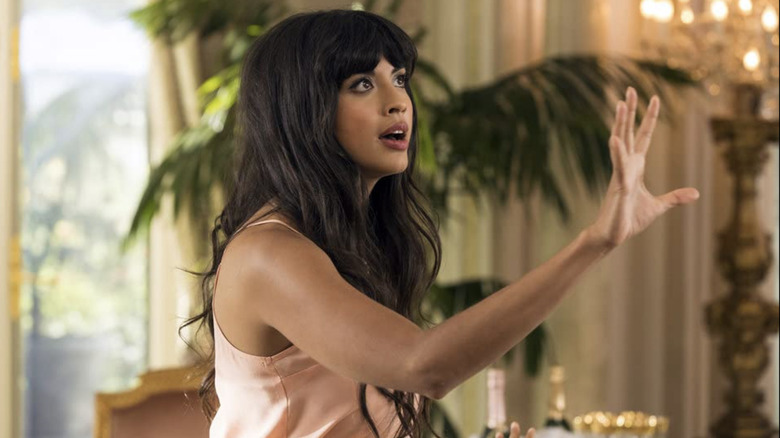 NBC
Considering this is the first photo or video from the set of "She-Hulk," Jamil's update is major. As such, fans of the actor and of the upcoming "She-Hulk" show couldn't contain their excitement. How do we know this? Because those same fans were very vocal about their excitement in the comments section of the Twitter and Instagram posts. 
On Twitter, @jstanotherytgay wrote, "I honestly forgot you were gonna be in She-Hulk so I had a second time of feeling shocked and happy about it." 
As for user @paulmac16402451, they wrote in part, "You and Tatiana Maslany together. In the same show, dare I even dream, the same scene occasionally?! That's gonna be mint. It'd be downright rude not to watch that!"
Over on Jamil's Instagram, her celebrity friends were just as supportive as her fanbase. Liza Koshy commented on Jamil's set video with an excited, "HELLS YES. Congratulations!" and "2 Dope Queens" star Phoebe Robinson said, "Can't wait to see you kick butt!!!" 
Jamil's Instagram follower @notnorah also commented on the video, sharing an apt sentiment: "THE SHERO WE'VE BEEN WAITING FOR."
With Jamil's video now circulating around the internet, it feels like the door is open for other "She-Hulk" cast and crew to share photos or videos from set as they prepare to shoot the new Disney+ show. Time to start crossing those Hulk-sized fingers, "She-Hulk" fans.
Jameela Jamil's rise to fame has been meteoric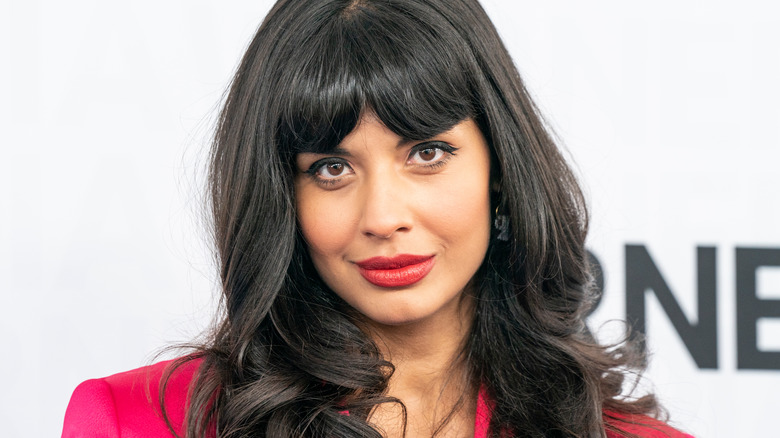 If you aren't sure who Jameela Jamil is, you've probably been living under a rock, as this British actress and comedian's star has been seriously on the rise since 2017. After working as a British television presenter, Jamil learned that acclaimed showrunner Michael Schur was specifically looking for a Brit to round out the cast of his newest series... and ultimately, Jamil scored her first-ever acting role as well-connected socialite Tahani Al-Jamil on Schur's beloved afterlife series, "The Good Place."
A hardcore name-dropper and impeccably groomed philanthropist — notably, Tahani mentions that she's friends with everyone from Kate Middleton to Johnny Depp to Elon Musk to Beyoncé, and somehow, her godfather is the famous London clock Big Ben — Tahani, along with other humans in a seemingly heavenly neighborhood, believes she's in the "good place." However, she and her fellow humans soon learn that Michael (Ted Danson), the neighborhood architect, has been tricking them all along, putting Tahani on a path to self-discovery when she realizes she might not be as "good" as she thinks.
After playing Tahani for all four seasons of "The Good Place," Jamil picked up several other gigs, including voice work in the "Duck Tales" reboot, a hosting job on TBS' game show "The Misery Index," and has helped promote body awareness with her social media campaign I Weigh. Now, with her appearance as Titania in "She-Hulk," Jamil's profile is sure to grow even bigger.