The Real Reason Bam Margera Is Suing Jackass' Johnny Knoxville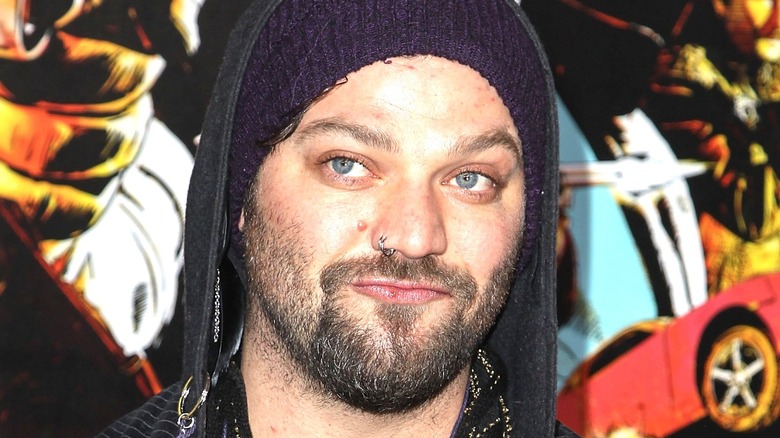 Paul A. Hebert/Getty Images
When the trailer for "Jackass Forever" was released, fans were stunned to realize that one of the show's merry pranksters was missing. Bam Margera was such a popular member of the MTV show's cast that he went on to have his own spin-off series, "Viva La Bam," which ran for five seasons on MTV and made Margera's family pop culture touchstones, specifically his father Phil and his late uncle Don Vito. Margera's first wedding and marriage was even covered by MTV's cameras for "Bam's Unholy Union." He followed up that with "Bam's World Domination," which aired on Spike TV. He's made a number of appearances on other reality shows while dealing with a tumultuous personal life.
Now, Margera has filed a lawsuit against Paramount Pictures, MTV Networks, Jeff Tremaine (the film's director), Johnny Knoxville (Jackass' co-creator and star), Spike Jonze, and others related to the production of "Jackass Forever." What does the lawsuit state, and why is he suing Paramount Pictures?
Margera alleges his civil rights have been violated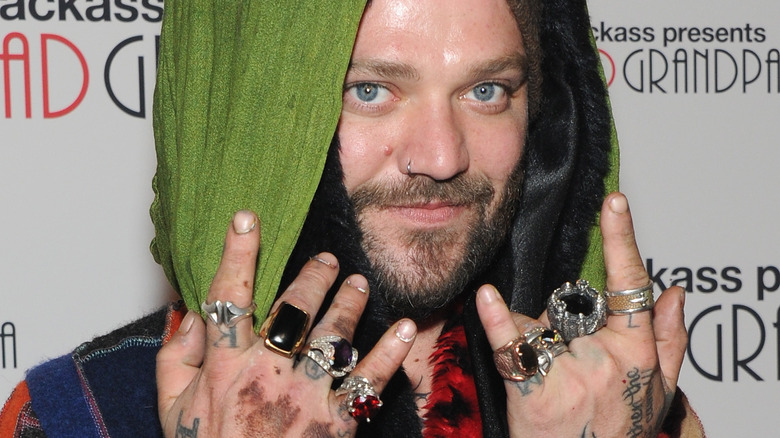 Jamie Mccarthy/Getty Images
According to The Hollywood Reporter, Margera alleges that his civil rights were violated by the film's producers, who "forced" him to sign a wellness contract to participate in filming "Jackass Forever." He specifically alleges that Knoxville, Jonze, and Tremaine "accosted him and coerced him" into signing the form. The terms of the contract required Margera to blow into a Breathalyzer three times a day and submit to regular follicle and urine testing. The suit states he was also required to take pills once a day while on a FaceTime call with a doctor hired by Paramount. The suit refers to these terms as, among other things, "draconian" and "legally unenforceable."  
Margera's suit alleges illegal discrimination, declaring that producers violated the Unruh Civil Rights Act and California's Fair Employment and Housing Act. His attorney Eric George points to his client's physical and mental disabilities (he cites that Margera has been diagnosed with bipolar disorder and attention deficit disorder) and struggles with sobriety, referring to several rehab stints which stretch back to 2009 connected to his abuse of alcohol, to bolster these claims. Margera's employment on the film was subsequently terminated after a positive drug test, and Margera alleges the result was due to Adderall, which producers were aware he was taking for ADD.
Margera is also suing for breach of contract as well as fraudulent inducement. He is seeking an injunction to prevent the release of "Jackass Forever," pursing monetary damages and a piece of the profits. He previously encouraged his fans to boycott the movie when he was fired in February 2021 because of that alleged infringement, according to TMZ. Tremaine filed a temporary restraining order against Margera in May 2021, also according to TMZ.
"Jackass Forever" will be released on October 22.
If you or someone you know is struggling with mental health, please contact the Crisis Text Line by texting HOME to 741741, call the National Alliance on Mental Illness helpline at 1-800-950-NAMI (6264), or visit the National Institute of Mental Health website.
If you or anyone you know is struggling with addiction issues, help is available. Visit the Substance Abuse and Mental Health Services Administration website or contact SAMHSA's National Helpline at 1-800-662-HELP (4357).