Why Emilia From The Suicide Squad Looks So Familiar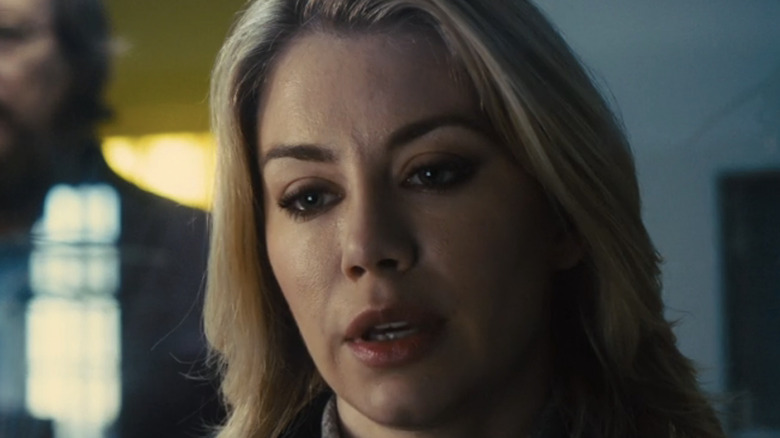 Warner Bros
James Gunn's "The Suicide Squad" is finally here, and it's more than living up to expectations. The thrilling anti-hero-centered action flick focuses on Task Force X, made up of a wacky cast of characters, including Harley Quinn (Margot Robbie) and Colonel Rick Flag (Joel Kinnaman) who appeared in 2016's "Suicide Squad," as well as newcomers like Bloodsport (Idris Elba), Peacemaker (John Cena), King Shark (voiced by Sylvester Stallone), and Ratcatcher II (Daniela Melchior), among several others.
Aside from the main team of villains turned temporary heroes, "The Suicide Squad" has dozens of other interesting characters. From a "Guardians of the Galaxy" cameo to obscure characters that mean more than you may realize, the film has a vast range of talented stars that made the film so enthralling.
One of the new characters we're introduced to is Emilia Harcourt, though she originally appeared in the DC "Suicide Squad" comics (via Fandom). She works for Amanda Waller (Viola Davis) and helps monitor Task Force X, and will return for the upcoming "Peacemaker" spinoff on HBO Max. Here's where else you may have seen the actress who plays Emilia.
Jennifer Holland has had several movie roles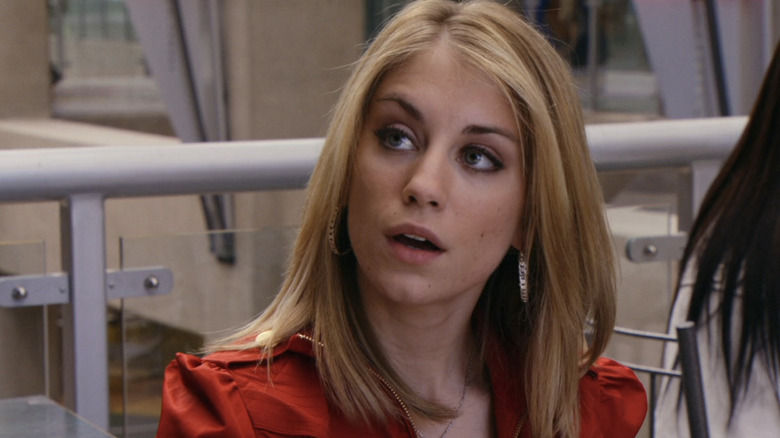 Universal Studios
Before landing a part in "The Suicide Squad," Jennifer Holland worked her way up in Hollywood, starring in several short films and low-budget movies. In 2004, she starred in her first full-length movie called "The Sisterhood" as Christine, a psychic who goes on a mission to destroy a sorority house full of witches.
She continued to play roles in other horror films, including "House of the Dead 2" and "Zombie Strippers," and played the role of Ashley in 2009's "American Pie Presents: The Book of Love." In 2019, she played Ms. Espenschied in James Gunn's superhero horror film "Brightburn," marking their first film collaboration.
In an interview with Maxim, Holland described how she first became interested in the performing arts. "I suppose my love for performing started at a young age when I was in gymnastics," she explained. "I got a taste for the instant gratification you get when you perform. I ended up pursuing an acting career when I was 16 and moved out to Los Angeles." It's been history ever since, with Holland soon to star in a highly-anticipated HBO series — though she's been in several television shows over the years.
She's also been in tons of TV shows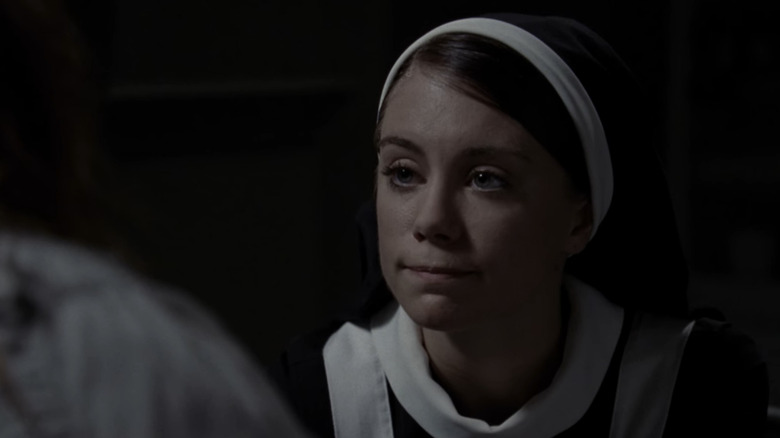 FX
Like many actors, Holland had small stints in tons of shows as she worked to establish herself as an artist. She was in an episode of "Drake & Josh" as an unnamed girl; she played Julie Gannon, a young woman killed by a shark, in an episode of "CSI: Miami;" she was in several episodes of "Days of Our Lives" as April; and she was in one episode each of "Dante's Cove," "Cougar Town," and "Rizzoli & Isles."
Two of Holland's most notable TV roles included her time on "American Horror Story: Asylum" as Nurse Blackwell, where she appeared in two episodes. Her time on "Asylum" wasn't long, but she made an impact as a kindhearted nurse who helped both Grace Bertrand (Lizzie Brocheré) and Lana Winters (Sarah Paulson).
Then in 2017, Holland starred in the CMT miniseries "Sun Records" as Becky Phillips, the wife of recording studio owner Sam Phillips (Chad Michael Murray). "Sun Records" received generally positive reviews but only ran for one season, much to the dismay of fans. Holland described her experience playing Becky to Maxim, saying "The way I approached my character Becky was completely different since she was a real person in history. It's been a lovely challenge."
We can't wait to see Holland reprise her role as Emilia Harcourt in the "Peacemaker" series.