John Cena Makes A Bold Statement About The Peacemaker Series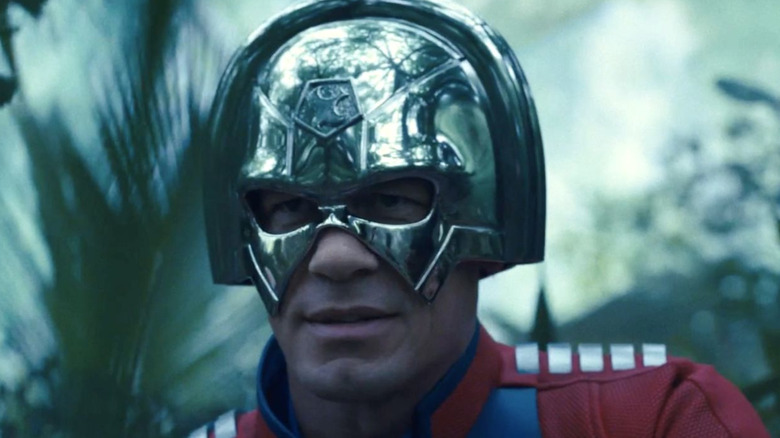 Warner Bros.
Ever since the 2010s, wrestler-turned-actor John Cena has ably begun to follow in the capable footsteps of Dwayne "The Rock" Johnson, picking up higher and higher profile movie roles, and becoming an audience favorite in the process. Movies like "Trainwreck" and "Blockers" showed off Cena's comedic chops, while films like "Bumblebee" and "F9: The Fast Saga" revealed Cena's abilities as an action star. Thus, it's arguably no surprise that Cena would find success bringing comedy and action together — and perhaps, the opportunity fell into the actor's lap — with the role of Peacemaker in James Gunn's upcoming DCEU film "The Suicide Squad."
The character of Christopher Smith aka Peacemaker, despite being referred to as "douchey Captain America" by John Cena himself, has already proven popular enough with those behind the camera that the character is being spun into his own HBO Max TV series. The eight-episode show, which also stars Robert Patrick (the T-1000 in "Terminator 2"), Danielle Brooks, Steve Agee, and Jennifer Holland recently wrapped production on its first season.
Even though "The Suicide Squad" isn't yet out in theaters, questions are already flooding in about what "Peacemaker" is going to be like — and John Cena has some things to say about that. One thing in particular, that Cena has already revealed, is getting people's eyebrows raised.
How can Peacemaker be more over the top than The Suicide Squad?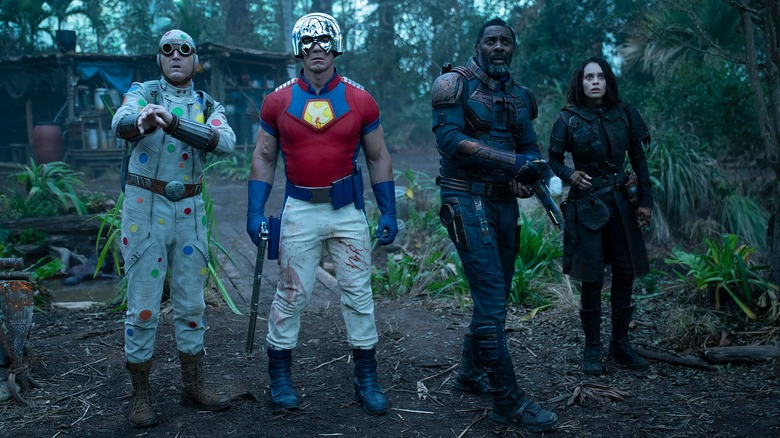 Warner Bros.
It's not a secret that the Suicide Squad, as a team, is far more violent than your typical group of DC characters. It's right there in the name — the entire purpose of the task force is to take on the kind of missions which will likely turn into a blood bath, and where the team's survival is not necessary. It's a frequent trope, within Suicide Squad stories, for members of the team to get killed off. Given all this violence, the titular squad is made up mostly of captured super villains like Harley Quinn (Margot Robbie) and King Shark (Sylvester Stallone), the kind of weirdos capable of — and in this case, forced to — take on the dirtiest of the dirty work.
While several members of 2016's "Suicide Squad" didn't survive to the end of their film, quite a few did. This figure might look a different in the new film, considering that James Gunn is at the helm of the latest picture, which means — given his reputation for offing beloved characters in the past — that every character, even the favorites, is on the chopping block. Also, while the 2016 film was an edgy PG-13 affair, Gunn is going for a full R-rating.
It's hard to imagine anything more bloody and violent in the DCEU than "The Suicide Squad" looks to be — and yet, John Cena seems to be promising exactly that with "Peacemaker."
The HBO Max Peacemaker series "turns up the volume" on everything in The Suicide Squad
"I would venture to say that Peacemaker actually turns up the volume on anything that you see in The Suicide Squad," John Cena revealed in an interview with Entertainment Weekly. "I want people to enjoy The Suicide Squad and I really think they will. Once they get a feel for these characters they're going to want more and that's where Peacemaker picks up."
While it's certainly possible that an eight-episode series can pack in more ultra-violence than a two hour movie, it's also possible that Cena is referring to more than just the physical brutality of the upcoming "Peacekeeper" series. "I love these characters and you can really get to know these characters in a nuanced way," says Cena. "It's also giving me a way to deal with some things politically that are going on in the world."
That last statement is interesting — perhaps Cena's "douchey Captain America" will find explicit ways to hold a mirror up to American society? Or maybe "Peacekeeper" is just going to be absolutely drenched in the blood and viscera of the innocent. Who knows! Either way, get ready, because "The Suicide Squad" hits theaters and HBO Max August 6.