The Guardians Of The Galaxy Cameo You Missed In The Suicide Squad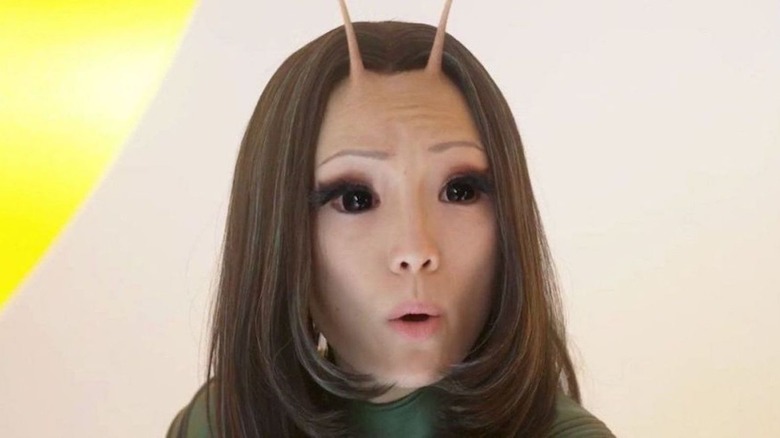 Marvel Studios/Disney
James Gunn's "The Suicide Squad" has finally made it to theaters and HBO Max, and it's safe to say the world of superhero cinema has never seen anything quite like it. As you probably know, the new film follows a wily band of incarcerated supervillains forced to go the way of anti-hero in hopes of shortening their lengthy detainment periods, assuming their insanely deadly mission doesn't kill them first. With vivid imagery, loads of giddily over-the-top violence, a surprising amount of heart, and show-stopping performances from Margot Robbie, Joel Kinnaman, Idris Elba, John Cena, and David Dastmalchian among others, "The Suicide Squad" is as distinctly a James Gunn affair as the adventurous filmmaker has ever produced.
It's also a film that finds Gunn re-teaming with several actors he's worked with in the past. That includes players from the lauded "Guardians of the Galaxy" franchise Gunn is currently helming for Marvel Studios, with Michael Rooker, Sean Gunn, Steve Agee, Sylvester Stallone, and Nathan Fillion (who contributed voice work to "GotG: Vol. 1") all playing prominent roles in "The Suicide Squad." However, the director snuck another "Guardians of the Galaxy" alum into the film via a super brief cameo that likely escaped the eyes of most viewers.  
Pom Klementieff isn't the only notable cameo in this Suicide Squad scene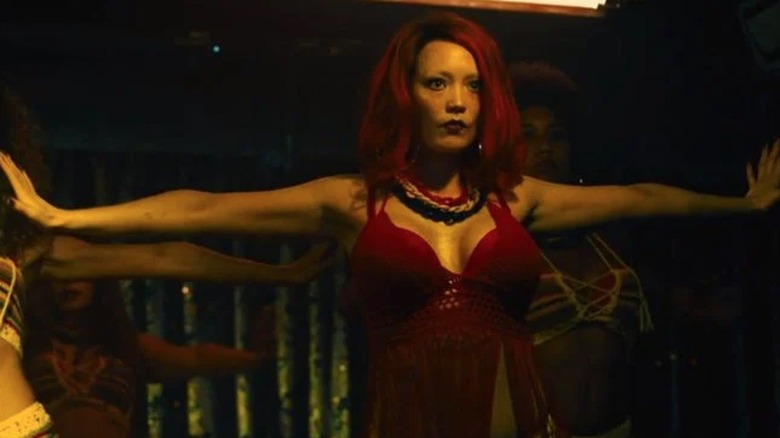 Warner Bros. Pictures/DC Entertianment
That cameo comes relatively early in "The Suicide Squad" and finds the rowdy Task Force X embarking on their deadly mission with a quick trip to local bar. They drink, and they dance, and in the course of the action we get a quick shot the bar's dance crew, one of whom is played by Pom Klementieff, AKA the Guardians' antennaed empath Mantis. One could hardly blame fans of "Guardians of the Galaxy" for not immediately recognizing Klementieff in "The Suicide Squad," as her MCU role requires her to don loads of special effects makeup. Likewise, she's wearing a blood red wig in the scene, which makes her even more unrecognizable, but that is Klementieff striking a pose as Task Force X blows off some steam in "The Suicide Squad."
As it happens, Klementieff is not the only cameo of note in that scene, with one of James Gunn's earliest supporters busting a move alongside the titular squad. That supporter is none other than Troma Studios co-founder Lloyd Kaufman, who served as Gunn's mentor in the early days of his career. Gunn actually learned his craft working alongside Kaufman in the 1990s and early 2000s, and the gonzo, uber-gory aesthetic of Troma has been present in virtually every film Gunn has made to date. Bringing Kaufman into "The Suicide Squad" is proof positive that, in spite of his blockbuster success, Gunn has not forgotten those who believed in him before he broke big.