Why Bernadette From American Horror Stories' Ba'al Looks So Familiar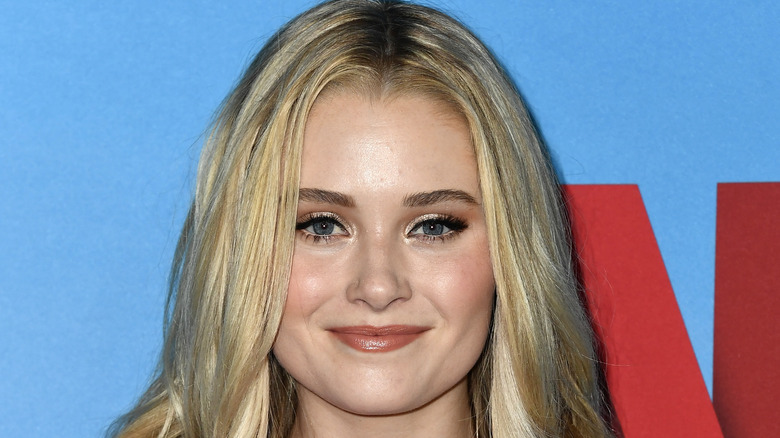 Frazer Harrison/Getty Images
Over the past few years, Ryan Murphy has left an indelible mark on the television landscape. One of his most notable shows is the FX horror anthology series "American Horror Story." Fans of the show were thus excited to learn that Murphy and co-creator Brad Falchuk was working on a spinoff series. Titled "American Horror Stories," the show differs from its parent series by forgoing season-long stories, instead choosing to tell a self-contained story in each episode.
The first season's fifth episode, titled "Ba'al," focuses on a couple and their attempts to have a child. One of the key players in the episode's events is the clinic's receptionist, named Bernadette. The episode features many notable performers in key roles, including in the role of Bernadette. Many viewers felt they could almost recognize the actress from other projects she had appeared in. The performer's name is Virginia Gardner, and this is why she looks so familiar.
Gardner started her acting career on TV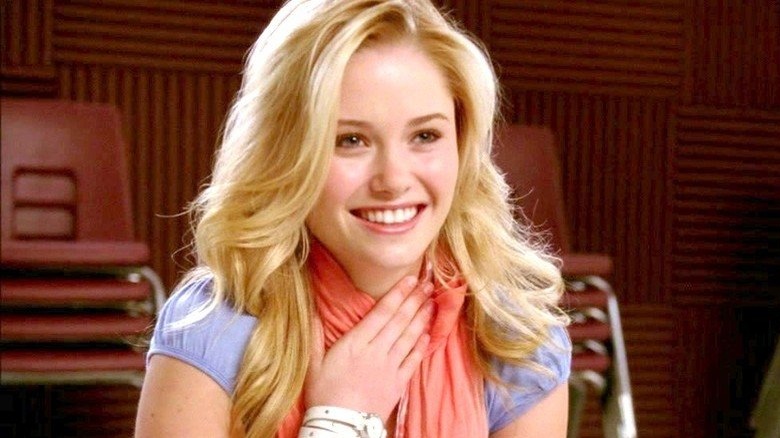 Fox
Virginia Gardner made her acting debut at the age of 16 on the CW dramedy series "Hart of Dixie," where she played the younger version of Jaime King's character Lemon Breeland for an episode. She also made an appearance on Season 4 of the Fox musical series "Glee," where she was cast as Marissa, whose face and voice were used by Unique, played by Alex Newell, to get close to Ryder Lynn by forming an online relationship with him. Ryder learns of this catfishing when he spots Marissa at McKinley High and serenades her, leading to Marissa's confusion and lack of knowledge regarding their conversations.
Gardner's first recurring role came in the ABC sitcom "The Goldbergs," where she played Lexy Bloom in the show's first season, making her first appearance in the sixth episode, titled "Who Are You Going to Telephone?" Lexy was a student at William Penn Academy whom Barry Goldberg had a crush on, and he tries to woo her through the first season. Her last appearance was in the Season 1 finale "Livin' on a Prayer."
Gardner's film debut was in a science fiction film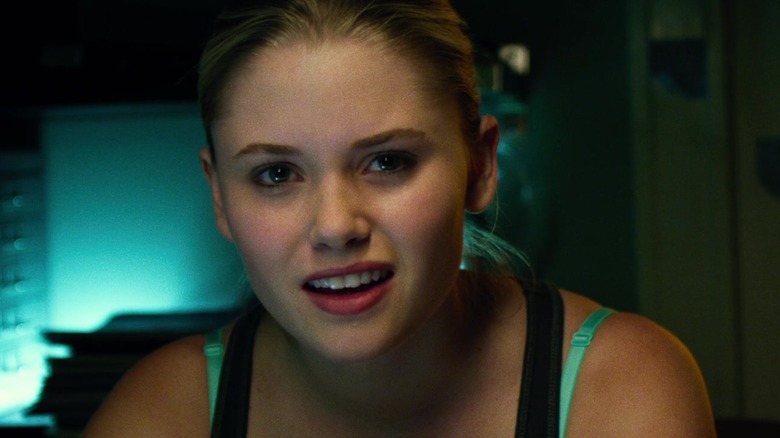 Paramount Pictures
Gardner made her film debut in 2015 in the science fiction feature "Project Almanac," from "Power Rangers" director Dean Israelite, who was likewise making his feature film debut. In the film, Gardner plays Christina Raskin, sister of main character David Raskin, played by Jonny Weston. The two search through their father's belongings when they learn their mother intends to sell the house, and discover blueprints that they, along with two of their friends and David's crush Jessie, use to build a time travel machine.
Though the group makes a pact to time travel together after a mishap, David travels on his own, causing a series of events that leads him to meet his father and ask him to destroy the time machine, erasing David from existence. In the new timeline, David and Christina once again go through their father's belongings, discovering a camera left behind by old David that he was using to record the events of his timeline.
Gardner's film career continued to flourish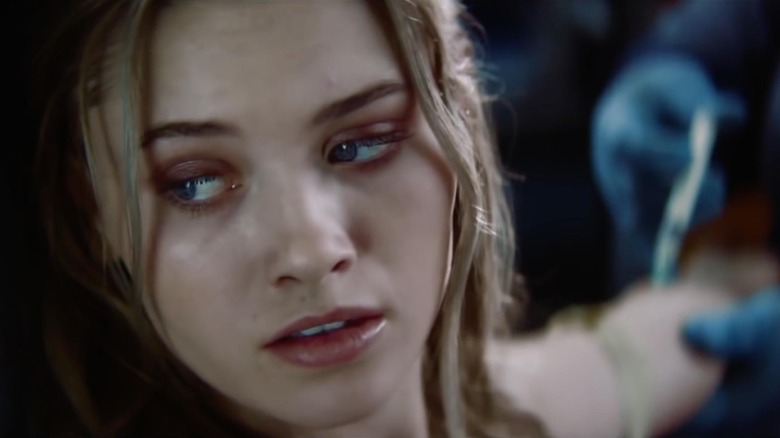 ITN Distribution
Virginia Gardner followed up her film debut by appearing in three more features in 2016, starting with the psychological horror film "Tell Me How I Die," in which she starred alongside William Mapother. In the film, Gardner plays Anna Nichols, a member of a clinical trial group for a drug called A9913, which purports to give people full memory recall. Staying in the building in which the trials are being held, Anna has a vision of everyone dying that she realizes is a vision of the future. Anna and other participants soon discover that a participant of a prior study, named Pascal, had a psychotic break due to the drug's effects, and is now intent on erasing all traces of A9913, including killing the current participants. The film ends with Anna escaping the facility with fellow trial participant Den.
Gardner's next film was the drama "Goat," which was co-written by David Gordon Green. In the film, Gardner plays Leah, co-starring alongside Nick Jonas and James Franco. This film, which was based on a memoir about the hazing rituals of a college fraternity, marked the first collaboration between Gardner and Green.
Gardner rounded out 2016 with the comedy "Good Kids," starring in the film alongside Julia Garner, Zoey Deutch, and Nicholas Braun. Gardner plays Emily in the film, which focuses on the exploits of four friends in the summer before they all go to college.
Gardner landed a major TV role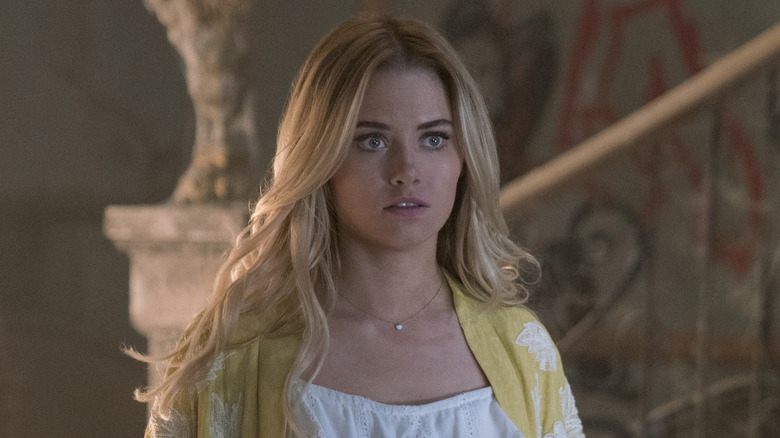 Hulu
Virginia Gardner got her first leading role in a TV series in 2017, appearing in the Hulu superhero series "Marvel's Runaways." In the series, Gardner plays Karolina Dean, a woman who, at the beginning of the series, is part of a cult-like group called the Church of Gibborim, run by her mother, Leslie. Karolina discovers that she begins to glow when she takes off a bracelet her mother had forbidden her from removing, leading to a path of self-discovery that makes Karolina realize she's attracted to other women. She joins forces with a group of childhood friends when they discover their parents seemingly sacrificing a runaway teenager, and the group becomes runaways themselves at the end of the first season when they become the prime suspects in the teenager's death.
Over the course of the series, Karolina discovers that she is not fully human, but is the result of an affair between Leslie and an alien being named Jonah, who is a member of the Gibborim species. Karolina's budding relationship with fellow runaway Nico Minoru, whom Karolina kissed near the end of the first season, hits a roadblock when Nico delivers the killing blow to Jonah, who had previously killed Nico's sister but also held the answers to Karolina's alien ancestry. The two mend their relationship, however, and continue it through the show's third and final season. A flashforward in the series finale reveals that Karolina and Nico are no longer together; however, that timeline ends up getting erased.
Gardner reunited with David Gordon Green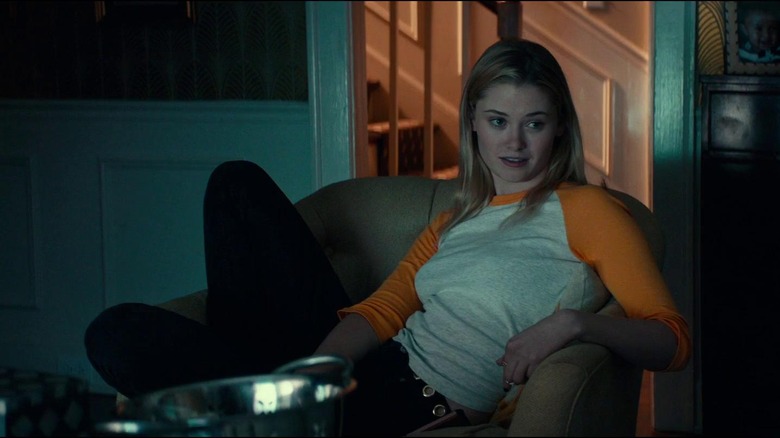 Universal Pictures
Virginia Gardner reunited with David Gordon Green on the horror film "Halloween," which Green directed as well as co-wrote, marking the latest entry in the slasher franchise that began in 1978. In the film, Gardner plays Vicky, best friend of Allyson Nelson, who is the granddaughter of Laurie Strode. Vicky is babysitting a boy named Julian on Halloween night. When reassuring him that there are no monsters in his room, Vicky opens a closet door, revealing Michael Myers hiding behind it. Yelling at Julian to run, Vicky tries to escape but becomes Michael's latest victim.
Gardner re-teamed with Green on the HBO series "The Righteous Gemstones," which Green executive produced and directed four episodes of. Gardner appeared in the guest role in the series, playing Lucy in the show's second episode, titled "Is This the Man Who Made the Earth Tremble." Lucy is revealed to be part of the trio that tried to extort Jesse Gemstone. Lucy abandons the plan when she is grievously injured in the extortion attempt, expressing disappointment in how Jesse's son Gideon — who is also part of the trio — behaved during the botched attempt.
Gardner continued to make guest appearances in TV shows throughout her career, appearing in series such as "How To Get Away With Murder," "Law & Order: Special Victims Unit," and "Dolly Parton's Heartstrings." Her guest appearance on "American Horror Stories," which is the second time she's worked with Ryan Murphy, is sure to be another notable mention in what's shaping up to be an illustrious career.