Tony Hale Reveals What It Was Really Like Working With Neil Patrick Harris On A Series Of Unfortunate Events - Exclusive
Netflix
Neil Patrick Harris has worn quite a few masks during his time in Hollywood, but none were quite as staggering as his stint as Count Olaf in "A Series of Unfortunate Events." The dashing star is almost unrecognizable after packing on a ton of prosthetics, even to people who worked with him on the show — like "Nine Days" actor Tony Hale. While the Neil Patrick Harris-led series couldn't be more different than Tony Hale (Alexander) and Benedict Wong's (Kyo) new film, "Nine Days," both projects tackle some significant "meaning of life" questions. "A Series of Unfortunate Events" amps up the absurdity of adulthood while "Nine Days" hones in on the softer, subtler moments life has to offer. And, of course, each features Tony Hale in a fun sidekick role.
During an exclusive interview for "Nine Days," Tony Hale spoke to Looper about working with Harris on "A Series of Unfortunate Events," the whimsy of the series, and whether or not he'd be down to appear in the Marvel Cinematic Universe at some point.
The man behind Olaf's makeup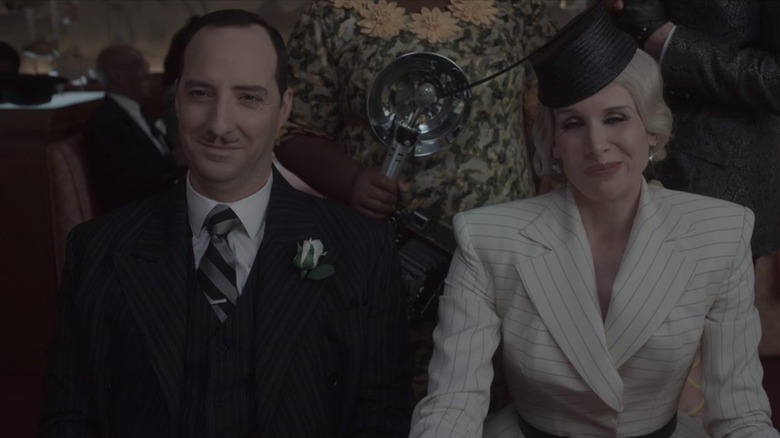 Netflix
When asked what it was like working with Neil Patrick Harris on A Series of Unfortunate Events and whether he had any fun set stories, Tony Hale said "Neil is the nicest guy. I do remember he was in ... I felt bad. He was in prosthetic makeup for so long because he played so many different characters." 
"But he was a champ," Hale added. "And that was shot in Vancouver, which is beautiful. And it's also Barry Sonnenfeld [who] directed it. And I just loved the whimsical world that he created, honestly." Given that Hale acts alongside Benedict Wong, who plays Wong in "Doctor Strange," we asked if he had any interest in being in a Marvel movie, and he said, "Oh, I mean, who can I be the quirky sidekick to? That would be, I'll be Benedict's quirky sidekick."
Fans can now catch "Nine Days" in theaters nationwide.