Yellowstone Prequel Y: 1883 Just Landed Three Massive Stars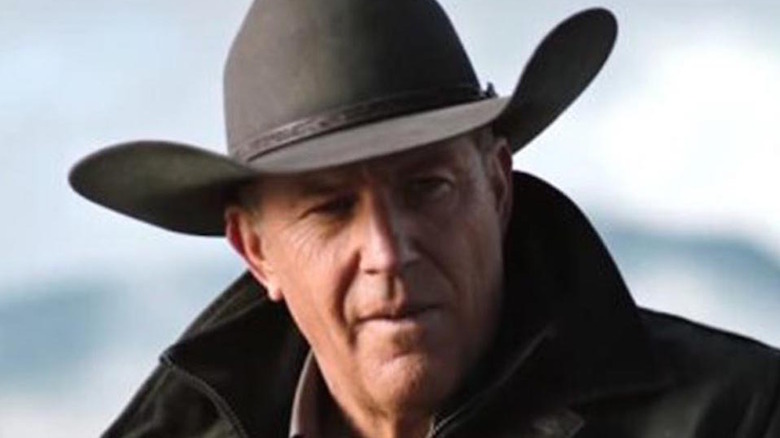 Paramount Network
Details about the upcoming prequel to Paramount Network's hit drama "Yellowstone," entitled "Y: 1883," have been scarce, but it looks like things are finally starting to come together. In an excellent sign that the project is moving forward, Paramount+ (the streaming service that will exclusively air the program) announced three of the principal cast members, a group that includes two of the biggest names in country music.
Deadline reported that real-life married couple Tim McGraw and Faith Hill will portray the husband and wife at the center of "Y: 1883," Margaret and James Dutton. Considering that the original series, "Yellowstone," revolves around John Dutton (Kevin Costner) and his family, fans can expect these characters to be central to the prequel. Guiding them on their new journey will be Sam Elliot, an iconic actor associated with the Western genre for decades. He will play Shea Brennan, a stoic cowboy who hides a tragic past.
Revealing these cast members and their characters provides fans some of the first concrete details of what to expect from the prequel series. Here are some of the other hints hidden in that announcement and what these three stars had to say about "Y: 1883."
The stars of Y: 1883 shared their enthusiasm for the upcoming series
Fans paying careful attention to the reveal can also pick up on some critical story points that they can expect to see in "Y:1883." As was reported by Deadline, the show will follow the Dutton family as they head in a northwestern direction, crossing the Great Plains on their way to Montana, where "Yellowstone" takes place. Sam Elliot's character, Shea Brennan, will serve as the leader of an expedition that leaves from Texas (which was noted as a filming location for "Y: 1883") in search of a new home on America's frontier.
While Sam Elliot, who played Virgil Earp in "Tombstone," is a natural choice for a world-weary cowboy guiding the group, the announcement of Faith Hill and Tim McGraw as possible leads is a bit more surprising. Both are better known for their separately successful careers in country music, although they have each appeared in high-profile film projects before. Hill made her film debut in "The Stepford Wives," in which she acted opposite Nicole Kidman, while McGraw starred in "Flicka."
All three actors had positive things to say about "Y: 1883." Elliot praised the writing of the show's creator, Taylor Sheridan, as did McGraw, who also said, "This is truly a dream job." 
Hill shared similar sentiments, stating, "This is the opportunity of a lifetime." 
While the announcement stopped short of revealing the prequel series' release date, it did note that "Yellowstone" Season 4 will air on the Paramount Network this November.