What Virgil Earp From Tombstone Is Doing Today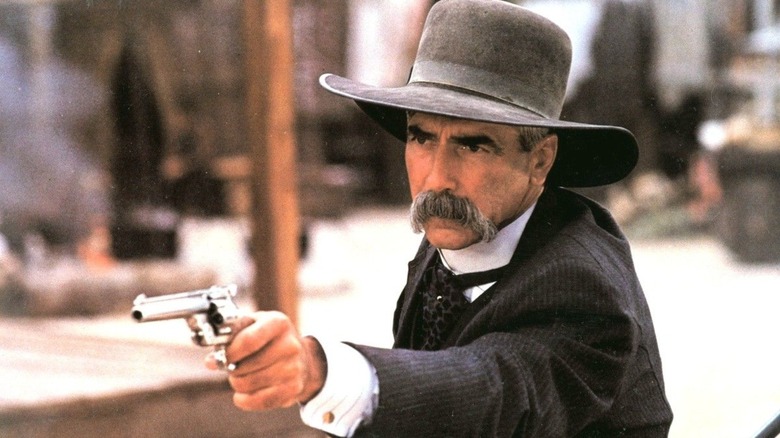 Buena Vista Pictures
Long rumored to have essentially been directed by its star and producer Kurt Russell, "Tombstone" is one of the best Westerns of the '90s and may be the best retelling of the legendary O.K. Corral story ever put to screen.
Russell plays Wyatt Earp, a former lawman who moves to Tombstone, Arizona to join his brothers, Virgil (Sam Elliott) and Morgan (Bill Paxton), and hopefully settle down. However, the Earp siblings are pulled back into conflict when they run into trouble with the violent and depraved Cowboys. Together with his friend, the eccentric gambler and outlaw Doc Holliday (Val Kilmer), Wyatt Earp has to bring down the red-sashed Cowboys once and for all — bloody conflict and iconic dialogue then ensues ("I'll be your huckleberry...").
While Elliott is a supporting player in the film, his stern presence and gravelly voice is one of the many highlights of "Tombstone," and he looks just as good in a long black coat as Russell and Paxton. The actor has stayed plenty busy since. Here's where you may have seen him.
You may have seen Elliott in The Ranch and A Star Is Born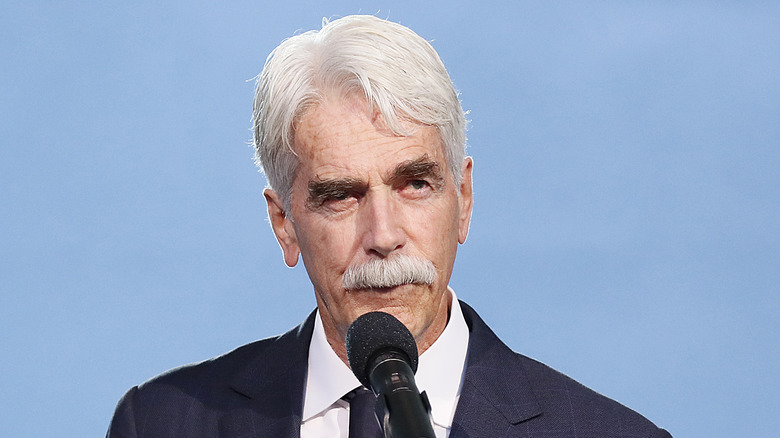 Paul Morigi/Getty Images
Sam Elliott began his career in Westerns when he appeared in "The Way West" (1967) and the classic "Butch Cassidy and the Sundance Kid" (1969), so "Tombstone" was a natural fit for the character actor.
Since then, the lanky, often mustachioed actor has given plenty of performances truly suited to his warm, if gruff, demeanor. He has appeared as The Stranger in "The Big Lebowski" and Avery Markham in the final season of "Justified."
He also played the character of Beau, the aging head of the Bennett family, on the Netflix series "The Ranch," alongside Ashton Kutcher who played his son. The show ran for four seasons and 80 episodes until 2020 and went out on a high note. Elliott, meanwhile, has already landed another TV role as the new mayor of Quahog on "Family Guy."
Elliott also received considerable critical attention and awards in 2018 for his heartbreaking performance as rock star Jackson Maine's much older brother — and manager — Bobby in Bradley Cooper's remake of "A Star Is Born."
The two clashed over Bobby selling off their father's farm and whether Jackson stole his brother's singing voice, but the love between the brothers always felt real. Few viewers of the movie can forget Jackson's final scene with him, where Bobby explains that he always wanted to be Jackson's older brother. Bobby's shattered reaction as he pulls away in his car is the kind of performance you can only receive from someone as charismatic and experienced as Sam Elliott.