What Is The Song In The Facebook Longboarding Commercial?
This summer has played host to some great commercials completed by perfect song choices. (Take, for example, the precise pairing of Apple's "Privacy on iPhone" ad with the song "Mind Your Own Business" by Delta 5.) Not to be outdone, fellow tech giant Facebook just released its new "Longboard Family" commercial, which features an R&B song with electronically enhanced strings and light-but-impactful percussion that perfectly complements the whooshing and rumbling of skateboard wheels on pavement.
The commercial follows a global community of longboarders — organized, of course, through a Facebook Group — who share videos of their tricks and help each other expand their skills through the social networking site. Fittingly, the song's lyrics command, "Just do what you wanna/ Live how you wanna/ Spend what you wanna/ Be who you wanna be/ A young stunna 'til I D-I-E."
There's probably a Facebook Group to help you find your thing, and thus the song feeds the thesis of the ad. So what is that well-tailored ear worm?
Brent Faiyaz is an artist to watch, even in commercials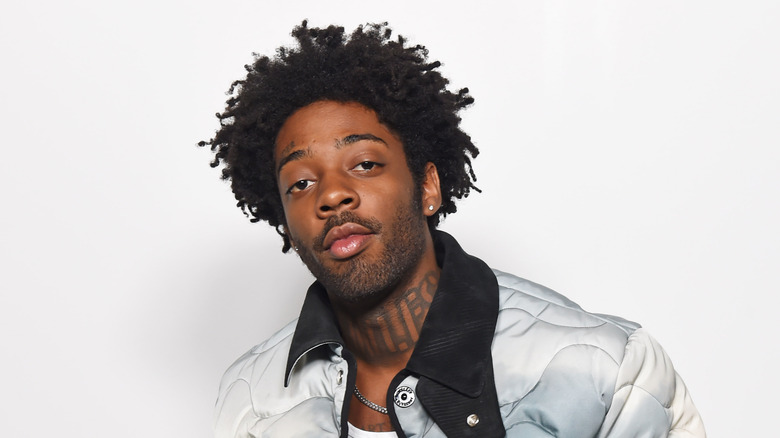 David M. Benett/Getty Images
The song backing the new Facebook "Longboard Family" commercial is none other than "Dead Man Walking" by Brent Faiyaz, a Columbia, MD, native who consistently puts out songs that push the boundaries of R&B music. 
Faiyaz's music first gained some significant attention in 2013 when he uploaded his EP "Black Child" onto Soundcloud, and he's steadily grown his following ever since (via DZI: The Voice). In 2017, he was nominated for a Grammy for "Best Rap/Sung Performance" for his vocals on the song "Crew" by GoldLink (and also featuring Shy Glizzy), and this summer he even released a song with Drake. He's also no stranger to lending out his soothing voice to commercials. Earlier this year, The Gap released an advertisement featuring the song "Too Fast" by Sonder, an ongoing collaboration between Faiyaz and producers Atu and Dpat. 
Clearly, Faiyaz has been a busy guy, and it's a good thing, because his music is great — whether it's played in the background of an ad or on its own.