Brie Larson's Latest Captain Marvel Workout Video Will Make You Break A Sweat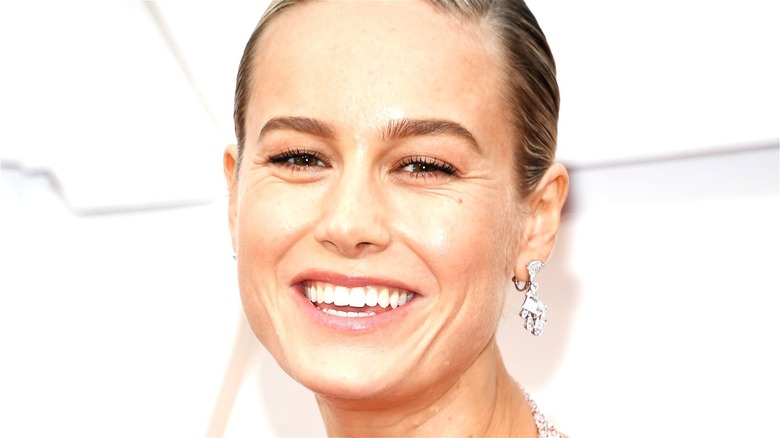 Kevin Mazur/Getty Images
Brie Larson debuted as Captain Marvel in the 2019 film of the same name, thus cementing her place as one of the Marvel Cinematic Universe's marquee stars. Her next appearance in a Marvel movie was in "Avengers: Endgame," which saw a sort of reconfiguring of the MCU from prior releases, given that the film marked the final appearances of both Robert Downey Jr. as Tony Stark and Chris Evans as Steve Rogers. Larson's Captain Marvel, though, is here to stay, and Larson is currently slated to star in upcoming film "The Marvels," which is currently scheduled for a November 11, 2022 theatrical release.
"The Marvels" will feature not just Larson's Carol Danvers, but also Iman Vellani as Ms. Marvel, in dual lead roles — as well as the highly-anticipated return of Monica Rambeau (Teyonah Parris) who just acquired some flashy superpowers of her own in "WandaVision." 
Vellani has yet to appear in the MCU — the release of the TV series "Ms. Marvel" on Disney+ will mark her debut both in a Marvel project and as a screen actor (via IMDB). But when it comes to Captain Marvel herself — and with the theatrical release of "The Marvels" a little over a year away — Larson has been hard at work on enhancing her superhero physique. She most recently gave fans an insight into her workout routine, in a video shared to her Twitter account, which depicts a strenuous leg exercise.
Brie Larson doesn't skip leg day
In her latest workout video, Larson is targeting her quad muscles with an excercise known either as a one leg dumbbell squat or a dumbbell Bulgarian split squat (via Muscle & Strength). The exercise involves keeping one foot firmly on the ground while propping the other foot up backwards on a bench, before squatting downwards with dumbbells in either hand for added weight.
Larson is using adjustable dumbbells, so it's impossible to know just how much extra weight she's working with. Presumably it's a lot, because Larson captioned the video, "Pushing myself past my limit, honey! Doesn't always look pretty but gosh it feels amazing. How heavy were these again?"
Her dumbbell Bulgarian split squat video is but the latest of a series of workout videos Larson has shared to her social media accounts over the course of her preparation for "The Marvels." In May, Larson shared a video of a series of bodyweight exercises under the guidance of trainer Jason Walsh. Then, about a month and a half later, she shared a video of a landmine lift, once again under Walsh's instruction. In her latest video, Walsh is audible just off screen encouraging Larson.
Barring any future pandemic-related delays, the results of Larson's hard work will culminate upon the release of "The Marvels" on November 11, 2022.