Brie Larson Is Getting More Ripped Than Ever For The Marvels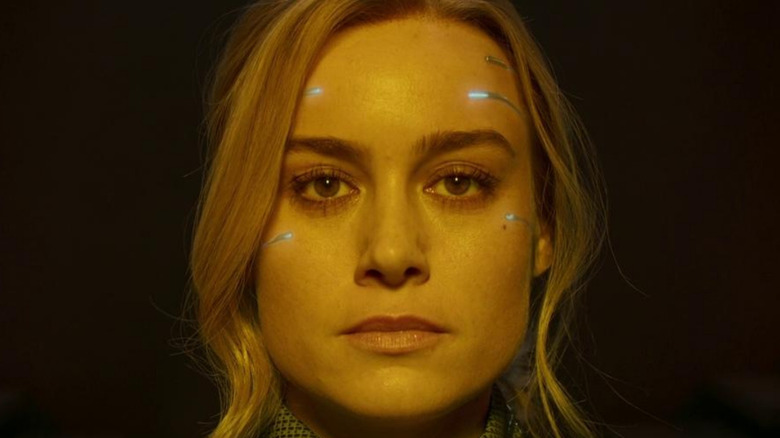 Marvel Studios/Disney
In addition to being the catalyst for the superhero entertainment cash cow for Disney, Marvel has provided another helpful service to its MCU stars. And no, we're not just referring to their high salaries. Marvel has been getting their heroes into enviable physical shape for years now. From early aughts Marvel stars like Hugh Jackman and Tobey Maguire to more recent ones like Chris Pratt and Kumail Nanjiani – who both look more like the action heroes they are than the comedic actors they were — stars of the MCU are almost guaranteed to be in great physical shape to prepare for filming their next big release.
And it's no different for "The Marvels" star Brie Larson. Larson is reprising her role of Captain Marvel in the film, which is set to be released in November 2022. Larson recently posted a video to her Instagram page of her doing a pull-up hold with chains resting on her legs as she slowly drops down, making a difficult routine look easy.
She was working out to Miley Cyrus' song "Midnight Sky" and wrote: ""Only @mileycyrus can bring out my superhuman strength needed to complete @risemovement's workouts." 
Brie Larson has a superhuman workout routine
It should be no surprise that the Academy Award winner is getting ripped. In 2019, to prepare for the first "Captain Marvel" film, Brie Larson worked out with L.A. trainer Jason Walsh. "Brie worked out 5 days a week with me pretty much the whole nine months," Walsh told Men's Health. "She worked her ass off to get into shape for this movie." The workout included a full-body foam roll for warmup, various kinds of pushups and deadlifts, and several different exercises with dumbbells. Larson told E! News at the time: "I just wanted to be a brain, so I've only cared about reading books and understanding words, and anything that involved my body made me itchy. But this was an opportunity for me to ... make my body mine" (via Yahoo).
Now Larson is regularly posting to her YouTube channel and, in a recent video from April, she asked her trainer, "How will you be torturing me today?" The workout in question involved greasing the joints, squats, planks, various stretches, and of course the pull-up hold, a version of which she later posted on Instagram.
After seeing Larson's Instagram post, Reddit user s3r6 commented: "Marvel should come up with training/diet programs. Put it on Disney+. [I] totally would watch that." We would too.