The Cast Of He's All That Has 318 Million Followers
This content was paid for by Netflix and created by Looper.
Hitting Netflix on August 27, "He's All That" is a gender-swapped reimagining of "She's All That," the teen rom-com that hit No. 1 at the box office in 1999 and remains one of the most beloved high school movies of the late '90s/early '00s. Both films are about a popular kid who accepts a bet to turn a dorky classmate into a prom king or queen in a short period of time. Naturally, things take a few unexpected turns along the way.
"She's All That" starred era-defining icons Rachael Leigh Cook and Freddie Prinze Jr. and a slew of future stars early in their careers, including Paul Walker, Gabrielle Union, and Clea DuVall. "He's All That" also features the moment's most relevant stars at the start of their careers. The popular kid is played by singer, dancer, and social media celebrity Addison Rae in her film debut, and the nerd is played by "Cobra Kai" breakout Tanner Buchanan. The supporting cast includes impressive names like Madison Pettis and Peyton Meyer, as well as a few familiar faces popping up in surprising ways.
Social media didn't exist when "She's All That" came out, but it's a big part of "He's All That." In fact, the members of the cast all have notable social media presences. In some cases, you may actually know them best from social media. Collectively across all platforms, they've accumulated over 318 million followers. Here's where you can follow them, how many followers they have, and where else you've seen them before "He's All That."
Addison Rae really is all that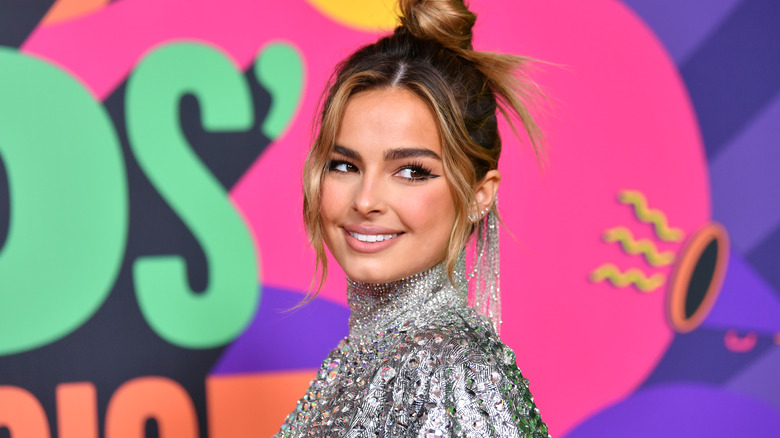 Amy Sussman/kca2021/Getty Images
It makes sense that Addison Rae is playing the popular girl because she's a very popular girl herself. The 20-year-old multi-hyphenate is one of the most-followed people on TikTok. Her account, @addisonre, where she posts dance clips, makeup tutorials, relatable jokes, and candid moments from her very interesting life, has over 82 million followers. She also has 38.6 million followers on Instagram, 4.8 million followers on Twitter, and 4.74 million subscribers on YouTube. In addition to her budding acting career, she's also making moves in pop music, releasing her debut single "Obsessed" in March.
Rae stars in "He's All That" as Padgett Sawyer, a popular high school student who makes a bet that she can turn the least popular boy in school into the prom king, which sets the story in motion. And we're sure that Rae's millions and millions of followers are incredibly excited to see her big-screen debut.
Tanner Buchanan is the prince of the dojo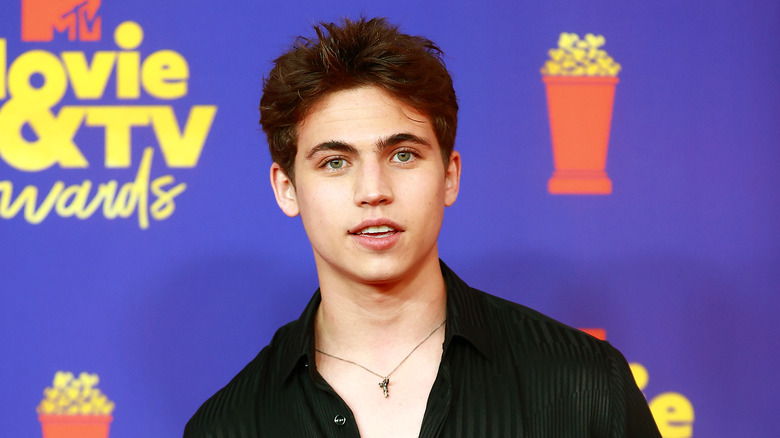 Matt Winkelmeyer/2021 Mtv Movie And Tv Awards/Getty Images
Tanner Buchanan plays Cameron Kweller, an extremely socially awkward high school kid who finds himself the subject of Padgett Sawyer's bet. Buchanan is best known for his role on the dramedy series "Cobra Kai." In the popular martial arts show, Buchanan plays Robby Keene, the troubled and resentful son of deadbeat dad Johnny Lawrence (William Zabka), who then ends up turning his life around under the tutelage of his father's rival, Daniel LaRusso (Ralph Macchio). 
The actor also played Leo Kirkman, son of President Thomas Kirkman (Kiefer Sutherland), on the thriller series "Designated Survivor." As for his social media count, Buchanan has 2 million followers on Instagram – despite describing himself as "not a huge social media person" in an interview with The Face – and he often uses the platform to promote all the films and TV series that he's been working on.
Madison Pettis is not new to this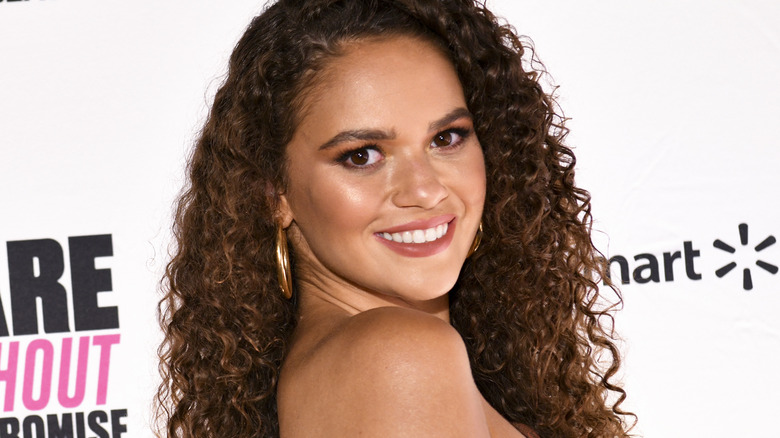 Rodin Eckenroth/Getty Images
Madison Pettis has been acting since she was a little kid, and as a result, she's built up an incredibly strong social media following over the years. How strong, you ask? Well, the actress has 11 million followers on Facebook, 4 million followers on Instagram, 1.7 million followers on TikTok, and 1.4 million followers on Twitter. Yeah, those are some pretty impressive numbers.
In addition to her social media presence, Pettis is probably best know for playing the part of Sophie Martinez, the mischievous daughter of the president of the United States, on the Disney Channel comedy series "Cory in the House." She's also known for projects like the 2007 Dwayne Johnson-led comedy "The Game Plan," the Canadian teen sitcom "Life With Boys," and the Disney XD comedy "Lab Rats," as well as the decidedly more grown-up comedy movie "American Pie Presents: Girls' Rules."
Peyton Meyer is pretty big on social media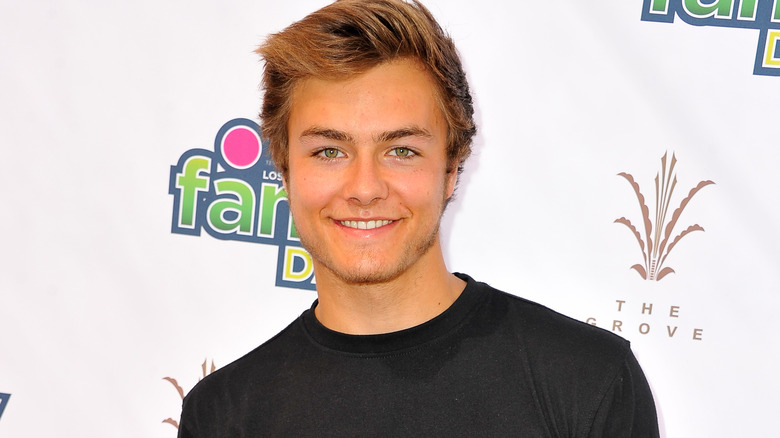 Allen Berezovsky/Getty Images
Like Madison Pettis, Peyton Meyer is a former Disney star. Back in the day, he played Lucas Friar, the good-natured Texan boyfriend of Riley Matthews (Rowan Blanchard), on the tween sitcom "Girl Meets World." Like "He's All That," that Disney Channel series was a gender-swapped new take on a '90s classic — in this case, the beloved series "Boy Meets World." 
The actor also played the recurring part of Trip Windsor, boyfriend of Meg Donnelly's Taylor Otto, on the ABC sitcom "American Housewife." And as you might expect for someone who started out with Disney, Meyer has plenty of social media clout. He has 2.1 million followers on Instagram and almost 377,000 followers on Twitter, and we're willing to bet that all of Meyer's followers are super psyched to see the actor when "He's All That" makes its way to Netflix on August 27.
Rachael Leigh Cook is the All That OG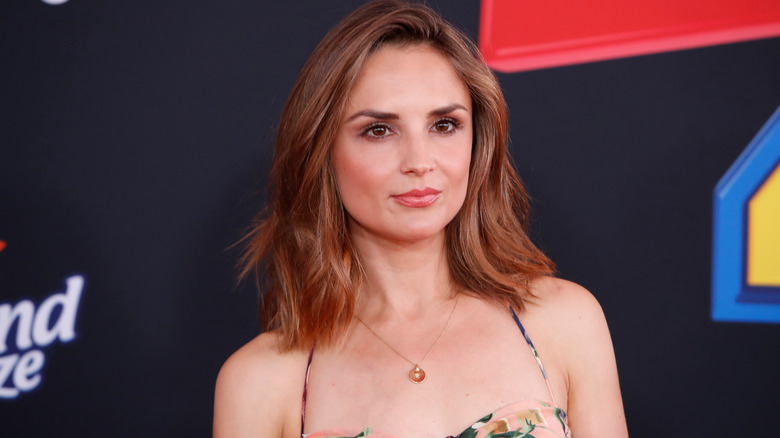 Shutterstock
She's back! Rachael Leigh Cook, who plays Addison Rae's mother in "He's All That," previously was the star of "She's All That." In the original film, she played Laney Boggs, the aggressively odd art student who takes off her glasses, puts on a dress, and learns how to open up to Zack Siler as he learns how to not do things like take bet on his ability to manipulate people. It was Cook's breakout role and the one she's still best known for, and it kicked off a long, successful acting and producing career.
Since "She's All That," Rachael Leigh Cook has starred in the cult classic musical satire "Josie and the Pussycats," made many memorable appearances on the beloved detective series "Psych," and voiced the iconic character Tifa Lockhart in the "Final Fantasy" video game franchise. Plus, she's become a fixture in Hallmark's holiday movies, and she's produced and starred in the romantic comedy "Love, Guaranteed." She has 262,000 followers on Instagram.
Kourtney Kardashian owns the social media landscape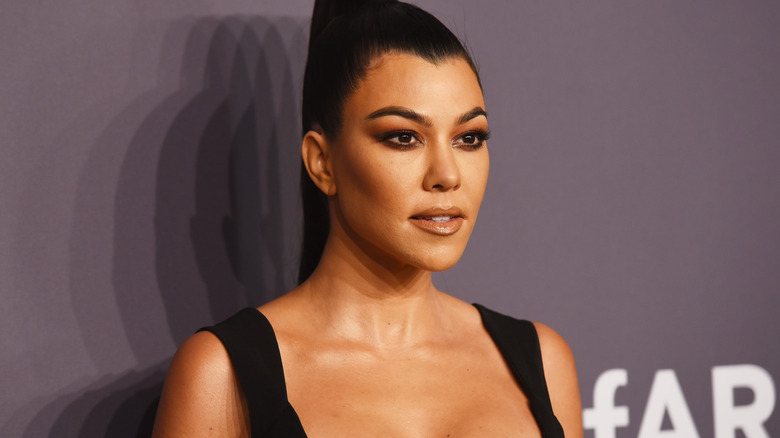 Jared Siskin/amfar/Getty Images
In "He's All That," the character Jessica Miles Torres is played by reality TV star, social media personality, and businesswoman Kourtney Kardashian. The first daughter of Robert Kardashian and Kris Jenner, Kardashian rose to prominence through "Keeping Up with the Kardashians," the reality series chronicling her family that ended in 2021 She also starred in the spinoffs "Kourtney and Kim Take Miami," "Kourtney and Kim Take New York," and "Kourtney and Khloé Take the Hamptons."
She presides over an Instagram account with an extraordinary 135 million followers. She also has 26 million followers on Twitter and 4.4 million on TikTok. With "Keeping Up with the Kardashians" in the rearview after 14 years and 20 seasons, Kourtney is embarking on a new journey alongside her boyfriend, drummer Travis Barker. "He's All That" is her first acting role (where she's not playing herself) since a 2011 episode of "One Life to Live."