Martial Arts Hidden Gems You Don't Want To Miss
This content was paid for by Netflix and created by Looper.
There's nothing like a film hero with expert hand-to-hand combat skills to take your action movie experience to the next level. Martial arts films aren't beholden to any one genre, of course. They can be devastating or hilarious in equal measure. But no matter the tone of the pic, once the fighting commences on-screen, those scenes are bound to get your heart racing and your fists pumping at home.
Some of the most legendary screen talents of all time have been just as good at packing a punch as they are at delivering dialogue, and one of the most accomplished actors of the martial arts movie scene is Jean-Claude Van Damme. In his latest captivating caper, "The Last Mercenary," Van Damme puts on a show like you've never seen before. So to celebrate his incredible high-kicking prowess, here's a look at the martial arts hidden gems on Netflix that you won't want to miss.
The Grandmaster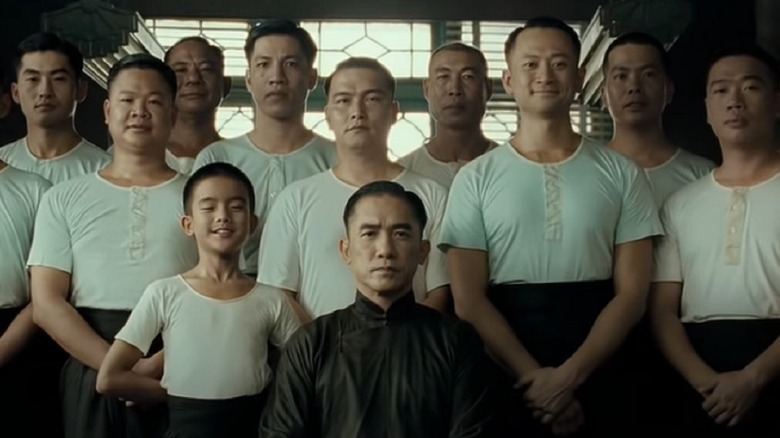 The Weinstein Company
Fans of the "Ip Man" saga will not want to miss this celebrated Hong Kong drama. From writer-director Wong Kar-wai, "The Grandmaster" features Tony Leung as the wing chun grandmaster who trained incredible martial artists like Bruce Lee, and the film follows his story as he remembers his hard-won ascent to legendary status.
Through flashbacks, we see Ip Man begin his training at the tender age of 7, and after he starts a family and enjoys a relatively peaceful home life, he becomes a kung fu champion who's selected to represent the south in a bitter face-off with the north. But after defeating the northern grandmaster in a battle of wits, Ip Man learns that the contest has just begun. Zhang Ziyi stars as Gong Er, the daughter of the defeated northern grandmaster who vows to avenge the honor of her father and her home. How so? By challenging Ip Man to a fight that will shape each of their lives for decades to come. 
With brilliant fight choreography from Yuen Woo-Ping and a stunning true story at the center of the action, 2013's "The Grandmaster" is a seminal piece of martial arts cinema.
The Night Comes for Us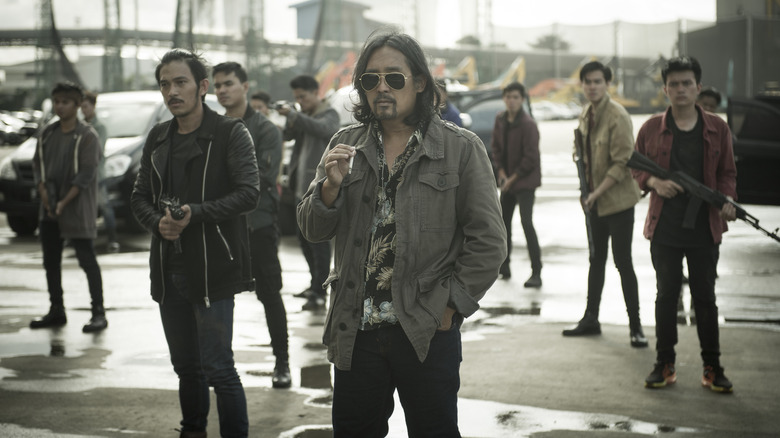 Eriek Juragan/Netflix
The 2018 Indonesian action thriller "The Night Comes for Us" is a bloody good time. The film, written and directed by Timo Tjahjanto and also released as a graphic novel, stars Joe Taslim as Ito, a member of the murderous Six Seas — top-tier enforcers of the Southeast Asian Triad. Ito is a skilled killer by trade, but after he's part of a mission to massacre an entire village, he decides to turn his back on the mob and rescue an innocent girl from the bloodshed.
Ito's decision to protect the child immediately puts him on the defensive as the ultra-violent forces of the triad close in, and Ito must turn to some old acquaintances and unexpected allies to secure her safety from the ruthless assassins on their tail. Taslim is reunited with his "The Raid: Redemption" co-star, Iko Uwais, for the pic, and the film's ultra-gritty action sequences are bolstered by lots of blood, the pencak silat fighting style, and a worthy cause at the center of the story. For those who like their martial arts fare to be pretty hardcore, "The Night Comes for Us" is a real ride.
Twins Mission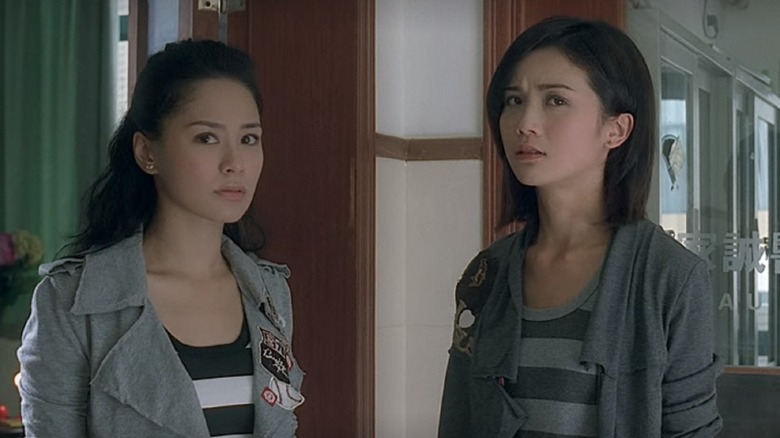 Sundream Motion Pictures
For those martial arts fans who enjoy a few laughs sprinkled into the mix, the 2007 Hong Kong film "Twins Mission" is not to be missed. The film stars the famed Cantopop duo Gillian Chung and Charlene Choi as a pair of twins, Pearl and Jade, who are tasked with retrieving an ancient Tibetan artifact called Heaven's Bead from some evil twins who've stolen it from a trio of guardian monks.
But after the treasure, which is said to have magical healing powers, is inadvertently taken to Hong Kong by an innocent bystander, our heroes suddenly find themselves surrounded by other look-alike siblings — some friends, some foes — as they head to the city on a secret mission to steal back the precious piece. Chung and Choi were already known for their on-screen collaborations before, with films like "The Twins Effect," but "Twins Mission" stands out for its self-awareness and light-hearted humor.
The Yin-Yang Master: Dream of Eternity and The Yin Yang Master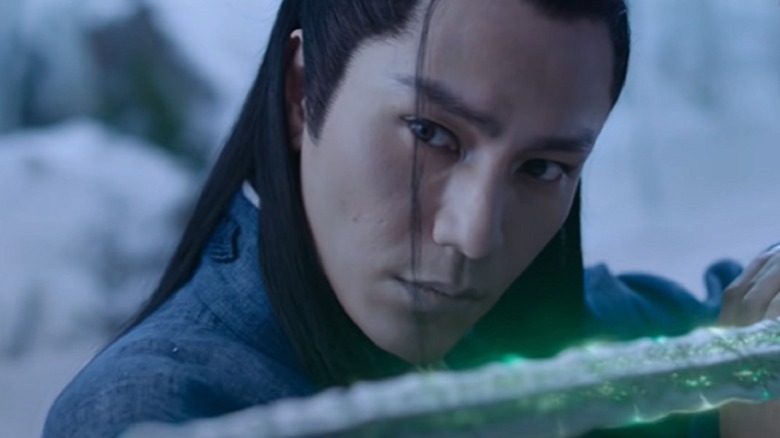 Netflix
Fans of Baku Yumemakura's "Onmyōji" novel series are in for a double dose of adaptation action on Netflix. The 2020 film "The Yin-Yang Master: Dream of Eternity" directly adapts the books, while 2021's "The Yin Yang Master" gives the video game version of the story some sublime new screen life.
"Dream of Eternity" centers on a group of four masters, including Mark Chao as Qing Ming, who must unite to stop the rise of a demon serpent who's emboldened by the desires of men. Meanwhile, "Yin Yang Master" introduces Chen Kung as Qing Ming under very different circumstances. Here, he's a half-demon himself, one who's charged with guarding a magical artifact called the Scale Stone until he's forced to flee the Yinyang Bureau. But once the Demon King threatens to rise up against the human world, Qing Ming has to step up to stop the destruction of humanity. 
Both films are brimming with fantastic imagery, brilliant fight scenes, and stunning performances, and even though they're drastically different stories, together they make for an excellent double feature for martial arts super fans.
Welcome to Sudden Death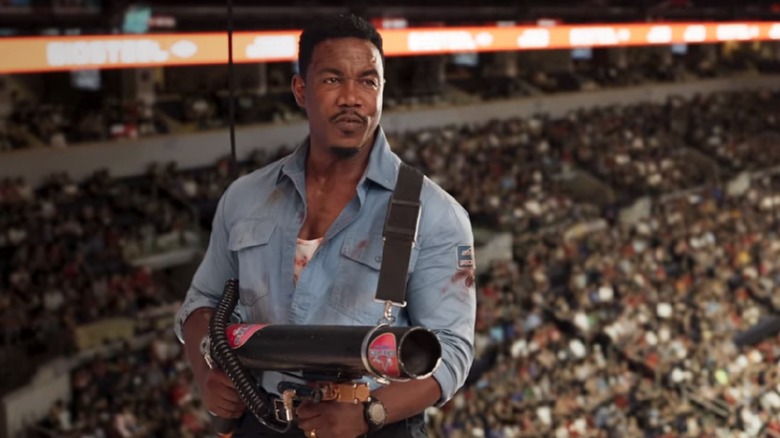 Universal Pictures
This cheeky 2019 remake of the 1995 Jean-Claude Van Damme classic "Sudden Death" puts the extraordinary Michael Jai White front and center of the action. "Welcome to Sudden Death" features White as Jesse, an ex-special forces operative who now works as a security guard for a major basketball arena. And unfortunately for Jesse, he brings his two young children along to the stadium on the worst possible day.
Little does he know that in addition to some high-profile politicians in the crowd, there are also a group of terrorists running around the arena who take over the facility and hold everybody hostage with a series of demands. With explosives rigged at every possible exit point and his own kids now in danger, Jesse has to dust off his old hand-to-hand fighting skills and weapons expertise to protect his own family and the other innocent people who stand to lose everything if these attackers get their way. Brace for some fun fight scenes and a stadium-sized adventure when you queue up "Welcome to Sudden Death."
Bleach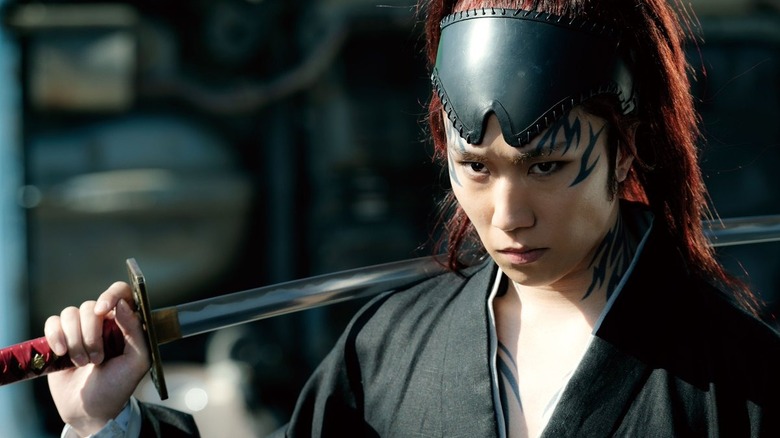 Netflix
Based on the Japanese manga series of the same name, the 2018 live-action adaptation "Bleach" is a smashing good time. The film features Sota Fukushi as Ichigo Kurosaki, a teen with a natural ability to see ghosts. But things get even crazier for our hero when he's accidentally turned into a Soul Reaper after being visited by an injured spirit who has to transfer her powers to him.
Ichigo fully intends to return his new powers back to the original Soul Reaper, but while she's healing up, he'll have to exercise her duties of purifying those departed souls who've been turned into monsters called Hollows. But after the Soul Society takes issue with this arrangement and forces an ultimatum, Ichigo will have to fight to save himself, his family, and even his city from certain destruction. With gripping visual effects and a whole lot of soul, "Bleach" is a treat.
Shadow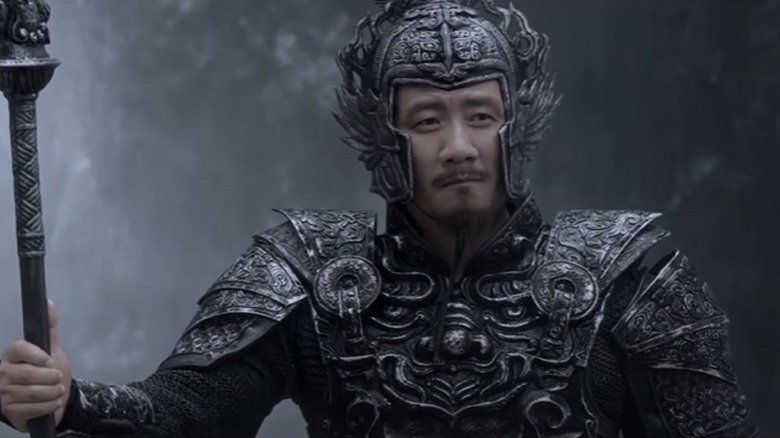 Well Go USA Entertainment
Celebrated Chinese director Zhang Yimou brought forth an outstandingly original martial arts epic in 2018's "Shadow." The film takes place in the kingdom of Pei, after the pivotal city of Jingzhou is lost during a duel between a beloved commander, Deng Chao's Ziyu, and a notoriously tough fighter, Hu Jun's Yang Cang. After Ziyu is punished by the king, stripped of his military ranks, and made into a commoner, he trains a young doppelganger named Jingzhou to pretend to be him and defeat Yang Cang in a rematch.
With the help of Jingzhou (the titular shadow) and a few others who remain loyal to him, Ziyu forms a plan to reclaim the lost city and take the throne from the cowardly king who banished him. However, Jingzhou soon develops his own motivations and ambitions beyond avenging Ziyu's honor, and Ziyu will have to wonder whether entrusting him with so much power was such a wise idea after all. Not only is the story in "Shadow" completely compelling and full of surprises, but the film is also stacked with many electric fight scenes, a badass umbrella fighting style, and second-to-none cinematography.
Jailbreak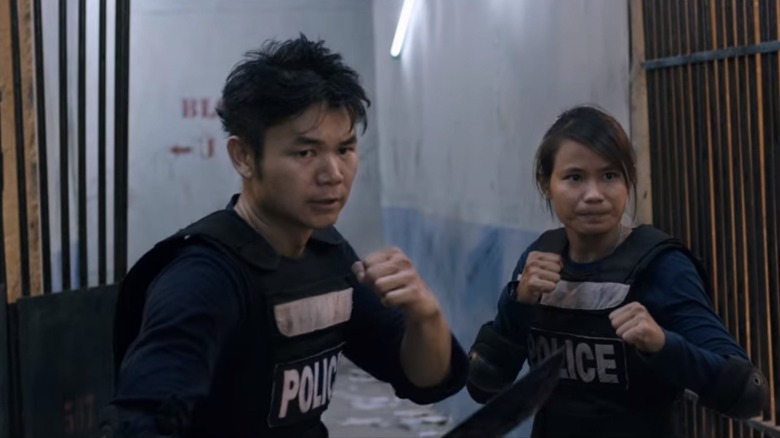 Westec Media Limited
Get ready for an all-out brawl when you watch the 2017 Cambodian action film "Jailbreak." As the title teases, the pic mostly takes place behind bars after a mobster named Playboy, portrayed by Savin Phillip, is arrested and offers to turn over the real leader of his infamous Butterfly gang in exchange for protection. The problem is, the woman who's really in charge of this operation has a lot of friends on the inside — or, at least, people who are willing to step up and do her bidding for a price.
After she puts a bounty on the mobster's head, the other prisoners engage in a full-scale riot, causing a brutal battle between the officers assigned to transport the informant and the prisoners who are looking to collect the bounty on his head. Jean-Paul Ly, Dara Our, Tharoth Sam, and Dara Phang star as the unlucky cops who'll have to muscle up to fight their way out, and what results is a series of slickly coordinated showdowns that make clever use of the confining atmosphere of the film's setting.
Baaghi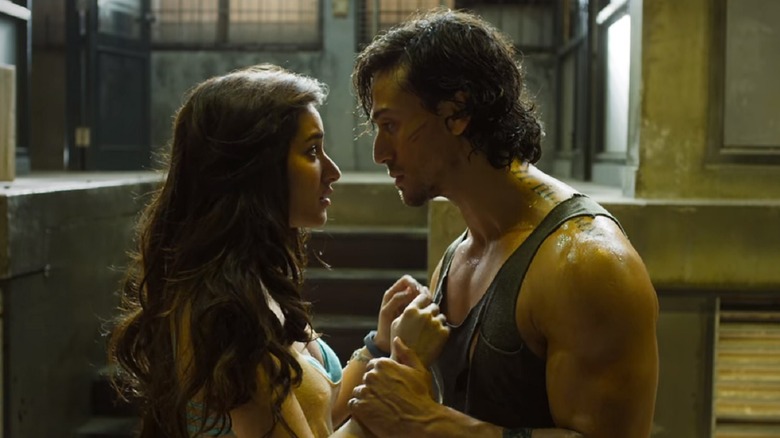 UTV Motion Pictures
The old saying tells us that true love conquers all, but that sentiment is truly put to the test in the 2016 Hindi-language thriller "Baaghi." Shraddha Kapoor stars in the film as Siya, a woman who's kidnapped from India and taken to Thailand by an influential martial arts champion named Raghav, portrayed by Sudheer Babu. Not only does Raghav thwart Siya's father from intervening in the abduction, but he also plans to force Siya to fall in love with him by killing the man she truly loves, Tiger Shroff's Ronny.
Though Siya's father has been less than supportive of their romance, he's left with no choice but to ask Ronny to rescue her from Raghav's clutches in Bangkok. Ronny rises to the challenge, but he'll have to take on a lot of haughty henchmen if he hopes to finally get his shot at Raghav ... or Siya for that matter. Not only is "Baaghi" full of impressive fight scenes, but it also features a truly compelling love story at the center that makes each punch even more meaningful.
The Last Mercenary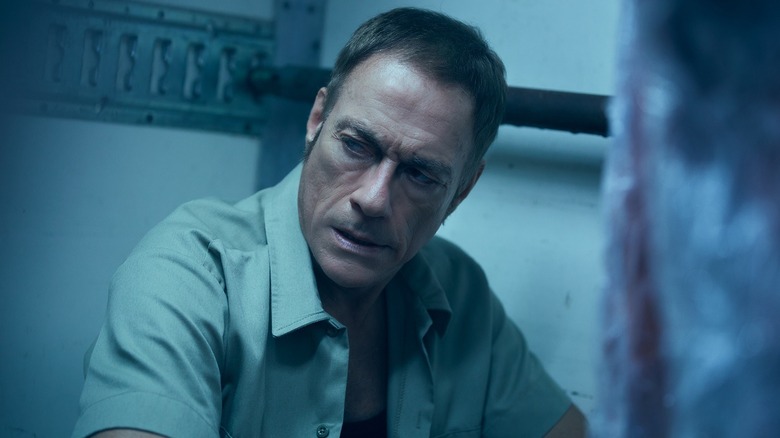 Alois Maillet/Netflix
Jean-Claude Van Damme has been flexing his fighting skills for decades, but his latest film, "The Last Mercenary," gives him an opportunity to show off his enormous funny bone. Van Damme stars in the film as Richard Brumère, a former secret service agent known as "the Mist." When an imposter assumes his son's identity — leading the French government to accuse Richard's kid of arms and drug trafficking — the Mist heads back home to save his boy and crack some skulls.
But while protecting his son from the police, the Mist has to deal with some dangerous mafia thugs as well. Oh, and the son has no idea that Richard is his father. If that sounds intense, well, it is. But the movie is also filled with moments of comedy, and even as Van Damme uses his supreme fighting skills to remind us why he's the king of kicks, he also leaves us in stitches for very different reasons.