David Harbour's Remarks About Millie Bobby Brown Will Warm Your Heart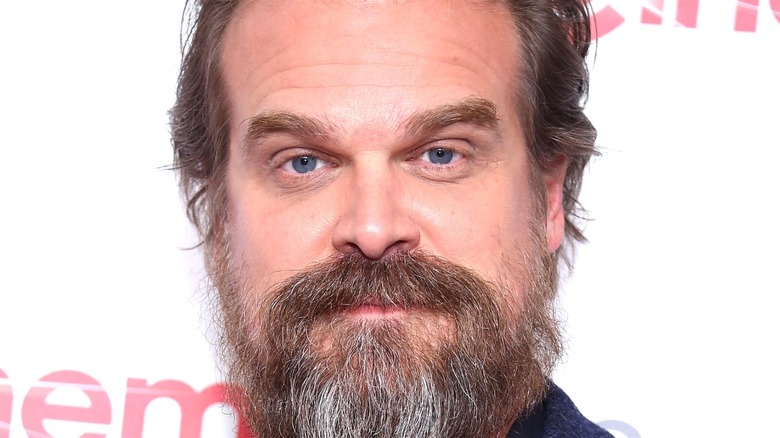 Shutterstock
David Harbour is really having his moment. The actor is in high demand these days, having appeared in everything from Marvel's recent MCU entry "Black Widow" as Red Guardian to the 2019 "Hellboy" film. Even so, fans are most likely to recognize him as his fan-favorite character from "Stranger Things," the world-weary small town police officer Jim Hopper. In that role, Harbour became a connection point for adult audiences in a show largely defined by its cast of children.
It seems like Harbour, too, has a love for that character and the show that birthed it, and that love includes a profound sense of caring for his young co-stars, many of whom were catapulted to fame at a particularly tender age. In a recent interview on Dan Patrick's podcast, "That Scene with Dan Patrick," Harbour waxed sentimental about "Stranger Things" and its breakout star Millie Bobby Brown, whose fame waxed quickly in the wake of her turn as Eleven, a girl with supernatural powers.
Harbour worries about Millie Bobby Brown in a fatherly way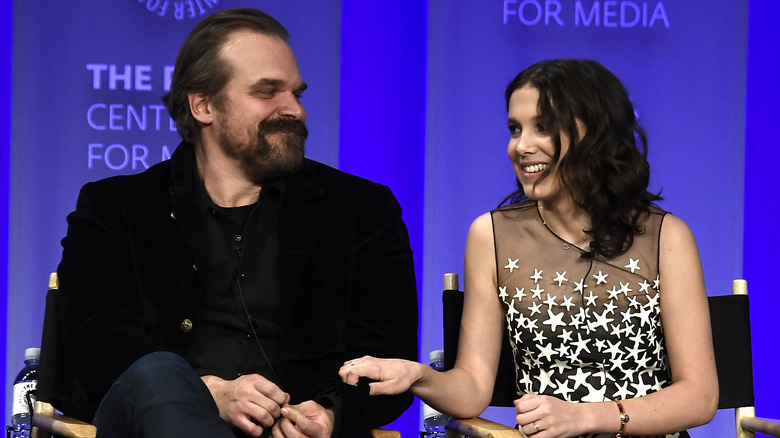 Frazer Harrison/Getty Images
In his interview with Dan Patrick, David Harbour expressed concern that Millie Bobby Brown was thrust into stardom at such a young age: "Millie and I have always had sort of a special relationship, because I knew her when she was so young. I knew her before any of this big fame hit ... I have a real fatherly affection for her." 
He continued to explain, "It's on one hand wonderful to see her do this beautiful job. It's so moving. And on the other hand, I can really only see her as this Eleven character, and just see her in that pain."
"Stranger Things" helped Harbour, who is a parent, to raise his own daughter. "I'm very much a New York sort of city rat," he told Patrick. "I like my freedom, my independence. And it was really this part that did change a lot of that perspective. The show sort of opened my heart in a lot of different ways, and one of the ways that it did was it started to make me realize how thin my existence was without a family."
"Stranger Things" is currently in production on Season 4, in which it looks like we'll be seeing a lot more of Harbour's Hopper.