The Shocking Request David Harbour Made For Stranger Things Season 2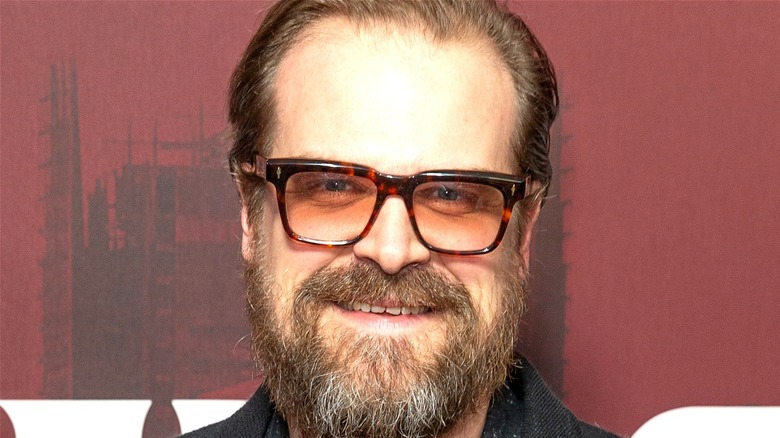 Shutterstock
Since its premiere in 2016, "Stranger Things" has become one of the most popular shows of recent years. Set in a small Indiana town in the 1980s, the first season follows a group of kids who investigate the disappearance of their friend, Will Byers (Noah Schnapp) with the help of a mysterious girl with psychokinetic abilities, Eleven (Millie Bobby Brown). The series boasts a talented ensemble cast, which has only grown as the show has continued on, including Winona Ryder, Finn Wolfhard, Gaten Matarazzo, Caleb McLaughlin, Natalia Dyer, and Charlie Heaton.
Another key cast member is David Harbour, who plays Hawkins police chief Jim Hopper. Not only does Hopper play an immense role in figuring out the strange events going on in town, but he eventually even takes on a more significant role when he takes Eleven in as his adopted daughter. Harbour as the tough but lovable Hopper is one of the most likeable characters of the show and undeniably a fan favorite.
In between "Stranger Things" seasons, Harbour took on another project with a huge fan base — Marvel's "Black Widow." But, while doing press for "Black Widow," the conversation came around to "Stranger Things," and Harbour made an interesting — and somewhat shocking — revelation about a request he had going into the second season.
Harbour was not a fan of the Byers family dog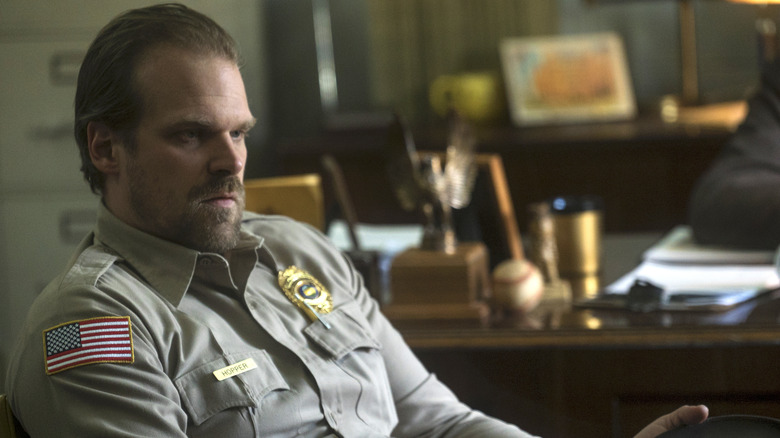 Netflix
"Stranger Things" has released three seasons now, with a fourth on the way, so you may have forgotten by now that for the first season of the show, the Byers family had a dog named Chester. Chester appeared sporadically throughout Season 1 but then wasn't seen or talked about again in the subsequent seasons. Well, as it turns out, a certain somebody made a request for Chester to be written out of the show — and that person would be none other than David Harbour.
While making an appearance on the YouTube series "Hot Ones," Harbour revealed that he was not a fan of the dog on set, declaring, "I hated that f*cking dog so bad." Explaining that the root of the problem was that the dog wasn't well-trained enough, Harbour continued, "Take after take it would wander off or do something. And then I remember the trainer on the sidelines going, 'Come on! We got to make our money!' Yeah, I walked up to them and I was like, 'You know, the Byers should probably have that dog put to sleep next season.'"
Harbour also addressed how the dog is never spoken of again and offers a suggestion to remedy that in upcoming seasons: "We never talk about it the whole rest of the show. We should find it in the Upside Down in one of these future seasons."