Stranger Things Season 4 Will Reveal A Huge Secret About Jim Hopper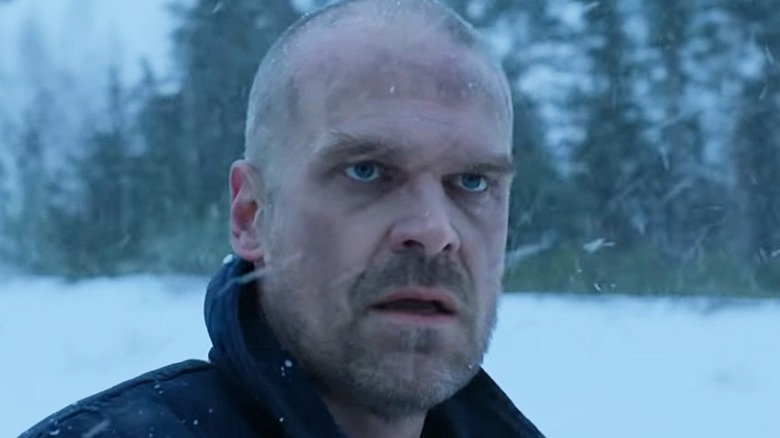 Netflix
We still don't know when "Stranger Things" Season 4 is coming out. The wait has been interminable, more than two years and counting. But we do know that when Netflix's 1980s-set sci-fi superhit does return, it will reveal a big secret about Jim Hopper that actor David Harbour and creators the Duffer Brothers have been holding onto since the show began.
Season 3 ended with the cantankerous police chief of Hawkins, Indiana and adoptive father of powerful telepath Eleven (Millie Bobby Brown) getting trapped in a giant machine that opened a gate to the Upside Down as it blew up, which means everyone in Hawkins thinks he's dead. Of course, he's not actually dead. He's been captured by the Soviets – who built the Upside Down-opening Key machine under the Starcourt Mall – and held captive at a gulag in brutally remote Kamchatka, Russia. Presumably, he will still be a prisoner when Season 4 begins, and will probably be interrogated by Dmitiri (Tom Wlaschiha, best known as "Game of Thrones" shapeshifter Jaqen H'ghar).
There is much to be revealed about Jim Hopper and his current situation –- most pressingly, how he will escape it –- but it sounds like there's a lot about Hopper in the long term that will be revealed in Season 4 as well. In an interview promoting the new Marvel Studios movie "Black Widow," in which Harbour plays a past-his-prime Soviet superhero, Red Guardian, Harbour teased that there's a huge revelation about Chief Hopper's backstory coming up.
Jim Hopper will get even ... Stranger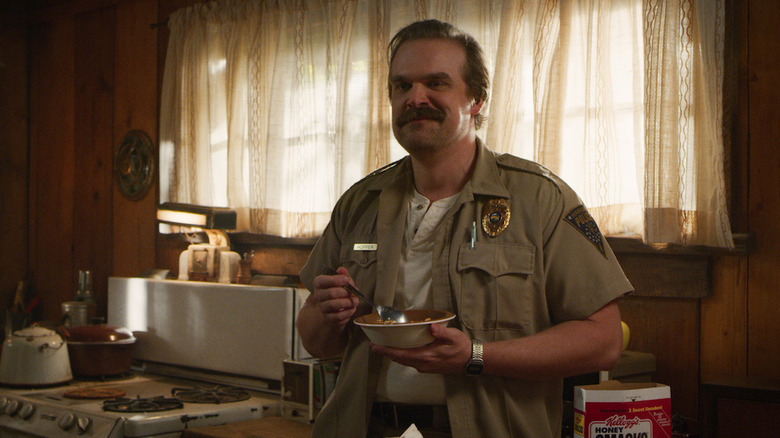 Netflix
There's a lot that "Stranger Things" fans don't know about Hopper's life before he became Eleven's papa, and Harbour told Entertainment Tonight that we're going to learn all about it. "There's some fun stuff that we're doing this season, but it's also the heaviest dramatic stuff I've ever had to do," Harbour said. "We get to see a lot of Hopper at his most vulnerable, we're gonna reveal a lot of backstory points that we've only hinted at in boxes in his attic. We're gonna see a lot of these different threads, and also, we get to see a rebirth of him." Those boxes, you may recall from Season 2, are labeled "Dad," "Vietnam," and "New York."
He elaborated a bit more later in the interview: "There's one thing in it that plays very big in this season that I've known since the first frame of the first season. Me and the Duffers would sit around and speculate, 'Oh, wouldn't this be cool?' the minute we started shooting," Harbour said. "We never thought we'd even get a second season, and then we get to do it in this season. It's so satisfying to have had an idea five years prior, and to go like, 'Oh, this is a season when we're gonna let out this secret that we were using just as a subtle thing to inform something.' We're gonna lay it out finally, and it's really cool."
It's a vague enough tease that we have no idea what he might be talking about. For instance, what if he is Will Byers' (Noah Schnapp) biological father? 
We're just throwing out an idea, not saying it's a good one! We'll find out for sure what Hopper's secret is whenever Netflix finally releases "Stranger Things 4."