Get A First Look At The Walking Dead's New Governor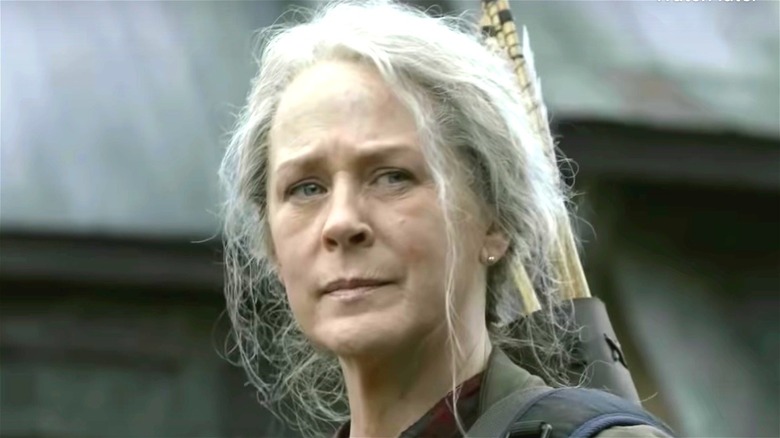 AMC
"The Walking Dead" fans are getting their first look at Commonwealth Governor Pamela Milton, one of the newest — and possibly most dangerous — characters joining the AMC series for Season 11. The first photo of the Commonwealth leader was included among a new batch of Season 11 images first shared by TVLine this week. The new images feature closer looks at our favorite "Walking Dead" characters, including Daryl (Norman Reedus), Negan (Jeffrey Dean Morgan), and Maggie (Lauren Cohan), as well as some of the zombie-filled set pieces that will be featured in the first batch of eight episodes.
Additionally, these new images arrive just a few days after AMC released the intense official Season 11 trailer. Included in that new trailer was a closer look at the Commonwealth, a seemingly thriving post-apocalyptic community similar to Alexandria, teased as an idyllic slice of pre-zombie apocalypse heaven that seems wholly removed from reality. The Commonwealth was teased in the official trailer through what looked like a throwback welcome video for prospective new residents, with the community's bookkeeper Lance Hornsby (Josh Hamilton) narrating along. However, this preview of the Commonwealth seems at odds with the realities of life in the community, teased through a variety of shots of Commonwealth law enforcement menacing various "Walking Dead" characters.
Can the Commonwealth's governor be trusted?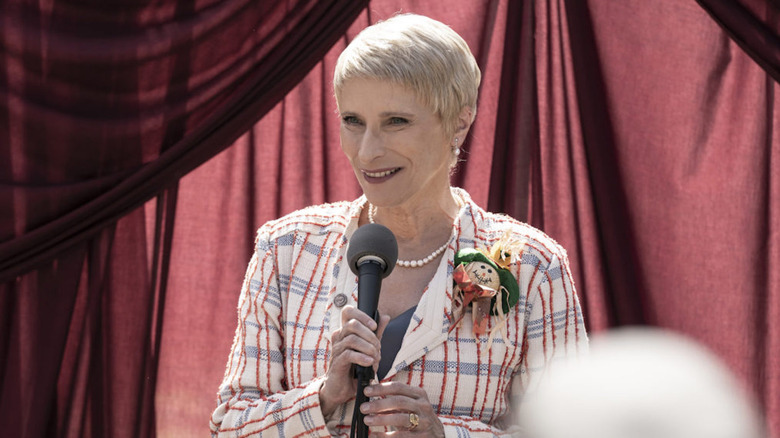 AMC
Much like the somewhat sinister Commonwealth welcome video, the first photo of new Season 11 character Pamela Milton teases a community leader who appears to be welcoming, but might be hiding something. The photo is a close-up shot of Governor Milton as she appears to address a crowd. There's also a weirdly jaunty scarecrow brooch on her lapel, hinting at the possibility she is speaking to Commonwealth residents during an autumn event. Overall, the photo does a good job of hiding Governor Milton's darker side. 
In the comics, Milton is an antagonist driven by her paranoia to preserve the Commonwealth's rigid class structure, and is often in direct opposition to Rick Grimes. With Rick out of the picture on AMC's "The Walking Dead," Milton's comics storyline will have to play out in a new and interesting way. It's also worth noting that Milton's son Sebastian, who has an integral role in "The Walking Dead" comics, is not pictured, but will likely make a big entrance in Season 11.
This photo of Governor Milton was released by AMC just a few days after the network announced the character would be played by Laila Robins (via Screen Rant). Robins' name may not be immediately familiar to viewers, but you've definitely seen this TV veteran before. Previously, Robins appeared on Amazon's "The Boys," NBC's "The Blacklist," Hulu's "The Handmaid's Tale," and Showtime's "Homeland." 
It's unclear when in Season 11 Robins will make her first appearance as Governor Milton, so fans should tune in on August 22 for the Season 11 premiere.