First-Look Walking Dead Season 11 Images Have Fans Losing It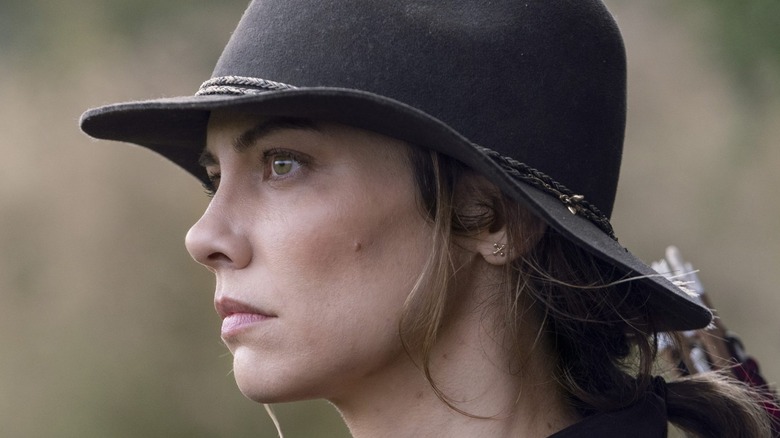 AMC
After an extended Season 10, "The Walking Dead" on AMC will be coming back this summer for the first part of the huge Season 11, which will be the show's last. Premiering in 2010, the Emmy-winning series begins with Rick Grimes, played by Andrew Lincoln, a former police officer who is simply trying to protect his wife and son when the zombie apocalypse brings chaos to the world. The show has an expansive cast that has shifted a lot over the years — as there are many casualties thanks to zombies and fighting — with Norman Reedus, Melissa McBride, Lauren Cohan, Danai Gurira, and Josh McDermitt being a few of the mainstays over the years. 
Now in 2021, "The Walking Dead" is facing its final season, but that doesn't mean it's the last you'll see of this universe or these characters, that's for sure. The show already has two spinoff series, "Fear the Walking Dead" and "The Walking Dead: World Beyond," while there are two more currently in development, a yet-to-be-named series focusing on Daryl (Reedus) and Carol (McBride), and the episodic anthology series, "Tales of the Walking Dead."  
For those who can't wait to find out what happens to the characters in the original series' final outing, Season 11 of "The Walking Dead" will premiere on August 22, 2021, for eight episodes, before taking a short break. The last 16 episodes will air in two more eight episode batches in late 2021 or early 2022. Luckily for fans of the long-running series, we now have the official first-look at the upcoming season of "The Walking Dead" thanks to Entertainment Weekly, and it looks like fans can expect plenty of action and more zombies than ever.  
The first-look shows Maggie, Negan, zombies, and more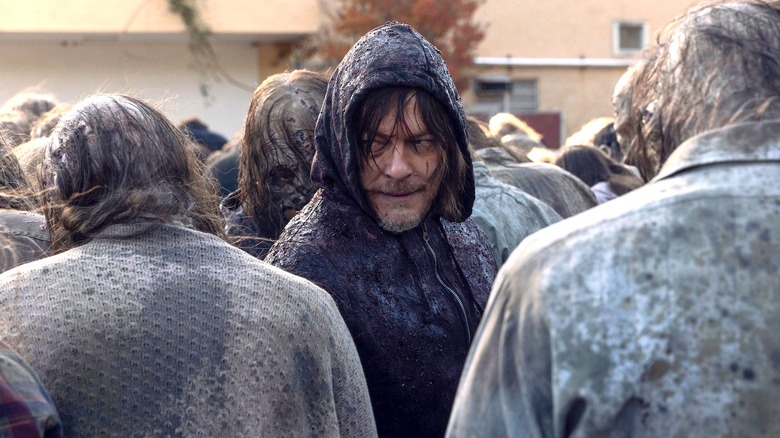 AMC
The first official images of Season 11 don't show much, but there's definitely enough to get fans hyped up. In one image, Carol, Maggie (Cohen), Rosita (Christian Serratos), and Lydia (Cassady McClincy) are on guard, weapons drawn, in what looks like a military warehouse. At their feet are zombies that they've just finished fighting, all decked out in what might be uniforms from the Civic Republic Military, an authoritarian organization that first appears in Season 8 of "The Walking Dead," but is also the main antagonist in "The Walking Dead: World Beyond" Season 1. For loyal fans of the original series, you will also be well aware that CRM saves Rick's life, taking him off in a helicopter to who knows where. 
Also featured in the new photos is Negan, played by Jeffrey Dean Morgan. The main villain of Season 7 as the leader of the Saviors, Negan murders Glenn (Steven Yeun), Maggie's husband, and Abraham (Michael Cudlitz) in a brutal act of violence. After spending seven or so years imprisoned for his acts, Negan returns to a changed world and attempts to be better, at least to an extent. Over time, he establishes trust as a member of the Alexandria community, but is put in exile at the end of Season 10. In Season 11, Negan will have to face Maggie and make some form of amends so that they may work together for the continued survival of their people. 
The Walking Dead fans are so excited for the final season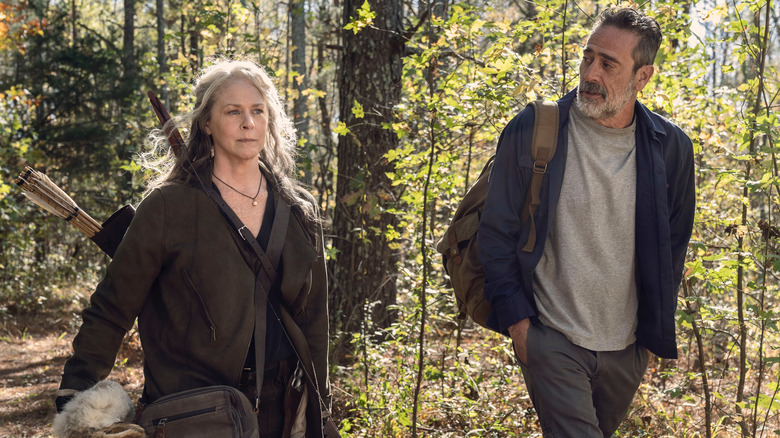 AMC
After the new images were released, fans voiced their excitement on Twitter. For some, Carol is the clear highlight, like @xThrivingIvory, who wrote "It's sooo good to see her again, I'M SCREAMING!" Others are eager to see ruthless Negan again, who is hopefully using some of that violence for good in the new season. One fan, who goes by the username @mtescobosa, is clearly ecstatic over the new image of the antihero, tweeting "And this is just a photo ... i can't wait to see this man in action."  Of course, Maggie, Rosita, and Lydia all continue to get their own shoutouts from fans as well, while others are studying the images for any clues about what might happen in Season 11. Even EW was speculating, noting that there might be helicopters in the background of the images with Maggie, Carol, and the other women, which is possibly another hint that they are in a CRM building. 
Right now, there's not a lot of information out about the final season. In Season 10, the Reapers and their mysterious leader Pope try to kill Maggie's group without provocation. When Maggie interrogates a surviving Reaper, all he says is "Pope marked you," before killing himself. Considering the seriousness of the threat, it seems highly likely that the Reapers, and whoever Pope is, will play a major role in Season 11. As for CRM, it would make sense for the group to appear in the final episodes as well, in order to further connect "The Walking Dead" to the other series and set up for Rick's spinoff films. No matter what's in store for Season 11, fans will just have to wait until late August to get their answers.