The One Major Prop The Walking Dead's Norman Reedus Stole From Set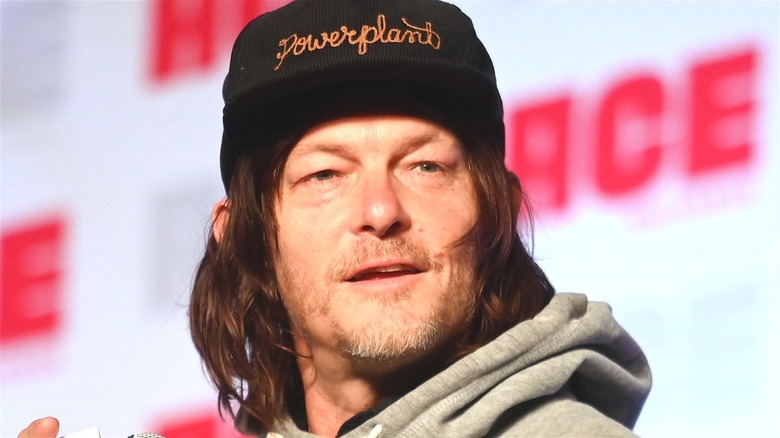 Daniel Boczarski/Getty Images
Actors generally aren't supposed to take props and costumes home from their jobs — that's company property, and often it's returned to stores after filming is finished — but it still happens. Everyone from Mark Wahlberg to Matthew Perry has admitted to helping themselves to the wardrobe department's inventory. And honestly, resisting the temptation would be difficult.
The upcoming 11th season of "The Walking Dead" will be its last. In the meantime while we're waiting for it to air, AMC has been teasing these final episodes. Shortly after the full-length trailer dropped on July 26, 11 members of "The Walking Dead" cast sat down for an interview with IMDb for Comi-Con@Home.
Prompted by a fan on Twitter, various cast members talked about the props they'd like to keep from their time on the show. Only Norman Reedus, who plays fan-favorite Daryl Dixon, admitted to actually taking anything, though. Here's what Reedus took from the set of "The Walking Dead."
Norman Reedus should be very well prepared for a zombie apocalypse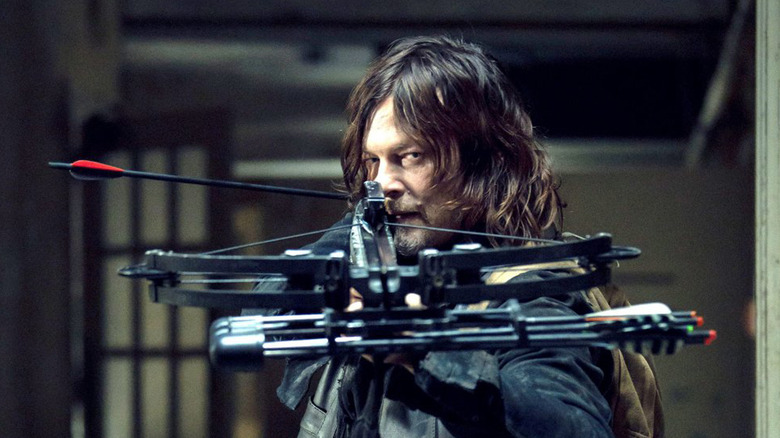 AMC
When asked which prop he's had his eye on, Reedus said, "I mean, I've taken a bunch of crossbows already, I have — I think I have nine crossbows." Reedus added, "I think it's a felony to own one [of these crossbows], so I might be in trouble."
Reedus might be in trouble with the props department, but he's probably fine as far as the law is concerned. According to the North American Crossbow Federation, while some states do require a crossbow license, they're legal in most states without any special credential or training. Which — that's scary. Since 2003 they've been legal in Georgia, where "The Walking Dead" is filmed. They're also legal with a permit in California, where Reedus resides (via The Los Angeles Times).
After concluding his work on Season 11 of "The Walking Dead," Reedus and co-star Melissa McBride will headline a spin-off series. That should give Reedus plenty more opportunities to expand his arsenal.