The Disney+ Hawkeye Series Finally Has A Release Date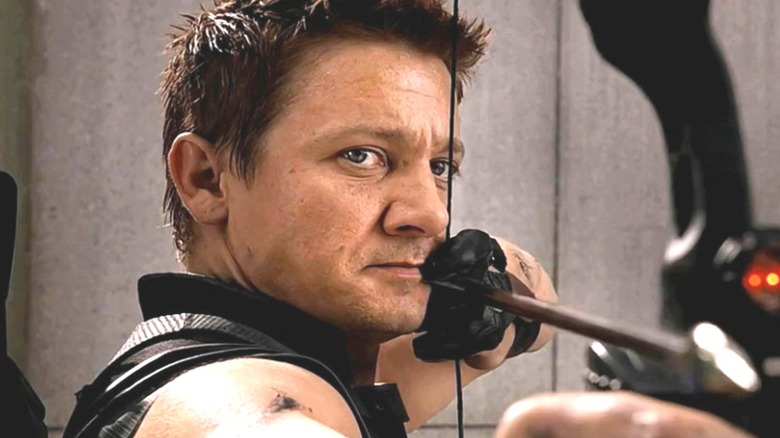 Marvel Studios
It's been two years since fans last saw Hawkeye (Jeremy Renner) in the Marvel Cinematic Universe, but the archer is on his way back to our screens very, very soon.
Kevin Feige announced the "Hawkeye" TV series at San Diego Comic-Con in 2019, also confirming that Kate Bishop will play a huge part in the story. Presumably, Clint Barton will hand his Hawkeye mantle over to the younger hero, who is played by Hailee Steinfeld. The "Bumblebee" and "Dickinson" star had been tied for the role for months before set photos confirmed her involvement with the show.
The "Hawkeye" plot has been kept under wraps so far, but it's been confirmed for a while that Florence Pugh's Yelena Belova will make an appearance at some point in the series. The "Black Widow" post-credits scene even teased an emotionally charged fight in the Disney+ show. So when does "Hawkeye" fly onto the streaming service? The latest announcement from Marvel Studios has finally provided the answer.
Hawkeye will be released Fall 2021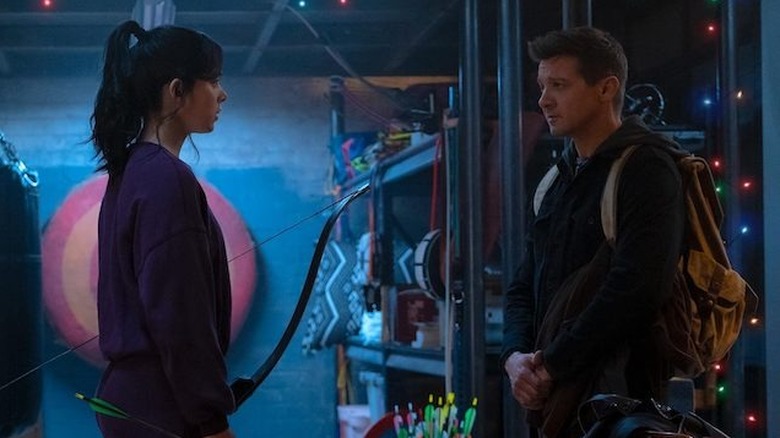 Chuck Zlotnick/Marvel Studios
Marvel Studios announced on Twitter that "Hawkeye" starts airing on November 24, 2021, alongside a new photo of Hailee Steinfeld's Kate Bishop and Jeremy Renner's Clint Barton (via Entertainment Weekly). The new dynamic duo have clearly turned a basement into a make-shift archery range, because multiple targets can be seen in the background alongside a basket full of arrows. Jeremy Renner told EW that the female archer is the Avenger's biggest fan, saying "[Kate is] a 22-year-old kid and she's a big Hawkeye fan," before adding, "She has a wonderfully annoying and equally charming manner about her, because she's such a fangirl of Hawkeye."
Renner also teased that the new hero will cause problems for the seasoned superhero, saying, "The biggest problem for Clint is Kate Bishop and the onslaught of problems that she brings into his life." The set photos that surfaced online in 2020 showed the pair on the run with an adorable fluffy sidekick, who many fans recognized as Lucky the Pizza Dog, so it'll be interesting to see if he's one of the aforementioned problems that Clint has to handle.
Renner also revealed to EW that he's enjoyed mentoring Hailee Steinfeld on the art of superhero acting: "I was protecting her and giving her the CliffsNotes on how it goes with this kind of filmmaking: Green screen, superhero life, all that stuff." Steinfeld has already been spotted in her own purple Hawkeye outfit, but it'll probably take a few episodes before Kate Bishop is ready to take on the mantle for herself.
"Hawkeye" arrives on Disney+ on Friday, November 24, 2021.