Marvel Comic Fans Will Love This New Photo From The Hawkeye Set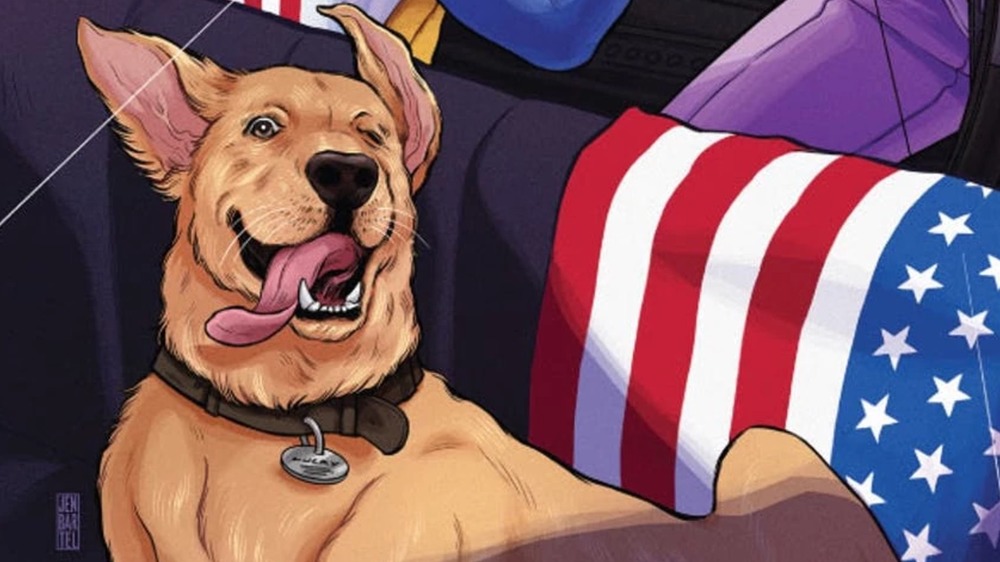 Marvel Comics/Jen Bartel
It may not have seemed likely going into Avengers: Endgame, but now that the modern timeline MCU is moving on without Steve Rogers (Chris Evans), Tony Stark (Robert Downey Jr), or Natasha Romanoff (Scarlett Johansson), one Avenger who's going to be getting some major attention in the future is Hawkeye.
We know that Clint Barton (Jeremy Renner) is getting his own Hawkeye Disney+ series in 2021. We know that the series will feature not one just one Hawkeye, but two. We knew the second Hawkeye is Kate Bishop and, as of very recently, we know that Kate will be played by Hailee Steinfeld.
But what if we told you there was bigger casting news than the confirmed identity of Kate Bishop? What if we told you that there was someone arguably even more adored from Matt Fraction and David Aja's Hawkeye comics who appears to be featured in the upcoming series? Yes, it seems Hawkeye is about to bring us the screen debut of one of the most beloved non-human characters in Marvel — Lucky, a.k.a. Pizza Dog.
Who is Lucky the Pizza-Dog?
If your heart broke when John Wick's (Keanu Reeves) dog was senselessly killed by the Russian mob, then Lucky the Pizza Dog is just the pup to pick up the pieces and put you back together.
Lucky (who originally went by the name Arrow) used to be owned by Ivan Banionis of the "Tracksuit Mafia." In a fight with the gangsters, the dog protects Clint by biting one of Ivan's men before he can shoot. Unfortunately, the canine hero is beaten for his efforts, and even loses his left eye. Thankfully, Clint brings Arrow to the vet before taking the dog in as his own, renaming him Lucky — we guess "Arrow" was a little too on the nose.
Long story short, Lucky is a good boy to both Clint and Kate. More importantly, there is an issue of Hawkeye from Lucky's point of view in which we discover that he thinks of himself as "Pizza Dog" because he loves pizza. Lucky the Pizza Dog is an uncomplicated individual.
Now, thanks to Murphy's Multiverse, we have video evidence of what certainly appears to be Pizza Dog on the steps of a New York subway station. Whether or not that means we will get a Pizza Dog-centric episode or not is anyone's guess. However, this latest Hawkeye news is a huge win for lovers of both Matt Fraction's writing and good dogs everywhere.
Hawkeye is expected to debut on Disney+ in 2021.