Watch This Before You See Vivo
This content was paid for by Netflix and created by Looper.
Get ready to dance when "Vivo" arrives on Netflix on Friday, August 6. The new animated musical from Sony Pictures Animation (the studio behind "The Mitchells vs. the Machines" and "Spider-Man: Into the Spider-Verse") features a little bit of everything. It's got friendships new and old, long-lost loves, an illuminating journey to vibrant locations, an adorable creature at the center of the action, and, of course, some really great songs for audiences to sing along to. "Vivo" is also made by some of the finest talents in the film industry and features an all-star vocal cast to bring the characters and their musical stylings to life.
The film tells the story of a musically gifted kinkajou, also known as a "honey bear," who spends his days happily entertaining the crowds at Havana Square with his favorite two-legged friend, Andrés. But everything changes for them when Andrés receives a letter from Marta Sandoval, a singing superstar who used to share the stage with him and was the love of his life — even if she didn't quite know it at the time. Soon after, tragedy strikes for the pair, and it's up to little Vivo to make the brave journey all the way from Cuba to Miami to let Marta know how Andrés truly felt about her. How? By delivering to her the love letter he committed to song so many years before. This might begin as a solo mission, but Vivo won't have to go it all alone. Along the way, he'll befriend a boisterous young lady named Gabi, who's just as amped about this romantic mission as she is to have a furry new friend in Vivo. As the film's title indicates, this is one movie that's truly alive with excitement.
Before this touching new tale arrives, here's a look at what else you should know about "Vivo."
A chorus of stars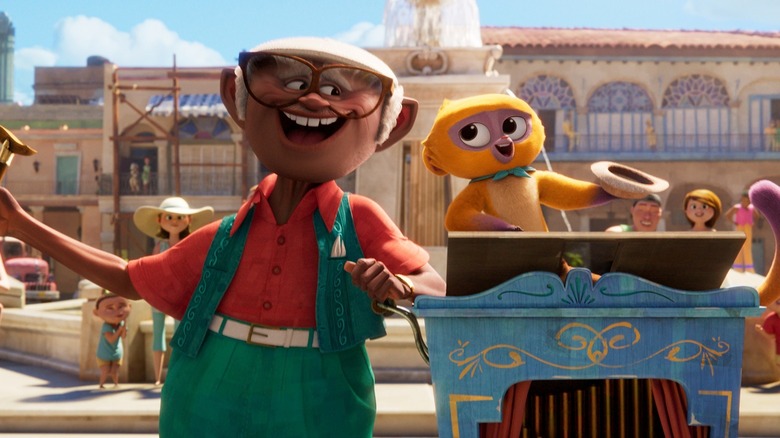 Netflix
Fans of the one and only Lin-Manuel Miranda will find a lot to love in "Vivo." Not only does the "Hamilton" superstar lead the cast of the film as the voice of the title character, but he also contributes a number of all-new original songs to the feature that will definitely leave you humming long after the credits roll. But Miranda isn't the only music superstar who graces the cast list. "Vivo" features Buena Vista Social Club legend Juan de Marcos González as the voice of Andrés, and three-time Grammy winner Gloria Estefan also lends her incredible vocals to the film in her role as Marta Sandoval.
Meanwhile, young star Ynairaly Simo plays Andrés' lively grand-niece, Gabi, and Zoe Saldana of "Avatar" and "Guardians of the Galaxy" fame provides the voice of Gabi's mother, Rosa. MCU favorite Michael Rooker portrays the eerie Everglades python Lutador, and Emmy-nominated actors Brian Tyree Henry and Nicole Byer also star as a pair of star-crossed spoonbills. Last, but certainly not least, the cast list is rounded out with "The Office" favorite Leslie David Baker, "Scandal" standout Katie Lowes, "For All Mankind" star Olivia Trujillo, and Lidya Jewett of "Good Girls" and "Feel the Beat" fame. Put simply, the level of vocal talent in "Vivo" is completely off the charts.
A harmonic crew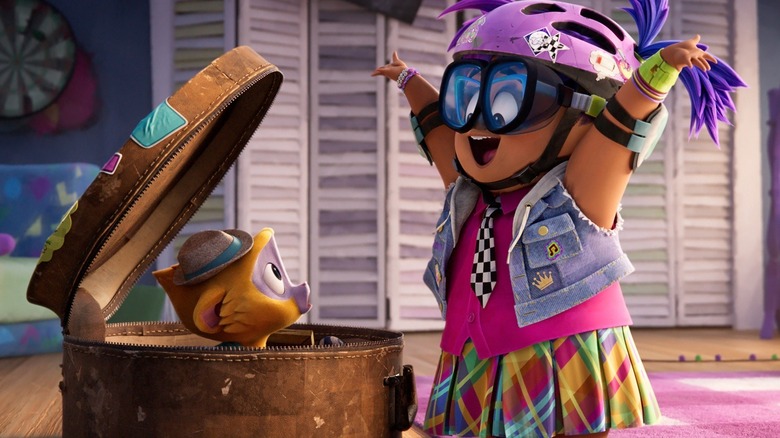 Netflix
On top of all the A-listers you'll get to hear in "Vivo," there are a ton of cinematic heavyweights on the filmmaking side as well. The movie is co-written and co-directed by Kirk DeMicco, who was nominated for an Oscar for his work in 2013's "The Croods." Also co-directing "Vivo" is Brandon Jeffords, who's known for his storyboarding work in films like "Cloudy with a Chance of Meatballs 2" and the recent heartwarming family favorite "The Mitchells vs. the Machines."
The screenplay is also co-written by Pulitzer Prize-winning playwright Quiara Alegría Hudes, who recently collaborated with Lin-Manuel Miranda by writing the book for the musical "In the Heights." And the concept for the film stems from an original story idea by "High School Musical" scribe Peter Barsocchini. Finally, the score for "Vivo" comes from Alex Lacamoire, a Tony-, Grammy-, and Emmy-winning composer and music director who's frequently collaborated with Miranda on shows such as "In the Heights" and "Hamilton" and who's also been celebrated for his musical achievements in productions like "9 to 5," "Dear Evan Hansen," "The Greatest Showman," and "Fosse/Verdon."
So, not only does "Vivo" boast a bevy of seminal musicians and original songs, but the film also features an amazing cast and a core of incredibly talented creatives behind the scenes. Needless to say, you won't want to miss the movie that'll have everyone tapping their toes, so mark your calendars for the arrival of this exciting new feature film on Netflix this August 6.