You Can Actually Go See The Cabin From Longmire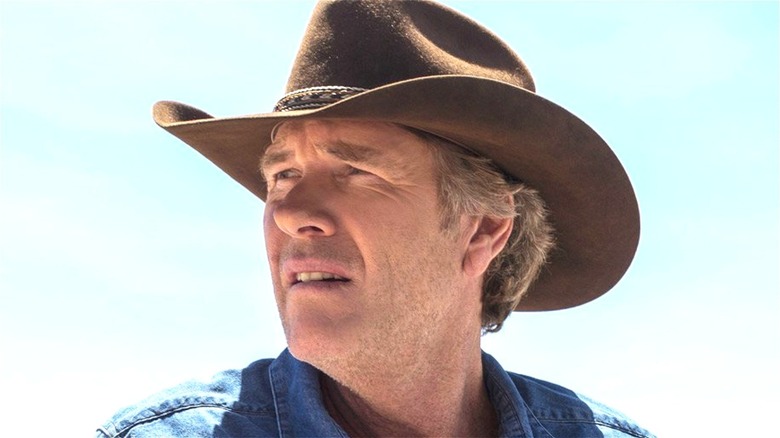 Netflix
Most television shows are filmed on closed sound stages on studio lots with security guards and gated entrances, which means it's not often the public can visit the places they see on TV (and that those places are usually fake). However, there are other times that shows are required to film on location, or are filmed outside of major production hubs like Los Angeles, Atlanta, or New York City, and this means that every once in a while you actually can visit a piece of TV history.
If you're a fan of the Western drama "Longmire," which was filmed in and around Santa Fe, New Mexico — the picturesque area stood in for northern Wyoming — you'll be happy to know there are many places from the fan-favorite show that you can visit in real life. The most prominent and most memorable is probably the small cabin that Robert Taylor's Walt called home during the show's run, and which appeared in nearly every episode of the series.
How to get to Walt's cabin on Longmire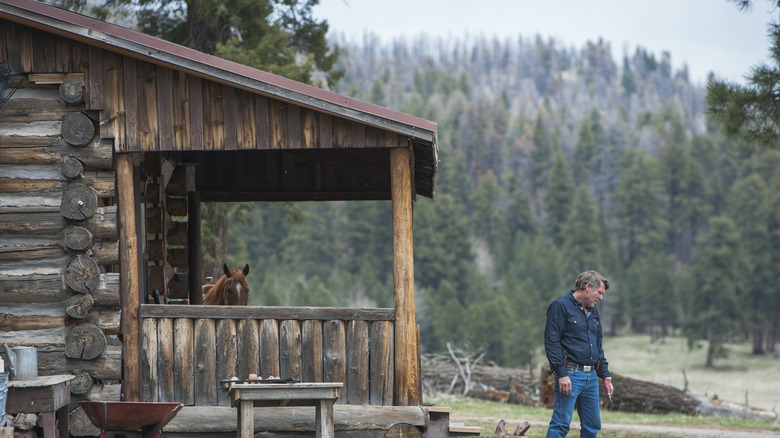 Lewis Jacobs/Netflix
Based on a series of best-selling books by Craig Johnson, "Longmire" followed Walt Longmire, the competent and dedicated sheriff of the fictional Absaroka County, as he and his small team investigated crimes throughout his jurisdiction. For six seasons — the series ran from 2012 until 2017, moving from A&E to Netflix after Season 3 — Walt lived in a small cabin surrounded by panoramic views of wide open expanses of nature.
The cabin, known as the Ranch Foreman's Cabin, is located in the Valles Caldera National Preserve in the Jemez Mountains, an area known for its mountain meadows and abundant wildlife. It's located at 39201 New Mexico Highway 4 in Jemez Springs, which is approximately 50 miles northwest from Santa Fe and 18 miles west of historical Los Alamos. The main gate is near the 39.2 mile marker on Highway 4, and because the area is controlled by the National Park Service, you'll have to pay to visit the cabin and there are specific hours you'll have to abide by during your trip.
The preserve has an entrance fee of $25 per vehicle or $10 if you're on foot, bicycle, horse, or non-commercial bus. It is open from 8 a.m. until 6 p.m. in the summer, and from 9 a.m. until 5 p.m. in the winter. It's open every day of the year except Thanksgiving and Christmas. To reach the cabin, visitors will also need to acquire a backcountry permit, according to the National Park Service, unless they plan on accessing the backcountry by foot, mountain bike, skis, or snowshoes.
The cabin, built in 1918, is part of the Historic Cabin District, which is just a few miles from the preserve entrance. Visitors are allowed to go up to the cabin and take photos, but entrance is not permitted. You must also stay off the porch. However, even with all of these rules in place, being able to visit the cabin and view the same sights that Walt would have seen is a highlight for any "Longmire" fan.