John Cena's Latest Peacemaker Remarks Will Get You Hyped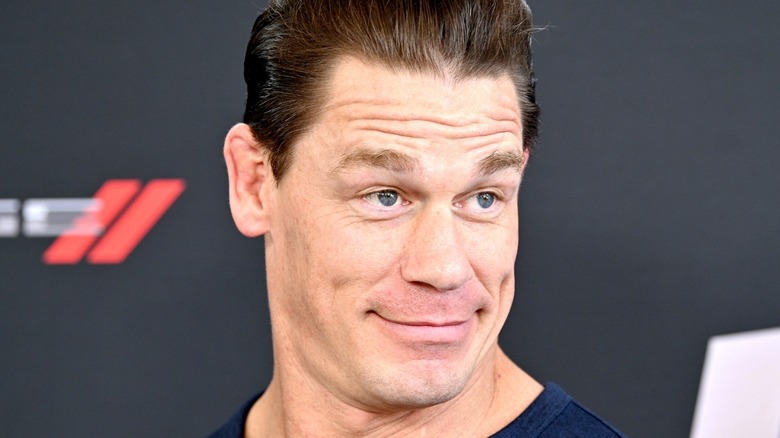 Dia Dipasupil/Getty Images
With "The Suicide Squad" on the horizon, there's been plenty of talk about what to expect from the latest movie in the DC Extended Universe. Fans are understandably excited to see the bizarre roster of characters that star in the film, especially John Cena's Peacemaker. The violent vigilante's real name is Christopher Smith, and he believes in achieving peace by any means necessary — which is why he's so willing to get his hands bloody. However, most of the intrigue surrounding Peacemaker comes from the fact that James Gunn has been working on the character's solo TV series for HBO Max.
Does the show's existence mean that Peacemaker will survive the events of "The Suicide Squad?" Only time will tell. The anti-hero will certainly have his hands full as the team take on Starro the Conqueror on Corto Maltese, as well as going head-to-head with his fellow team-mate, Bloodsport (Idris Elba). John Cena is clearly eager for audiences to meet this new character, even wearing the vibrant costume when recently appearing on Jimmy Kimmel Live. It's certainly a unique superhero costume, thanks to the bizarre helmet he wears. Cena himself jokingly called it "a wonderful beacon of freedom."
During another recent interview, the star praised James Gunn's work on the "Peacemaker" TV show, and also touched on where the character could go after "The Suicide Squad" and beyond.
John Cena's up for facing another DC villain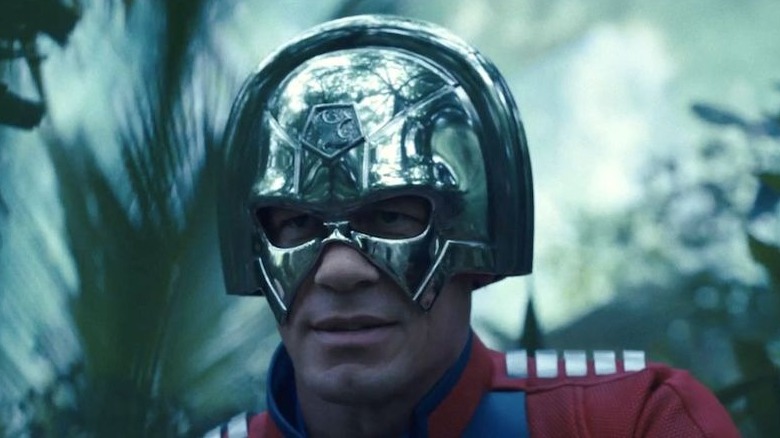 Warner Bros. Pictures
When speaking to ComicBook.com about his work on "The Suicide Squad," John Cena talked about getting the chance to explore Peacemaker a little further in the upcoming HBO Max TV series. The star pointed out that it'll have a similar flavor to Task Force X's latest cinematic outing: "Well, you have the same writer, the same creator. James directed a lot of episodes, and certainly, he's involved heavily with production." He went on to tease that if audiences enjoy Peacemaker in the film, there's much more to come in the series: "So I think if you like what you see in The Suicide Squad, you're going to be able to lean into more of those moments on HBO Max with Peacemaker."
During the interview, ComicBook.com's Brandon Davis asked who would win in a fight between Peacemaker and Black Adam, as former wrestler Dwayne Johnson recently wrapped on his own DCEU movie. Cena is clearly open to the idea, saying, "Please tell me what his answer is. You know me. Ready, willing, and able. And answering the phone whenever it rings."
The star was careful not to start any rumors about a crossover but says he's a fan: "I don't want to say we're on a crash course and it's inevitable. I want to because I'm a fan. But we'll see. We'll see what happens. Tell me what he says." Peacemaker vs. Black Adam is an interesting idea, especially because Dwayne Johnson's character has thunderous superpowers while John Cena's soldier has a gun and a toilet bowl on his head. Stranger things have happened.