James Gunn Reveals An Intriguing Detail About The Peacemaker Series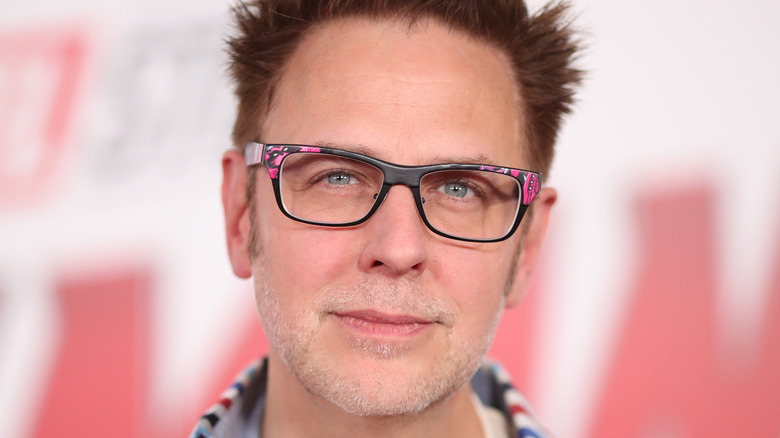 Christopher Polk/Getty Images
We're just four months into 2021, and Marvel and DC have already made their cinematic universes heard with offerings like "WandaVision" and "Zack Snyder's Justice League." Well, here comes the next wave.
If you know anything about comic book history, you know that many characters have backstories that stretch back close to a century, at this point. That's several decades' worth of crossovers, reboots, revivals, reincarnations, reimaginings, redesigns, fan fiction, and underfunded TV movies. For casual fans, all this backstory is about as understandable and welcoming as quantum physics. But for the diehards, a comic book movie or show that fails to pay homage to its history simply isn't worth watching.
Peacemaker is one DC character with a long and tangled history that's probably unfamiliar to the newbies. John Cena will be playing him in the upcoming sequel to "Suicide Squad," confusingly entitled "The Suicide Squad," which is slated for release in August. After that, he'll be the star of his very own "Peacemaker" spin-off series created and written by "The Suicide Squad" director James Gunn. ("Peacemaker" will debut on HBO Max in early 2022.)
For some fans, the biggest question right now is how the "Peacemaker" series will fit into the larger DCEU. Fortunately, Gunn has the answer.
The Peacemaker show is canon in the DCEU
On May 1, 2021, a fan asked Gunn on Twitter whether "Peacemaker" would tie into the DCEU. Gunn's response was a simple "Yes." The tweet also included a GIF from his "Suicide Squad" trailer showing Harley Quinn (Margot Robbie) sneaking up on Rick Flag (Joel Kinnaman).
As for how the "Peacemaker" series might specifically tie into the DCEU, that's more difficult to say. Gunn has already announced that the upcoming series will explore Peacemaker's origins, although it's not necessarily a prequel to "The Suicide Squad." Peacemaker has a relatively short history within the DCEU, but his DC Comics legacy is expansive. He was originally created in the 1960s by Charlton Comics and acquired by DC in the '80s when Charlton went under. In the DC Comics of the '80s and '90s, Peacemaker served on various superhero teams that defended Earth. He helped take down Anti-Monitor during the "Crisis on Infinite Earths" arc, and he fought Eclipso as a member of the Shadow Fighters.
The big question is whether Gunn and company will be honoring that specific backstory, or creating something new. When DC Comics rebooted its superhero lineup in 2011, it dropped Peacemaker entirely. But DC officially established Peacemaker within the Suicide Squad continuity in 2021, so Gunn and Cena's version of Peacemaker is a bit different than the various versions from Charlton Comics and the earlier DC titles.
Whatever Gunn and co. end up doing with the films, between John Cena's comedic acting abilities and Gunn's sure-handed direction, "Peacemaker" should make DC fans happy, even if the continuity hawks have to reconcile a few creative deviations.