Extinct Disney Parks Rides That Fans Want Brought Back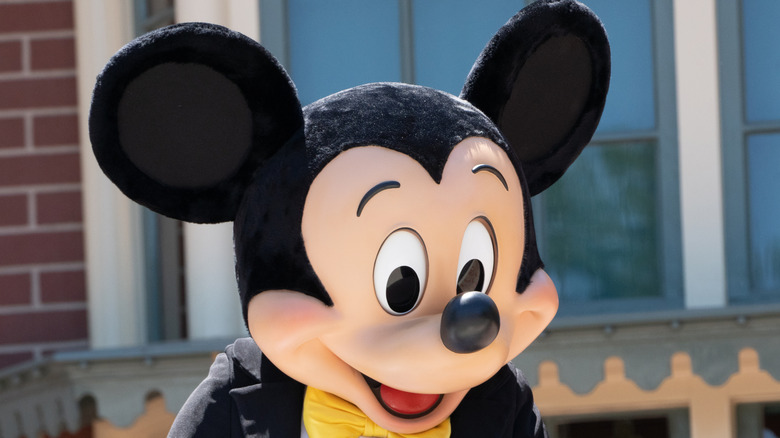 Bloomberg/Getty Images
When Disneyland opened in 1955, Walt Disney famously proclaimed, "Disneyland will never be completed as long as there is imagination left in the world." 
His words have proven to be true. Today there are Disney theme parks all over the world, and every single one is a constant work in progress. Sometimes that means minor updates like sprucing up the scenes in an attraction or improving the technology used, but it can also mean completely closing a ride to make room for something new. While it's hard to imagine iconic rides like Haunted Mansion and Pirates of the Caribbean ever being removed from the Parks, the attractions on this list weren't so lucky.
Yet, even though these rides are gone, they're certainly not forgotten — at least, not by everyone. There seems to always be at least a small group of people who remember and miss these attractions, even if they were only small children when they rode them. That keeps these permanently-closed rides alive in the minds of many Disney Parks fans, along with hopeful wishes they could someday experience them one more time. 
With that in mind, here's our list of extinct Disney Parks rides fans want back — from older classics to recently-departed favorites.
Ellen's Energy Adventure, Epcot (1996-2017)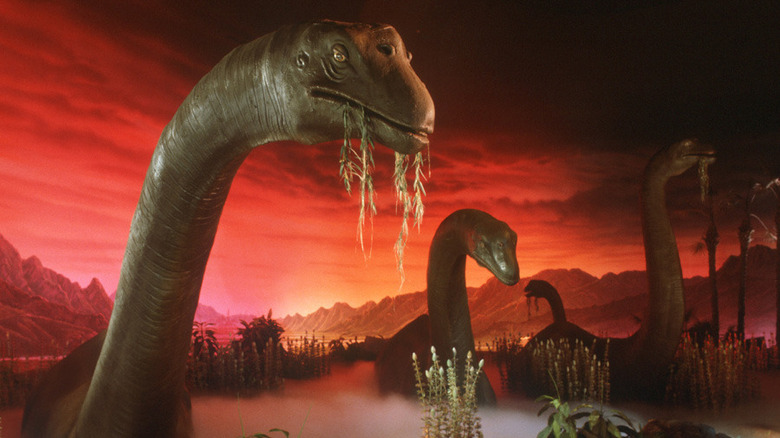 Disney
Ellen's Energy Adventure opened at the Universe of Energy pavilion in Epcot during the heyday of Ellen DeGeneres' eponymous 1994-1998 ABC series, "Ellen." Given her popularity, DeGeneres was the perfect personality to learn about energy alongside park-goers. The slow-moving ride consisted of a series of films and a diorama starring animatronic dinosaurs that filled riders — and DeGeneres herself — in on the history and possible future of energy production. Serving as DeGeneres' guide was Bill Nye, and the ride was bookended by scenes of DeGeneres competing on "Jeopardy!" complete with Alex Trebek serving as host and Jamie Lee Curtis playing DeGeneres' competition and old college rival, Judy Peterson.
The ride was charming, if lengthy, but the best parts were the seating area, which traveled, rotated, and split apart as needed, and the scene showcasing the primeval world of the dinosaurs, which happened to be holdovers from the original Universe of Energy attraction that Ellen's Energy Adventure replaced. 
Admittedly, by the time it closed, the ride was dated. The combination of a young DeGeneres from her sitcom days and a pro-fossil fuels message prompted by original sponsor ExxonMobil made it feel like a refresh was in order. Still, the ride's goal to educate while entertaining guests was exactly what Epcot was all about in its early days. Ellen's Energy Adventure was removed to make way for a roller coaster revolving around "Guardians of the Galaxy," which might be more thrilling, but is unlikely to be as endearing.
El Rio del Tiempo, Epcot (1982-2007)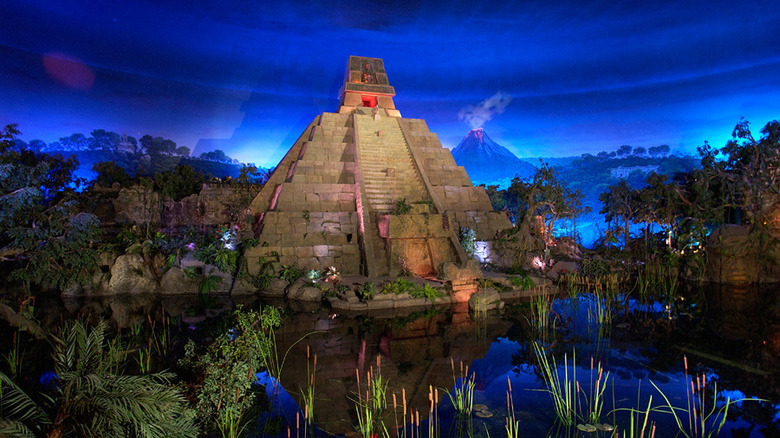 Disney
El Rio del Tiempo had the distinction of being the only ride in the World Showcase section of Epcot when it opened in 1982. A dark ride in the Mexico Pavilion, El Rio del Tiempo — which translates to "The River of Time" in English — took riders through the history of Mexico. After boarding a boat, riders drifted through a tranquil river and then were treated to scenes of Mexico, from marionettes in traditional costumes dancing to a mariachi band playing, and from merchants bargaining to swimmers diving off cliffs. It was the perfect attraction to take in after having a big meal at the restaurant in the Mexico Pavilion, or one of the other dining offerings in the park.
In 2007, the ride was replaced by the Gran Fiesta Tour Starring The Three Caballeros. These three animated bird characters from the 1944 film — Jose Carioca, Panchito Pistoles, and Donald Duck — are now the center of the story, which is reimagined as a search for Donald through Mexico. So although many elements from the original ride can still be seen in the new attraction, the revised focus detracts from the scenes of Mexican history and culture.
Heimlich's Chew Chew Train, California Adventure (2002-2018)
Part of A Bug's Land, an area in California Adventure dedicated to attractions based on the Pixar film "A Bug's Life," Heimlich's Chew Chew Train was a kids' train ride featuring the hungry German caterpillar character from the film. 
Guests boarded trains shaped like Heimlich that traveled along a track decorated by oversized replicas of food, including candy corn, watermelon, and carrots. Throughout the ride, Heimlich's voice commented on the various delicacies as they passed. He also frequently chowed down on them, as shown by the bites taken out of the food. At the same time, the scents of the different items were piped in, creating a multi-faceted sensory experience.
The adorable attraction perfectly encapsulated the earnest-but-amusing personality of Heimlich, who dreamed of transforming into a beautiful butterfly but as a caterpillar had an insatiable appetite, and the ride included gentle humor that could be appreciated by kids and adults alike. Unfortunately, "A Bug's Life" was never the most popular Pixar film, and so the whole area, including Heimlich's Chew Chew Train was replaced by the recently-opened Avengers Campus.
Luigi's Flying Tires, California Adventure (2012-2015)
Riders' mileage varied when it came to Luigi's Flying Tires, one of three original rides in the Cars Land area of California Adventure, but for those who mastered the mechanics, it was a whole lot of fun. 
Based on the Italian Fiat tire-shop owner from the film "Cars," the bumper-cars-like concept was simple: after boarding a vehicle that looks like a stack of tires, riders floated on a cushion of air, bumping into one another and flying around the ride area. The key was riders had to work together, leaning in different directions to guide their tires from place to place. It was a thrill to cruise around in a big tire stack, and bumping into people offered small moments of connection. Plus, since guests controlled their own vehicles, the ride was different each time, offering great repeat rideability.
Luigi's Flying Tires was inspired by the short-lived Flying Saucers, a beloved attraction at Tomorrowland in Disneyland that lasted from 1961 to 1966. Unfortunately, the "Cars"-themed ride's tenure was even shorter. Due to poor reviews, long wait and load times, and some minor incidents of tripping and falling getting into and out of ride vehicles, Luigi's Flying Tires was replaced by Luigi's Rollicking Roadsters, in which guests board cars that twirl and move in a coordinated trackless "dance." While the new ride may be more reliable, for those who enjoyed Luigi's original ride, the new attraction doesn't have the same unpredictable joys.
Skyway, Disneyland (1956-1994) and Magic Kingdom (1971-1999)
While it wasn't exactly a thrill ride per se, many people found the Skyway thrilling when it operated in both Disneyland and the Magic Kingdom. A gondola ride in which guests in colorful buckets were transported from Tomorrowland to Fantasyland or vice versa, the attraction didn't have any major theming, but it didn't need to. 
This unique bird's-eye view of each park and its surroundings was more than enough to delight riders, plus for some, dangling from a bucket on a wire from such heights was a pretty heart-pounding experience all by itself. Not only was Skyway an efficient way to get from one part of the park to another, with so much to see, each ride was different simply based on where riders looked. If that weren't enough, the Disneyland Skyway offered a special treat: a path straight through the center of the Matterhorn Bobsleds attraction. While this revealed that the mountain was, in fact, completely hollow inside, it was also one of the few backstage glimpses interested guests could get at the park.
The ride was closed first at Disneyland and then at the Magic Kingdom in the 1990s, although the reasons aren't completely clear. On the plus side, a gondola ride was brought back to Disney World in 2019, but this time, instead of traveling within a single park, the attraction — called the Skyliner — travels between several hotels and parks at the resort.
Studio Backlot Tour, Disney's Hollywood Studios (1989-2014)
When Disney's Hollywood Studios first opened, it wasn't just a theme park, it was also a working live-action and animation studio, and the Studio Backlot Tour was there to show guests how the magic was made. 
A behind-the-scenes walking and tram tour, the ride featured movie sets and props from films like "Honey, I Shrunk the Kids" and "Who Framed Roger Rabbit?" and also immersed guests in the filmmaking action in areas set up to demonstrate how pulse-pounding movie sequences were created, including Catastrophe Canyon, a supposedly working movie set where the tram gets caught in a man-made earthquake that causes explosions and a flood of water to rush toward the vehicle.
When the tour initially opened it took about two hours, but over time it was shortened, in part because Disney stopped producing movies at the studio. Ultimately, the attraction was shuttered entirely to make way for the park's Toy Story Land. For film buffs, though, it didn't get much better than this ride, which often exceeded Universal Studios' Tram Tour in its access to film productions and its commitment to the theme of moviemaking.
Adventure Thru Inner Space, Disneyland (1967-1985)
During Disneyland's first few decades, parts of Tomorrowland had a more educational component that made them closer in spirit to some of the attractions that eventually became part of Epcot. 
One such ride was Adventure Thru Inner Space, which aimed to foster an appreciation for chemistry by "shrinking" guests so they could examine the molecules in water up close. After boarding an "Atommobile," riders passed through a microscope that they were told would miniaturize them. They then approached snowflakes that got bigger and bigger until they became too large to differentiate. After that, riders were presented with the snowflake's H2O molecules, and continued shrinking until they could examine an individual atom, including the electrons zooming by. Once they glimpsed the atom's nucleus, the scientist narrating the ride decided the guests had shrunk as much as they should, and slowly returned them to their usual size. 
Adventure Thru Inner Space was a mainstay at Disneyland for almost 20 years, but by the mid-'80s it started to feel a little dated, and was closed in order to make way for the "Star Wars"-themed Star Tours. Nevertheless, Disney Parks fans who experienced the attraction still remember the wonder they felt back then, as they were miniaturized and shown the building blocks of life itself.
World of Motion, Epcot (1982-1996)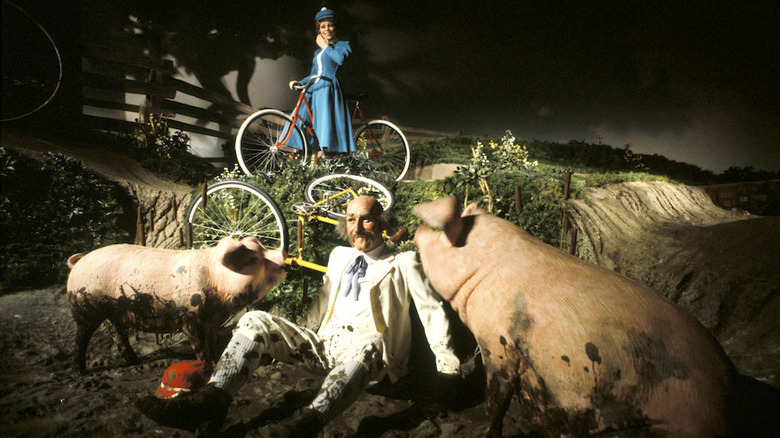 Disney
The World of Motion was the first attraction to occupy the Transportation Pavilion at Epcot, and like many rides there when the park initially opened, it was a slow-moving journey that captured the imagination with entertaining and educational scenes. 
In this case, riders were taken through the history of transportation, starting with walking and ending with a vision of how cars would evolve in years to come. Along the way, guests were treated to scenarios featuring every kind of transportation, from boats to horse-drawn chariots and from hot air balloons to locomotives, alongside whimsical dioramas like that of a ship captain encountering a sea monster, a man taking a spill off his bicycle, and an early traffic jam. Guests even got to see themselves in a car of the future in the final moments of the ride, via an effect similar to the one that puts a ghost in riders' vehicles at the end of Haunted Mansion.
By the mid-1990s though, corporate sponsor General Motors decided it wanted to replace World of Motion with something more propulsive, which led to the creation of Test Track. While Test Track is a lot of fun, there's nothing quite like World of Motion with its message that transportation made it "fun to be free."
Horizons, Epcot, (1983-1994, 1995-1999)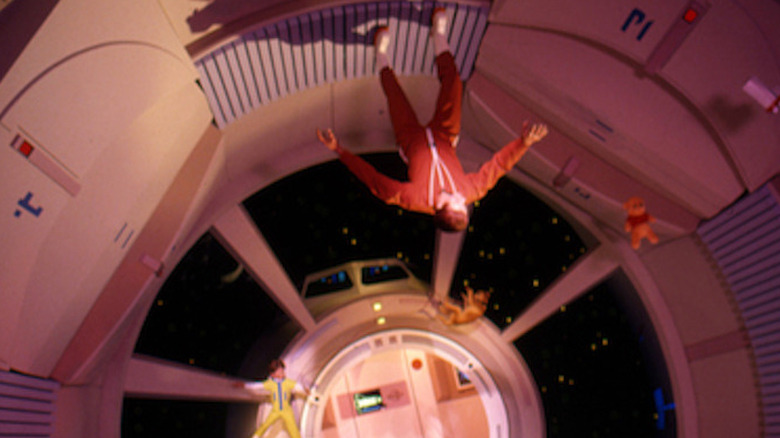 Disney
If there's one ride almost all Disney Parks fans agree they'd love to bring back, it's Horizons. 
Although it debuted one year after Epcot opened, many saw it as the ride that best summed up the park's original mission to spotlight hopeful visions of a utopian future. After boarding an Omnimover ride vehicle like those still used for Spaceship Earth and Haunted Mansion, guests were shown one family's fantastical future in the 21st century. With the optimistic tagline "if you can dream it, you can do it" repeated multiple times throughout, the ride made it clear that riders could expect amazing things in the next century. Best of all, the ride gave guests the opportunity to choose one of three ride endings: space, desert, or undersea, effectively giving park-goers an excuse to come back at least three times to experience the different options.
The ride initially closed in 1994 after it lost the corporate sponsorship of General Electric the year before. It was then miraculously brought back in 1995 and closed for good in 1999 to make way for Mission: SPACE, another popular attraction. However, for those who remember Horizons, the smell of oranges, which was piped into the ride, will bring back memories of their awe and excitement.
Maelstrom, Epcot (1988-2014)
Maelstrom was one of only two rides in World Showcase throughout most of Epcot's history. It was part of the Norway Pavilion and gave guests a look into the past, present, and folklore of the country. 
After boarding a Viking boat, riders were pulled up a dark tunnel and then continued along a track that took them past scenes of Vikings, polar bears, and oil rigs. Along the way, mischievous trolls intervened to push the boat backwards and down short slopes, until the ride ended in a quaint Norwegian village.
Although the scenes didn't fit together seamlessly, making for a somewhat bemusing experience, Maelstrom nonetheless had its own bizarre charm. It was also completely original, without any basis in Disney's preexisting intellectual property. 
That all changed when Epcot replaced Maelstrom with Frozen Ever After, a ride themed to Disney's wildly successful film, "Frozen." While the choice makes sense from a business perspective, it's a somewhat strange option for the Norway Pavilion given "Frozen" takes place in the fictional, albeit Scandinavian, land of Arendelle, not Norway. Frozen Ever After operates on the same track and uses the same vehicles as Maelstrom, but there are no other traces of the original experience to be found.
Body Wars, Epcot (1989-2007)
Today motion simulator rides are a staple of theme park attractions, but back in 1989 when Body Wars opened, this was ground-breaking technology. Body Wars is considered Epcot's first thrill ride, however, just like the other slower-moving rides that populated the park in the 1980s, the star attraction at the Wonders of Life pavilion was intended to educate as it entertained, in this case about the inner workings of the human body. 
Like Adventures Thru Inner Space, the ride's story was predicated on the idea that guests were miniaturized. In Body Wars, the newly miniaturized riders entered a human body and met up with a doctor played by Elisabeth Shue at a splinter that white blood cells were racing to repair.
Things inevitably go wrong when the doctor is pulled into a capillary forcing riders to follow her through a vein into the heart and lungs and finally toward the brain. The film, which was directed by Leonard Nimoy, was unique and exciting, and some enjoyed the kinetic experience of the motion simulator. Given how new the technology was, however, the ride was pretty rough, resulting in motion sickness for some and ultimately leading to the closure of the attraction and the Wonders of Life pavilion as a whole. Still, many Epcot fans fondly remember the fun of this odd, yet completely original attraction.
ExtraTERRORestrial Alien Encounter, Magic Kingdom (1995-2003)
The "terror" of the ExtraTERRORestrial Alien Encounter turned out to be very real, making it one of the darkest, most disturbing rides to ever operate at a Disney park. While this made it inappropriate for young children, for adults and older kids, the ride was a tense but rewarding experience. 
Upon being seated in a round theater, harnesses were secured around each guest — the first clue that something very disconcerting was about to happen. The ride was ostensibly a demonstration of a company's teleportation technology, but when a deadly insect-like alien is accidentally teleported into the room and quickly escapes into the audience, horror ensues. The theater is plunged into darkness and guests listen as the alien shrieks, mauls a worker, sprays guests with its saliva and breathes on the backs of their necks, until the lights are finally restored and the alien is restrained.
The execution of the attraction is brilliant, depriving guests of sight while relying mostly on hearing and touch to stoke their fears. Unfortunately the ride was a little too effective, so Disney redesigned it as the more family-friendly "Lilo & Stitch"-themed Stitch's Great Escape. However, few theme park attractions ever gripped people the way the original Alien Encounter did.
20,000 Leagues Under the Sea: Submarine Voyage, Magic Kingdom (1971-1994)
While flying through the air is a common experience for theme park attractions, traveling under the sea is fairly rare, and few rides made the world under the water feel more magical than 20,000 Leagues Under the Sea: Submarine Voyage. 
A similar ride opened in Disneyland in 1959, but the Magic Kingdom version, which debuted just a couple weeks after the park itself, was a bit more elaborate and themed to Disney's 1954 film "20,000 Leagues Under the Sea." Because of that theme, guests boarded a ride vehicle called the Nautilus and the adventure was narrated by the submarine's captain, Nemo.
During a 20 minute journey, riders dove deeper and deeper into the ocean to take in the unusual sights, from fish, sharks, and turtles to a graveyard full of shipwrecked boats. Then things got even stranger as the Nautilus discovers the remains of Atlantis, followed by a sea serpent and mermaids, and culminating with an attack by a giant squid, just like in the movie. 
The ride was one of the most wow-inducing experiences at Magic Kingdom, and was popular until its surprise closure in 1994. While a version of the ride still exists as Finding Nemo Submarine Voyage in Disneyland, 20,000 Leagues Under the Sea: Submarine Voyage will always be remembered as one of the first rides to let visitors experience the depths of the oceans in a way most never would in real life.
The Great Movie Ride, Disney's Hollywood Studios (1989-2017)
The Great Movie Ride was initially created for Epcot, but ultimately became the inspiration for Disney World's third theme park: Disney's Hollywood Studios (originally called Disney-MGM Studios). As a result, this tribute to the movies was the centerpiece of the new park.
After entering through a facade modeled after the famous Grauman's Chinese Theater in Hollywood and winding through a queue full of authentic movie props and costumes, guests would board a ride vehicle in an area modeled after a soundstage, embarking on a tour through the history of the movies. Between the audio-animatronics depicting noteworthy scenes from films like "Singin' in the Rain," "Casablanca," "The Wizard of Oz," and "Alien" and clips from dozens of classic films, the ride spotlighted movies from every genre, from both Disney and other studios.
Moreover, the ride immersed guests by having the tour guide narrating the experience driven away by either a gangster straight out of a 1930s gangster film or a bank robber from a Western, depending on the scene where the ride vehicle was stopped. By the time a montage of classic films unspooled at the ride's conclusion, guests were ready to run to the nearest movie theater — or go on the ride again. Despite Disney fans' long-standing love for The Great Movie Ride, in 2017 it was replaced by the more technologically advanced — and more Disney-specific — Mickey & Minnie's Runaway Railway.