Fans Just Got Their First Look At Zack Snyder's Army Of Thieves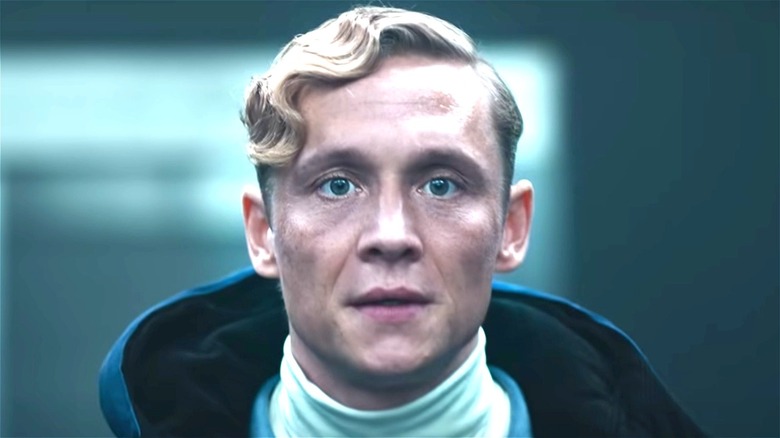 Netflix
After the tumultuous road towards the eventual release of "Zack Snyder's Justice League" it's no surprise that the director is keen to spearhead his own ideas and cinematic franchises instead of playing in another company's sandbox. So when his zombie-heist thriller, "Army of the Dead" was announced on Netflix, fans were incredibly excited to see what he had in store for this new universe he'd crafted. The executives at Netflix were so impressed that they greenlit a prequel animated series and a spin-off prequel before "Army of the Dead" had even debuted on the streaming service.
And now, the first trailer for the live-action prequel "Army of Thieves" has arrived, showing what to expect from the adventure before the ill-fated trip to Las Vegas. The spotlight appears to be on Matthias Schweighöfer's safe-cracker, Ludwig Dieter, who winds up working for the mysterious Gwendoline (Nathalie Emmanuel) when she hires him for a big job. Interestingly, "Army of Thieves" is also directed by Schweighöfer himself — so Snyder clearly isn't afraid to add other people's style into his new franchise.
Oh, and by the way — "Army of Thieves" is set during the beginning of the zombie outbreak, six years before the events of "Army of the Dead." So don't worry, there'll still be plenty of undead action thrown in among Dieter's comedic relief. But what does the first "Army of Thieves" trailer reveal about the latest chapter in Snyder's Armyverse?
Army of Thieves is a heist comedy, with zombies
It's always a great experiment when filmmakers mash-up two polarizing genres to see what happens — but "Army of Thieves" is combining a number of different elements to tell Dieter's story before he winds up in Las Vegas for "Army of the Dead." The first trailer sees Nathalie Emmanuel's Gwendoline hire Dieter for a number of vault-cracking jobs across Europe while the world is distracted by the zombie outbreak in America. That's a surprisingly smart idea. The footage puts Dieter's lovably wacky nature in the spotlight, with a few moments showing him screaming in terror and in glee.
While it might not be as bloody as the Vegas trip in "Army of the Dead" is, it certainly looks just as exciting. The globe-trotting action sees Dieter work with Guz Khan's Rolph, Ruby O. Fee's Korina, and Stuart Martin's Brad Cage as they try to become "Legends." Dieter is clearly enticed by the idea of stealing millions — possibly billions, so that he can have the "life less ordinary" that Gwendoline is offering him.
Don't worry, Snyder fans, the director is a producer on "Army of Thieves" and also had a hand in the film's story alongside "John Wick: Chapter 3 – Parabellum" screenwriter Shay Hatten. So it'll still have his fingerprints all over it. If the prequel is just as successful as the first film, who knows, there may be more spin-offs to come. The film doesn't have an official release date as of yet, but it's still slated for 2021 — so watch this space for more info as it develops.