Out Of Every Theory For Cobra Kai, This One Stands Above The Rest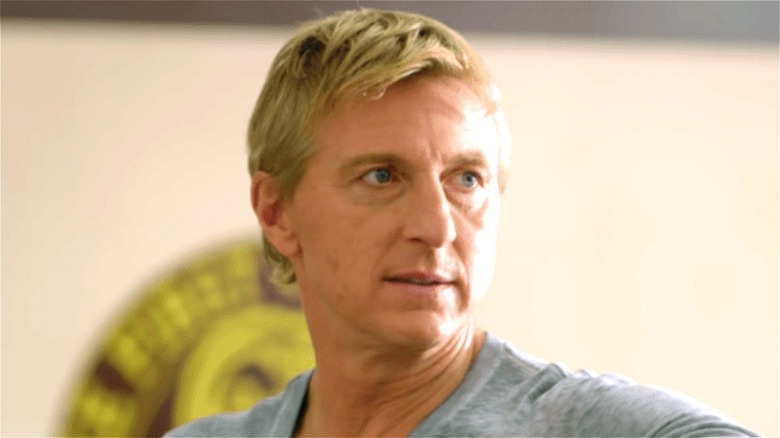 Netflix
Of the countless classic movies that came out of the 1980s, it's impossible to overlook the cultural significance of "The Karate Kid." Starring Ralph Macchio as Daniel LaRusso, the film chronicles his journey from a troubled youth to a martial arts superstar, being trained by the legendary Mr. Miyagi (Pat Morita) and standing toe-to-toe with the very best the Cobra Kai dojo had to offer. It's a highly entertaining and inspirational tale that dazzled audiences back in the day and prompted the creation of several cinematic sequels. However, arguably its most well-regarded continuation arrived via the small screen, that being "Cobra Kai."
"Cobra Kai" hit YouTube Red in 2018 before making the jump to Netflix in 2020, where it remains to this day. Set 30+ years after the first "Karate Kid" installment, the series once again spotlights the feud between Daniel and his Cobra Kai rival, Johnny Lawrence (William Zabka), with a class of new martial arts prodigies accompanying them. In telling this story, "Cobra Kai" has cultivated a massive fanbase and has renewed interest in the "Karate Kid" IP, with viewers flocking to the source material and reevaluating it in a new light.
As a result of this retroactive viewing, a certain fan theory concerning "Cobra Kai" has risen to prominence that all others fail to measure up to.
Is Daniel LaRusso really the bad guy?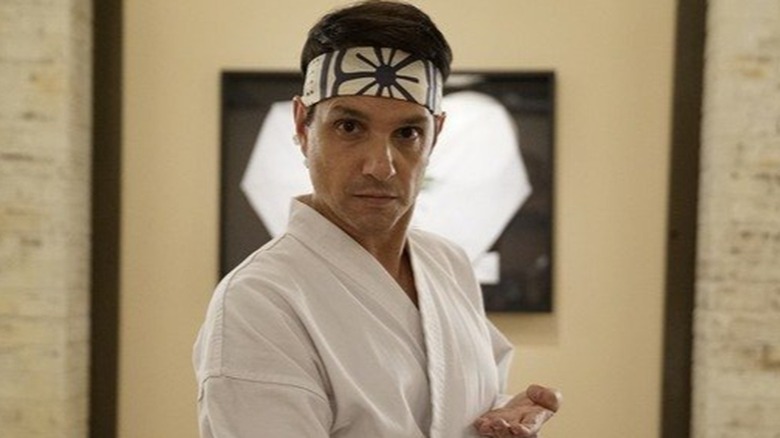 Netflix
Has Daniel LaRusso — the hero of the "Karate Kid" saga — become a villain by the time of "Cobra Kai?" Some fans seem to think so, and others, as pointed out by Screen Rant, feel his reign of terror over Johnny Lawrence's life began way back in the first movie. Daniel won over Johnny's girlfriend, Ali Mills (Elisabeth Shue), embarrassed him at the 1984 All Valley Karate Championship tournament, and strained the relationship between him and his Cobra Kai mentor, John Kreese (Martin Kove). He effectively ruined Johnny's life, something "Cobra Kai" leans into.
Now a grown man, Johnny Lawrence is still haunted by the ghosts of his past. He misses Ali, can't hold down a job, and is a miserable alcoholic, all while Daniel is enjoying a life full of success. As the mastermind behind the LaRusso Auto Group, he's well-off financially and has developed a moderately stable family life around himself, seemingly forgetting his past feud. Nevertheless, Daniel used his authority as a member of the city council to remove Johnny's likeness from the All Valley Karate tournament arena and wasted little time attempting to squash Johnny's reopening of the Cobra Kai dojo.
Of course, Johnny isn't totally absolved of wrongdoing since he was indeed a violent, arrogant kid who oftentimes went out of his way to antagonize Daniel and Ali. At the same time, as the program has explored, he was a product of Kreese's merciless teachings coupled with an abusive home life and was fueled by a burning desire to find acceptance. Therefore, he was something of a pawn in Kreese's game (via MovieWeb), and Daniel's continued mistreatment of him and the last vestiges of his legacy should have been directed at the villainous sensei all along.
So, what is it about this "Cobra Kai" theory that helps it stand out from the pack? Well, it completely recontextualizes how we understand Daniel LaRusso as a character and whether or not he's ever been a true hero. Sure, he was largely provoked in his youth by Johnny and had a reason to retaliate, but for him to kick his old rival while he's down decades later is rather underhanded. 
Thankfully, the two men are working through their differences nowadays, but it stands to reason that Daniel's status as a protagonist may not be as warranted as we've been led to believe.