The Character Everyone Forgets The Karate Kid's Pat Morita Played On M*A*S*H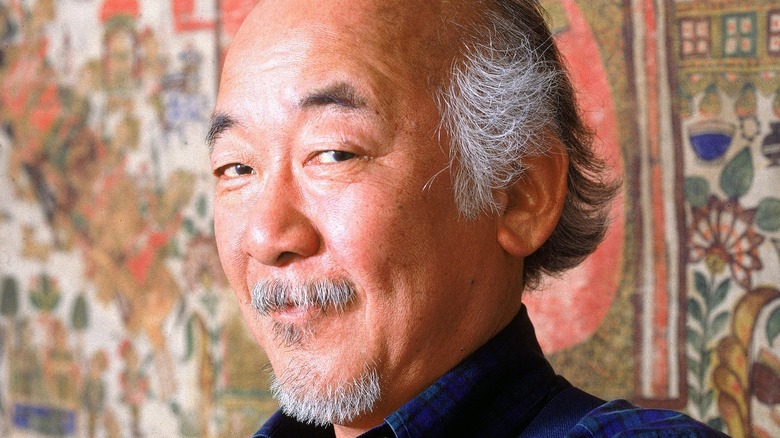 Nancy R. Schiff / Getty Images
In 1984, director John G. Avildsen's "The Karate Kid" leaped onto the big screen, and with it came no shortage of contributions to the pop culture landscape. Daniel LaRusso (Ralph Macchio) — the troubled youth turned karate superstar — became a name synonymous with 1980s cinema, but his mentor, Mr. Nariyoshi Miyagi, absolutely stole the show. His warm yet stern demeanor and belief that there's more value in waxing a car than meets the eye cemented his legacy as one of Hollywood's most beloved characters. Of course, that would've never happened without the acting talents of the late Pat Morita.
Even though he was very nearly never paired with the Mr. Miyagi role, it's impossible to imagine anyone other than Morita taking on the wise martial arts master. Although, it's important to remember that long before he joined the cast of "The Karate Kid," he had already amassed an impressive filmography dating back to the 1960s. From comedies like "The Shakiest Gun in the West," to war dramas such as "Midway," Morita's acting range knew no bounds and certainly wasn't limited to the movies alone.
Pat Morita was no stranger to the small screen as well, having appeared on the likes of "Welcome Back, Kotter" and "Sanford and Son," among countless other programs back in the day. He even made a couple of career-shifting cameos on "M*A*S*H" the flew under the radar for many viewers.
Captain Sam Pak was Pat Morita's M*A*S*H alter-ego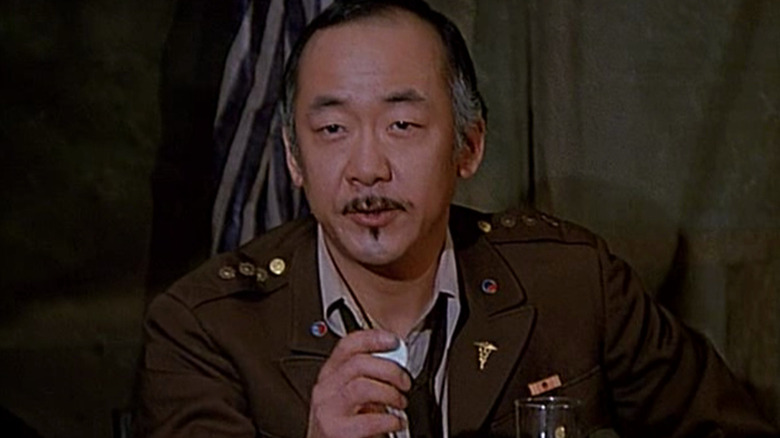 CBS
Pat Morita took on the role of South Korean Army surgeon Captain Sam Pak on two occasions during the second season of M*A*S*H. He made his debut in the episode "Deal Me Out" as a friend of Captain "Hawkeye" Pierce (Alan Alda) and a key player in the weekly 4077th Mobile Army Surgical Hospital poker game. His second appearance came in "The Chosen People," where he put his translation skills to good use to bridge the gap between Hawkeye and his English-speaking allies and a Korean family that arrived at the 4077th.
All in all, Pat Morita's presence on "M*A*S*H" was brief, and he was far from a member of the main cast. However, landing the part of Captain Pak meant a lot to him, especially since it broke the trend of comedic roles that he'd been pigeon-holed into for so long. "'Deal Me Out' on 'M*A*S*H' was really my first serious role within the spectrum of a so-called comedy show. It was straight-ahead acting. It wasn't goofy stuff," he told the Archive of American Television (via MeTV), adding that his castmates "were a joy to work with."
Captain Sam Pak is far from the most recognizable character on "M*A*S*H," but considering how much the part meant to Pat Morita and his career at large, Pak is arguably one of the most important.