What's The Song At The End Of American Horror Stories: Drive In?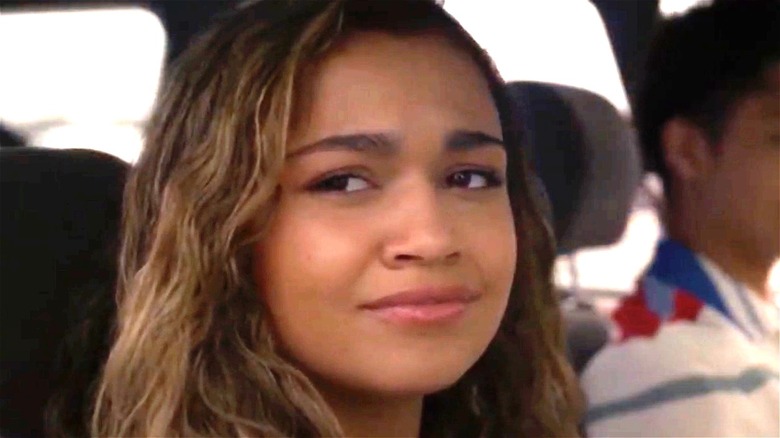 FX
A date to the movies has perhaps never been as unappealing as the one in the latest episode of "American Horror Stories." The spin-off series features standalone episodes spanning various avenues of the horror genre.
"Drive In" follows Kelley (Madison Bailey) and her sexually frustrated boyfriend, the aptly named Chad (Rhenzy Feliz), as they celebrate their six-month anniversary. Chad's friends convince him that the best way to seduce (re: manipulate) Kelley into having sex is to scare her, and there's nothing scarier than taking your girl to watch a movie that's been widely censored for provoking real-life violence.
The forbidden film, "Rabbit Rabbit," is allegedly cursed for causing viewers to become possessed and kill their fellow moviegoers. Of course, nothing stands in the way of a gaggle of teenagers desperate to score. Kelley and Chad's lack of focus is what spares them, and after making their escape following a night of carnage, they hunt down the film's director.
Believing they have saved the day, the two walk away from the crazed director's burning trailer as a hyperpop track bumps in the background. So, what song soundtracked their apparent victory over "Rabbit Rabbit"?
TURN OFF THE LIGHT for Kim Petras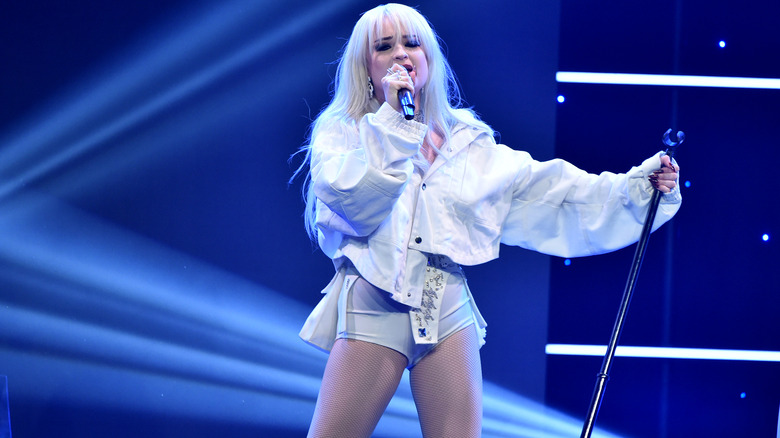 Alberto E. Rodriguez/Getty Images
"American Horror Story" is no "Glee," but the show has had its share of memorable musical moments over the years, and nothing screams 'Ryan Murphy Productions' quite like an iconic pop needle drop. Pop star Kim Petras' "There Will Be Blood" plays as the episode's seemingly happy ending takes a dark turn. While the song's title shares a name with Paul Thomas Anderson's acclaimed period drama, it has more in common with the horror genre.
A masterclass in combining camp, pop, and horror, Petras' second album "TURN OFF THE LIGHT" is filled with tracks that would fit into the "American Horror Story" universe. "In The Next Life," "Everybody Dies," and "Boo! B*tch!" all could've worked here. The bloodcurdling project even features a collaboration with the one and only Elvira, Mistress of the Dark.
"There Will Be Blood" was featured in promotional videos for "American Horror Stories," prompting fans to share their excitement online.