Kevin Feige's Red Guardian Remarks Have The Internet Buzzing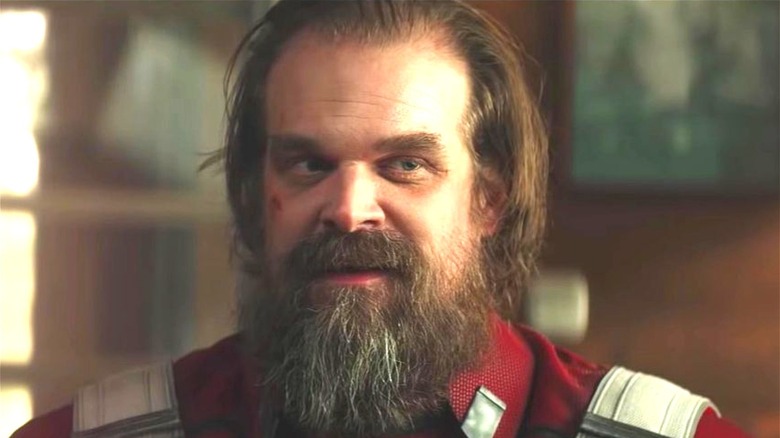 Marvel Studios
Now that "Black Widow" is officially out in the world Marvel fans have been obsessing over ever detail in the film, especially considering where it takes place in the timeline as well as its introduction of Red Guardian (David Harbour) and Melina Vostokoff (Rachel Weisz). It also answers a number of questions about Natasha Romanoff (Scarlett Johansson) and her history, including the infamous Budapest incident with Hawkeye (Jeremy Renner), first referenced in "The Avengers." Obviously, as with any new chapter of the Marvel Cinematic Universe, audiences are left wondering what's next.
Although Natasha's story ends long before the events of "Black Widow" when she sacrifices herself to get the Soul Stone in "Avengers: Endgame," it's clear that other "Black Widow" characters will return elsewhere in the MCU — especially Yelena Belova (Florence Pugh), who will likely pop up in the upcoming Disney+ series "Hawkeye." However, many fans are wondering when Red Guardian will return. The red-suited hero makes several comments in the film about fighting Captain America (Chris Evans) — although whether this actually happened is definitely up for debate — but hopefully, there's more to Alexei Shostakov's story.
In a recent "Black Widow" watch party on Twitter, Kevin Feige briefly hinted that audiences haven't seen the last of Red Guardian in the MCU. Here's what Marvel's big boss had to say about Harbour's Red Guardian returning to the Marvel Cinematic Universe.
David Harbour's Red Guardian could fight Sam Wilson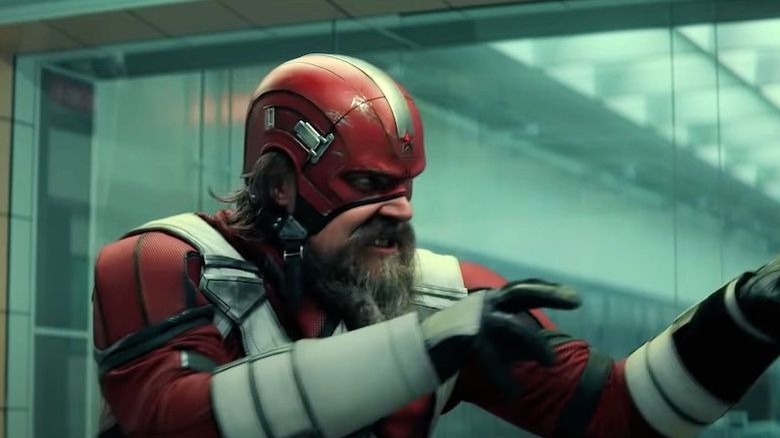 Marvel Studios
David Harbour's Red Guardian is hilarious throughout "Black Widow," but the way he boasts about fighting Captain America in his glory days definitely raised a few questions. When asked on Twitter about whether Alexei actually fought the legendary American hero, Kevin Feige responded, saying, "Good question.. Although, wasn't Captain America frozen in ice then?" Perhaps he fought Isaiah Bradley (Carl Lumbly) since we know he also had the super-serum thanks to "The Falcon and The Winter Soldier."
But Kevin Feige only teased fans further when he was asked if Red Guardian will ever fight Sam Wilson (Anthony Mackie), A.K.A. the new Captain America. The Marvel head honcho tweeted "I'd like to see that.. how about you guys?" before tagging both Harbour and Mackie in the tweet. Perhaps Harbour might appear in "Captain America 4," which will star Mackie as the patriotic superhero. The sequel already is in the works and will be crafted by "The Falcon and The Winter Soldier" showrunner Malcolm Spellman, who's collaborating on the script for the film with a staff writer on the series, Dalan Musson.
So, clearly Kevin Feige isn't done with Red Guardian in the MCU... and hopefully, Harbour will reprise his role as this hilarious hero in the future.